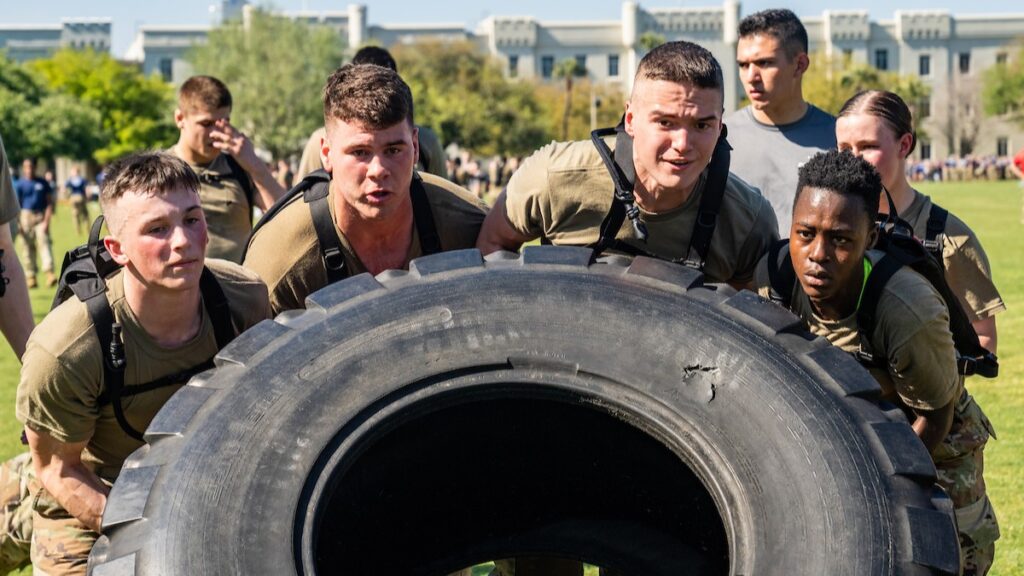 Looking back at Recognition Day 2023
Members of the Class of 2026 are now officially recognized as part of the South Carolina Corps of Cadets. After completing the physical and mental challenges of the fourth-class system, these cadets will now begin a new chapter of leadership development in their Citadel journey.
Before they could learn to lead, the rising sophomores had to learn to be followers. This journey began on Matriculation Day in August, and finally culminated on Friday, March 24, when they were officially recognized by their peers.
After completing the grueling physical exercises of the Gauntlet, a run around the campus and their class set — 100 pushups plus the number of their class year, which is 126 for the Class of 2026 — Regimental Commander Cadet Col. Brandon Johnson announced the end of the fourth-class system.
The following day, the freshmen cadets lined up in formation on campus and began their march to Marion Square, the site of the original Citadel campus, where they renewed their cadet oath. The March to Marion Square is widely known in Charleston and is one of the most iconic and visual events associated with The Citadel.
Recognition Day coincides with Corps Day celebrations. This year, The Citadel celebrated the 180th birthday of the South Carolina Corps of Cadets.
Corps Day events included open barracks and pipe band performances, a performance by the 2024 Summerall Guards and a Jeep review parade.
While recognition day signals the end of the fourth-class system, the freshmen cadets still have a long road ahead until their graduation. Until then, the newly recognized cadets will be preparing to become leaders and train the next generation when they return in the fall for their sophomore year.
Photos from The Citadel, including images from Recognition Day and Corps Day, will be available for purchase at the photo store by early April.