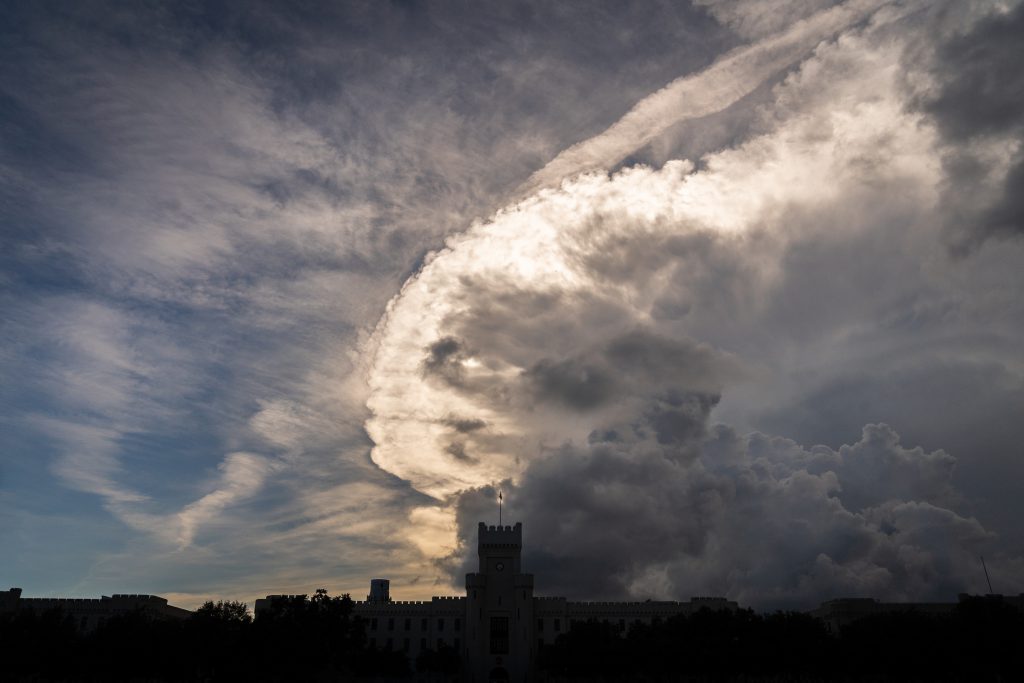 The Lt. Col. James B. Near Jr., USAF, '77, Center for Climate Studies is funding four new research projects essential to addressing current and problematic climate related issues in Charleston.
Scott Curtis, Ph.D., the director for the center recently announced the projects selected from those submitted by Citadel faculty.
The new center is providing $47,190 to support the research led by Citadel faculty that includes cadets and graduate student researchers.
Excerpts from the project proposals are below.
Assessing the role of nuisance flooding in transporting street-associated microplastic and tire wear particle into adjacent tidal-creek salt marsh systems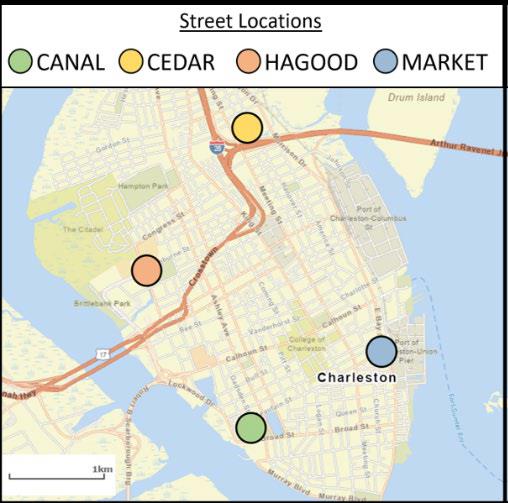 Funding for this project will allow us to expand our current study to characterize street-associated microplastic and tire wear particles and investigate if adjacent salt marshes are serving as sinks for these particles.

John Weinstein, Ph.D., The Citadel Department of Biology chair
Flooding is one of the most frequent and widespread manifestations of climate change in the coastal environment, causing annual economic losses related to damaged infrastructure, overwhelmed storm/waste/fresh water systems, disrupted harbor operations, closed roadways, and disrupted economic activity (Sweet et al., 2019, Hino et al., 2020). Over the past 60 years, the increased frequency of flooding associated with encroaching tides and extreme storms has swamped streets in coastal cities all over the globe- including Charleston, South Carolina.
Also, according to the National Climate Center, it's raining harder in Charleston than it used to – the amount of precipitation falling in heavy rainstorms is 27% higher than in the mid-20th century (Melillo et al., 2014). Street flooding, whether caused by high tides or extreme storms, is a manifestation of climate change that not only poses safety risks for those driving through the city, but also may contribute pollution to our local waterways. One such pollutant is plastic debris. Plastic debris is a major environmental problem and has been identified as an emerging global issue that may affect our ability to conserve biological diversity and maintain ecological interrelationships. The overarching goal of this project, which began in 2019, is to investigate the role that street flooding may have as a pathway by which microplastics, including tire wear particles, are introduced into coastal waters.
Principal investigator: John Weinstein, Ph.D., professor of Biology and head of The Citadel Department of Biology
Graduates student investigators: Bonnie Ertel, Rian Burris, and Mary Ballentine
Further characterization of potential bacterial pathogens in nuisance flooding affecting Charleston: Implications for human health
In the United States, nuisance (sunny day) flooding has been estimated to have increased between 300 to 900 times in costal areas relative to 50 years prior, thus Charleston is predicted to experience around 180 days of flooding by 2045 (according to NOAA). Furthermore, an increase in infections after flooding events have been well documented around the world. In consequence, a current public concern in the city of Charleston is the presence of harmful bacterial in nuisance flooding.
Specifically, the presence of fecal coliforms and enterococci, pose a threat to human and animal health during flooding events that bring water from tidal creeks into the streets. Fecal coliforms including E. coli are indicators of the presence of other enteric pathogens. E. coli is known to cause a variety of infections including diarrhea, urinary tract, and pneumonia.
The specific aim of this project is the further characterization to the special level of fecal coliform bacteria, Enterococcus bacteria, and Vibrios found in nuisance flooding waters currently affecting the City of Charleston. Further identification of potential pathogenic bacteria in flooding waters will permit the development of adequate public health measures toward control and prevention of infections by these bacteria.

Claudia Rocha, Ph.D., professor of Biology
Principal investigator: Claudia Rocha, Ph.D., professor of Biology
Cadet researcher: Malcom Jackson, Nursing major
Long-term study of tides on the Ashley River: flow speed and water levels
The Ashley River begins as a blackwater creek near Jedburg, South Carolina and becomes a tidal river near Ft. Dorchester State Park, then runs 23 miles to Charleston Harbor, where it joins the Cooper River before emptying into the Atlantic Ocean. The area surrounding the Ashley is mostly undeveloped, and the river encounters no dikes or other structures (other than bridges) along its route. Therefore, it is as close to a "wild and scenic" river as one can find adjacent to a metropolitan area of 300,000 population.
The effect of stormwater runoff on water levels is of great importance to the populations living around the bottom third of the river. Church Creek (West Ashley) and the Brittlebank/Hagood Ave. area have had serious and recurring flooding problems due to the combination of rain and tides (as reported in The Post & Courier).
There are to the best of our knowledge no tide gauges or water level monitors on the Ashley River. In order to model the interaction of lunar tides with precipitation, data must be collected at several points along the river.
In 2017, Lt. Col. James Near (for whom the Center is named), and Dr. Patrick Briggs of The Citadel Physics Department devised a project to produce small, inexpensive monitoring stations to be placed at several locations along the Ashley River. These stations would measure a number of relevant parameters such as water level, water velocity, salinity, humidity and temperature. The data would be automatically cached and sent by WiFi or phone link to a server on The Citadel campus.
We want to continue and expand this project as an ongoing research effort within the Physics Department, eventually adding students from other science and Engineering departments to our team.

Drs. Patrick Briggs and Kaelyn Leake, The Citadel Department of Physics
Principal investigators: Patrick R. Briggs, Ph.D., associate professor of Physics and Kaelyn D. Leake, Ph.D.. assistant professor of Physics
Cadet researcher: Erin R. Garber, a senior Physics major
Exploring the role of photocatalytic decomposition of perfluorooctanoic acid on a mineral dust proxy
Students working on this project will help create new knowledge about the fate of perfluorocarboxylic acids in the atmosphere; this information is required to determine whether these compounds are an important part of global warming.

Holly Bevsek, Ph.D., The Citadel Department of Chemistry
Polyfluorinatedalkyl compounds (PFCs) are anthropogenic (resulting from human influences on nature) materials that are widely used in polymer synthesis, textile and paper coatings, and fire retardants due to their stability. This stability, however, also gives them a long lifetime in the environment which leads them to be persistent organic pollutants. Another concern about PFCs is that the chemical bond absorbs light in a region of the infrared spectrum where very few other gases absorb. Due to this and their stability PFCs are among the most powerful greenhouse gases known.
Perfluorocarboxylic acids (PFCAs) and perfluorooctanoic acid (PFOA, C7F15COOH) in particular have been the focus of much study as they have been found worldwide including remote regions such as the High Arctic. They have been detected in soil, water, and in many organisms such as algae, amphibians, land and marine mammals, and humans. Toxicity studies of PFOA have shown that it is a carcinogen, liver toxicant, developmental toxicant, and immune system toxicant.
PFOA as well as PFCs are of particular interest to the Lowcountry as high concentrations have been found in local dolphin populations and in sediment from the Charleston Harbor and the Ashley and Cooper Rivers.
Despite the fact that PFCAs are highly stable studies have shown they can be decomposed in the presence of water and a photocatalyst such as Titanium Dioxid.
"This project will investigate possible pathways for the destruction of perfluorooctanoic acid–a persistent organic pollutant and potentially important greenhouse gas that appears widely in the abiotic and biotic local environment," Bevsek wrote in the project proposal.
Principal investigator: Holly Bevsek, Ph.D., professor of Chemistry
For more information about The Citadel's Center for Climate Studies or any of these projects, please contact the director, Dr. Scott Curtis by emailing wcurtis1@citadel.edu.