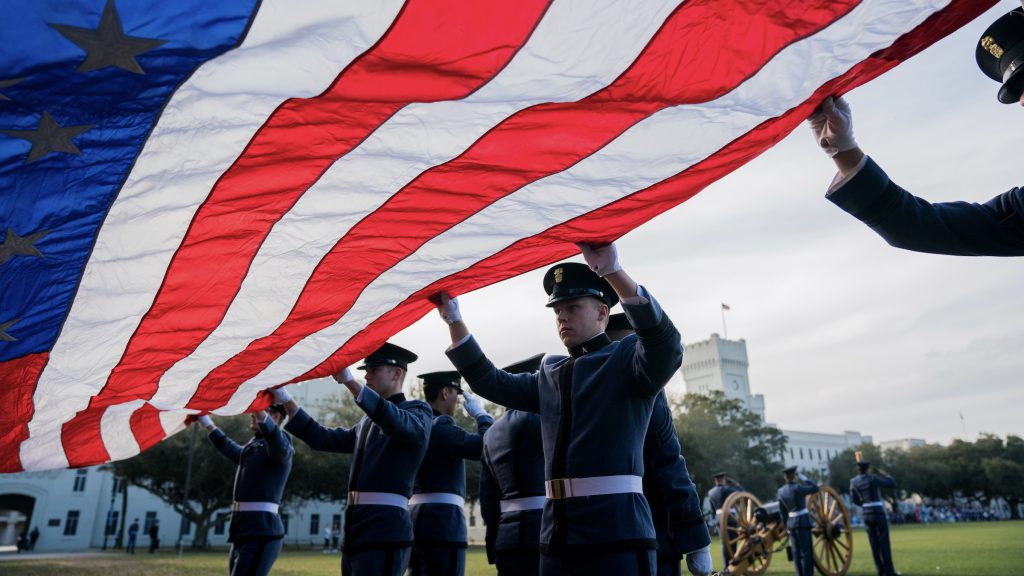 The Citadel Public Safety Oath Ceremony
Tuesday, March 1
3 p.m.
Swain Boating Center
Free, open to the media
For the first time, three cadets — who have served as Public Safety police interns throughout the school years — will be promoted to community service officers (CSOs). The swearing in ceremony will be held at 3 p.m. on Tuesday, March 1 in the Swain Boating Center.
The ceremony will also include Public Safety's recently hired sergeant and training officer; a current faculty member will also be sworn in as a community service officer.
The three cadet CSOs will be promoted to a limited duty, Class III State Constable position. Some of their responsibilities will involve desk and dispatch duties, traffic control and security for special events, limited patrol functions and parking enforcement.
The Department of Public Safety considers the CSO position to be an ideal role to prepare cadets and students for a career in law enforcement. Several South Carolina police agencies are in the process of developing potential employment pipelines to their departments through The Citadel Public Safety internship program. There are currently 13 cadets actively participating in the program, which is open to any academic major and it also has opportunities for individuals to serve as EMTs.
Police officer agility obstacle course
Wednesday, March 2
1 – 4 p.m.
Summerall Field
Free, open to the campus community and media
On Wednesday, March 2, cadets and members of the campus community will get a chance to learn more about what it's like to be a police officer.
The Greenville Police Department (GPD) will bring a police officer agility obstacle course to campus. Cadets will be able to run the obstacle course from 1 – 4 p.m on Summerall Field.
Interested cadets can also ask questions about potential law enforcement careers. Officers with the GPD will also be able to meet cadets who may be interested in future employment opportunities.
The Department of Criminal Justice's honor society, the Criminal Justice Society, and The Citadel Public Safety worked together to facilitate the GPD visit.
Book talk and signing
Wednesday, March 2
6:30 p.m.
Jenkins Hall Auditorium
Free, open to the public
Events honoring Black History Month continue with a book talk and signing on Wednesday, March 2.
The Citadel will host Lahnice McFall Hollister at 6:30 p.m. in Jenkins Hall Auditorium.
Hollister, a genealogist and family historian, has published research in national genealogical journals and has received numerous awards for her publications.
Her book talk will focus on her most recent publication: "Resisting Jim Crow: The Autobiography of Dr. John McFall." McFall was among Charleston's early Black pharmacists and was the brother of Hollister's grandfather. Hollister has received critical acclaim from scholars for uncovering this previously unknown manuscript by one of Charleston's African American healthcare pioneers.
This event is open to all members of the campus community, but space is limited. To register, click here.
The Citadel Symposium on Southern Politics
Thursday, March 3 – Friday, March 4
Various times
Altman Center, in Johnson Hagood Stadium
Free, open to the public
Just in time for election season, the Department of Political Science will host The Citadel Symposium on Southern Politics. It's the largest and most comprehensive conference for the presentation and discussion of scholarly research on the contemporary politics of a specific region in the country.
The symposium will span two days; it will start on Thursday, March 3 from 8:30 a.m. – 6 p.m. and last until Friday, March 4 from 8:45 a.m. – 3:45 p.m. The panel discussions will be held in the Altman Center
Topics include:
Civil rights and rhetoric

State and local elections
Voting groups driving southern political change
Partisan politics and party competition
Public opinion and emotions
Partisanship, polarization and ideological sorting
Identity politics and electoral outcomes
Roundtable on the 2022 elections
The Symposium has been held biennially, in even-numbered years, on The Citadel campus since 1978. Since the first conference, political scholars from around the world have presented research relevant to political trends in the southern United States.
For more information on the symposium click here.
Pre-knob overnight campus visit
Thursday, March 3 – Friday, March 4
Various times
The Citadel campus
Free, open to high school juniors and seniors interested in joining the Corps of Cadets
High school seniors and juniors interested in attending The Citadel have two remaining opportunities this semester for an overnight, in-person visit.
Beginning with registration at 5 p.m. on Thursday, March 3, students will get to spend a night in the barracks and eat in the mess hall. On Friday, March 4, parents and students will attend information sessions; they will be able to have their questions about The Citadel answered by a panel of cadets and members of the faculty and staff.
These visits are designed to offer a comprehensive overview of life at The Citadel. Students and parents will be able to learn about academic programs, ROTC opportunities, cadet life, financial aid, student support services and more.
To register for the March 3-4 visit, click here.
To register for the April 7-8 visit, click here.
Blockchain and cryptocurrency lecture
Thursday, March 3
6 – 7:30 p.m.
Bastin Hall, Room 105; streamed via Zoom
Free, open to the public
The first Accounting and Finance speaker series on Financial Technology will be held at 6 p.m. on Thursday, March 3. The event will be held in Bastin 105 and streamed over Zoom, with the goal of raising awareness of application of blockchain technology.
Dr. Henry Balani, the global head of industry and regulatory affairs for Encompass Corporation, and Dr. Michael Chitavi, Finance professor at The Citadel, will speak during the event.
In the session, attendees will be introduced to blockchain and the cryptocurrency markets; no required knowledge of subject is required. The session will also discuss the new risks like Money laundering.
The Citadel African American Society Bazaar
Saturday, March 5
11 a.m. – 3 p.m.
Buyer Auditorium, The Citadel campus
Free, open to the public
On Saturday, March 5, The Citadel African American Society Bazaar will feature music, exhibits and food for visitors from all across the Lowcountry.
Music will be performed by Urban Roots bands. The Tut-Tut Kemetic Group will display the Black Egyptians: Innovators of Science and Art Exhibit. Local vendors will be on hand to sell a variety of goods, and students from the Department of Nursing will be available to provide free blood pressure screenings. Local food trucks will be on campus to sell a variety of foods.
The event will run from 11 a.m. – 3 p.m. in Buyer Auditorium. It is free and open to the public.
For reservations or more information contact 843-953-5096.
The Citadel football "Get in the Game" bone marrow drive
Monday, March 7
10 a.m. – 2 p.m.
Buyer Auditorium, Mark Clark Hall
Free, open to the public
On Monday, March 7, The Citadel football program will hold a bone marrow drive in Buyer Auditorium, located in Mak Clark Hall. The drive, on behalf of the Andy Talley Bone Marrow Foundation and Be the Match, will run from 10 a.m. – 2 p.m.
The Citadel is one of 162 colleges and universities nationwide who have participated in this event since 2008. The goal is to raise awareness about the need for stem cell and bone marrow donors, as well as to register more donors to the national registry.
Get in the Game is one of the most successful donor recruitment programs in the world. Since its inception, more than 120,000 people have joined the Be the Match registry and have been responsible for more than 800 transplants. The Citadel has registered 150 over the last two years.
For more information, click here.
American Society for Engineering Education, Southeastern Section annual conference
Sunday, March 13 – Tuesday, March 15
Various times
Various locations on campus and throughout Charleston
Tickets required, open to media with advance notice
The Citadel School of Engineering will host the American Society for Engineering Education, Southeastern Section (ASEE-SE) annual conference, March 13-15.
The ASEE-SE conference showcases teaching innovation, academic advancement and engineering curriculum enhancement. The conference provides a unique opportunity for colleges and universities across the southeastern U.S. to compare and discuss successful approaches to effectively educate tomorrow's engineering students, who will answer the high calling of becoming the next generation of engineering leaders and entrepreneurs.
The conference will offer workshops on Sunday and officially opens during a Sunday night reception. Monday begins with a plenary speaker followed by paper sessions and a student poster competition. Monday evening features an awards dinner with an invited speaker. Tuesday includes paper sessions in the morning and ends after lunch.
For more information, click here.
The Adrian Project hosted by The Citadel Beta Alpha Psi
Wednesday, March 23
10 a.m. – 3 p.m.
Bastin Hall
Free, open to media
On Wednesday, March 23, cadets and students will get a chance to participate in the Adrian Project, a day-long simulation of a mock criminal investigation.
The Adrian Project provides students a glimpse into the career life of an IRS special agent and what a criminal investigation entails. The goal is to provide a firsthand look at what it's like for IRS special agents to carry out an investigation, tracking illicit money from the crime to the criminal.
Cadets and students will be "sworn in" as special agents in the morning and wear IRS protective vests, use handcuffs, toy guns and radios to communicate with their counterpart agents on the case. They will be able to sharpen their forensic accounting skills and will be introduced to interviewing suspects, conducting surveillance and document analysis. The event ends when the students solve the crime and arrest the mock offender.
IRS Criminal Investigation field offices have brought the Adrian Project to college and university campus nationwide.
The Citadel Directors Institute
Thursday, March 24 – Friday, March 25
Various times
The Francis Marion Hotel, downtown Charleston
Registration required, open to media
The president and chief executive officer of the Federal Reserve Bank of Richmond, Tom Barkin, is set to be the keynote speaker when The Citadel Directors' Institute (CDI) returns in March after taking a two year break due to the COVID-19 pandemic.
CDI is an intense, one-day program designed for directors of corporate boards, and their senior executives, to engage in an active dialogue focused on strategic planning, risk and board governance. The goal is to provide attendees with the knowledge and information necessary to be a board or corporate leader and to help their respective companies succeed.
Sam Glasscock III, vice chancellor of the Delaware Court of Chancery, is the opening speaker for CDI 2022.
CDI 2022 begins on Thursday, March 24 with an opening reception. The full program will begin at 8 a.m. on Friday, March 25 and conclude at 4:15 p.m. with a closing reception. It is being held at the Francis Marion Hotel, on Calhoun Street in downtown Charleston.
Directors of public or private companies, as well as board members of regional and community banks, are encouraged to attend. The early registration for CDI 2022 is $495. Beginning on Feb. 25, the cost increases to $595. You can learn more about the program and speakers here. You can register here.
Prospective or registered attendees with questions can contact Vanya Perez at vperez@citadel.edu or at (843) 953-5056.
The Citadel Academy of Science and Mathematics annual awards banquet
Thursday, March 24
5:30 – 9 p.m.
The Conference Center at Thornley Campus, Trident Technical College
Ticket required, open to the media
The Swain Family School of Science and Mathematics is hosting its Annual Citadel Academy of Science and Mathematics Awards Banquet on March 24 at Trident Technical College. The banquet honors the academic accomplishments of exceptional cadets and students, outstanding faculty and distinguished alumni.
A highlight of each year's event is the pre-dinner reception, when up to 40 cadets and students present their research posters. Guests are encouraged to mingle and engage with the students and their faculty advisors to discuss what the students are learning in the classroom and the laboratory.
Cadets, students, alumni and faculty to be honored at this year's banquet will include:
Outstanding cadets and students
Cadet Shiloh Smiles, Computer Science and Cyber Operations double majors
Bonnie Ertel, Biology graduate student
Nicholas Horton, Exercise Science veteran student
CASM Distinguished Alumni Award:
Col. Joe Sanders, M.D., USA (Ret.), '62, Pre-Allied Health
Rear Adm. Will Rodriguez, USN (Ret.), '77, Mathematics
Capt. Geno Paluso, USN (Ret.), '89, Mathematics & Business Administration
Early Career Faculty Award:
The goal of The Citadel Academy of Science and Mathematics is to foster an enhanced awareness of the science and mathematics mission of The Citadel and pride in the work undertaken by cadets, students and faculty.
Tickets to the banquet can be purchased by clicking here.
Corps Day and Recognition Day
Corps Day and Recognition Day
Friday, March 25 – Sunday, March 27
Various times
The Citadel campus and Marion Square
Select events are open to the public
Recognition Day, which will be held during the last weekend of March, is when freshmen cadet candidates are officially recognized as members of the Corps of Cadets after months of rigorous training exercises.
That process begins with what is known as The Gauntlet and culminates with a march to Marion Square and the iconic Freshmen Oath Renewal Ceremony. It is one of the most important events in the life of a cadet.
Recognition Day is a momentous occasion in the life of a knob. It means the end of rigid formations, walking in single file at breakneck speed and the highly regimented way of life that is The Citadel's fourth-class system.
Corps Day, the birthday of the South Carolina Corps of Cadets and one of the most highly attended weekends at The Citadel, will also be celebrated that weekend. Attractions include dress parades, awards presentations, special cadet performances and athletic events.
Gold Star Journal Academic Conference
Tuesday, March 29
6 – 8 p.m.
Buyer Auditorium, Mark Clark Hall
Free to Citadel cadets, students, faculty and staff; register here
The Citadel's premier scholarly publication, The Gold Star Journal, will celebrate its 26th anniversary during an Academic Conference on Tuesday, March 29. The event will include dinner, followed by presentations from this year's authors.
The featured speakers will be the published authors from the 2022 edition of The Gold Star Journal. Authors and papers published in this year's edition include:
Alexander Clark, 2022, Accounting and Intelligence and Securities Studies double major, "National Intelligence Estimate: Chinese Shadow War"
Charles Geiger, 2024, Mechanical Engineering major, "Carbon Nanotube Types and Application"
Will Jensen, 2022, Computer Science, Mathematics, and Cyber Operations triple major, "Whistle Blowers: Heroes or Traitors"
Matthew Unden, 2024, Mechanical Engineering major, "An Examination and Analysis of Sensor Technology as it Relates to Autonomous Vehicle Design"
Richardo Henriquez, 2022, Mathematics major, "Properties of a Sequence from Another Sequence"
Cooper Morse, 2025, Intelligence and Security Studies major, "Dangerous Technology: Modern Threats Posed by China and Russia"
Harry Charles, 2023, Biology major, "The Opioid Crisis and its Connection to Dentistry"
Shiloh Smiles, 2022, Computer Science and Cyber Operations double majors, "Understanding the Impact of Quantum Technology on Modern Cryptography"
The conference will conclude with the presentation of certificates and awards. Free copies of the journal will be available.
To reserve a seat, please click here to register.
The Gold Star Journal is The Citadel's premier scholarly publication. This year's edition features eight cross-disciplinary papers written by The Citadel's best and brightest undergraduate students and many photographs taken by Citadel cadets and students.
Hispanic Honor Society documentary screening
Wednesday, March 30
6 – 8:30 p.m.
Buyer Auditorium, Mark Clark Hall
Free, open to the public
The Citadel's Hispanic honor society, Sigma Delta Pi, will host a film screening of Un mes y algunos días (A Month and Some Days) at 6 p.m. on Wednesday, March 30.
The documentary, created by two local college students, presents stories of first and second-generation Latino immigrant youth and sheds light on the Latinx community of the Lowcountry. It will be presented by local playwright and artist Maribel Acosta.
The event is cosponsored by the League of Women Voters, Charleston Hispanic Association and Artport. The League of Women Voters will have a voter registration table at the screening.
Sigma Delta Pi recognizes and rewards outstanding students of Spanish within an exclusive society devoted to both maintaining academic excellence in Hispanic studies and supporting the Hispanic community and its flourishing culture.
Click here to reserve a seat in advance.
The Citadel Athletics
To purchase tickets, please call 843-953-3647 or visit citadelsports.com/tickets. Media should contact John Brush, Assistant AD for Athletic Communications
The Citadel Women's Golf vs. RiverTowne International
Tuesday, March 1
Day-long
Mount Pleasant, S.C.
Free admission
The Citadel Baseball vs. Charleston Southern
Tuesday, March 1
4 p.m.
Joseph P. Riley Jr. Ballpark
Tickets starting at $12
The Citadel Tennis – The Citadel Spring Classic
Friday, March 4 and Saturday, March 5
Time: TBA
Earle Tennis Center
Free admission
The Citadel Baseball vs. Northern Kentucky
Friday, March 4 at 5 p.m.
Saturday, March 5 at 2 p.m.
Sunday, March 6 at 1 p.m.
Joseph P. Riley Jr. Ballpark
Tickets starting at $12
The Citadel Tennis vs. Samford
Monday, March 7
Time: TBA
Earle Tennis Center
Free admission
The Citadel Women's Golf vs. The Citadel Match Play
Monday, March 7 and Tuesday, March 8
Day-long
Charleston, S.C.
Free admission
The Citadel Tennis vs. New Jersey City / Campbell University
Tuesday, March 8
Time: TBA
Earle Tennis Center
Free admission
The Citadel Baseball vs. USC Upstate
Wednesday, March 9
5 p.m.
Joseph P. Riley Jr. Ballpark
Tickets starting at $12
The Citadel Tennis vs. UNCG
Thursday, March 10
1 p.m.
Earle Tennis Center
Free admission
The Citadel Baseball vs. Sienna (DH)
Saturday, March 12 at 1 p.m.
Saturday, March 12 at 4 p.m.
Sunday, March 13 at 1 p.m.
Joseph P. Riley Jr. Ballpark
Tickets starting at $12
The Citadel Tennis vs. North Carolina A&T
Monday, March 14
Time: TBA
Free admission
The Citadel Baseball vs. Texas
Wednesday, March 16
7 p.m.
Joseph P. Riley Jr. Ballpark
Tickets starting at $12
The Citadel Baseball vs Saint Peter's
Friday, March 18 at 2 p.m.
Saturday, March 19 at 2 p.m.
Sunday, March 20 at 1 p.m.
Joseph P. Riley, Jr. Ballpark
Tickets starting at $12
The Citadel Baseball vs South Carolina
Tuesday, March 22
7 p.m.
Joseph P. Riley Jr. Ballpark
Tickets starting at $12
The Citadel Baseball vs George Mason
Friday, March 25 at 6 p.m.
Saturday, March 26 2 p.m.
Sunday, March 27 at 1 p.m.
Joseph P. Riley Jr. Ballpark
Tickets starting at $12
The Citadel Baseball vs North Florida
Tuesday, March 29
6 p.m.
Joseph P. Riley Jr. Ballpark
Tickets starting at $12
The Citadel Tennis vs University of Delaware
Thursday, March 31
Time: TBA
Earle Tennis Center
Free admission