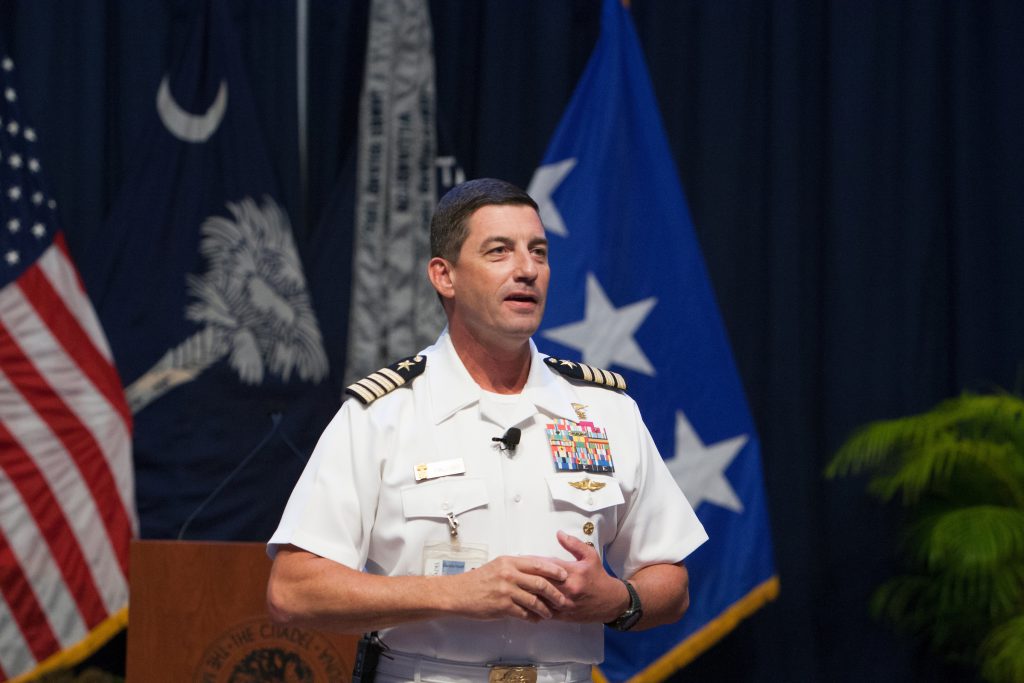 As seen on ABC News 4, by Bailey Wright
Wednesday marked the last day of Captain Eugene "Geno" Paluso's service as the Citadel Commandant of Cadets.
Paluso, USN (Ret.), '89, has served in the position since 2014. His last day was June 30. He will be replaced by Colonel Thomas J. Gordon, USMC, The Citadel Class of 1991.
A native of Washington, Pennsylvania, Paluso attended college at The Citadel where he earned a Bachelor of Arts in Mathematics in 1989, according to the college. His military career started in the Navy after being commissioned an ensign upon graduation. He reported to Basic Underwater Demolition/SEAL (BUD/S) training in California, where he graduated with Class 164 in 1990.
Paluso served as a U.S. Navy SEAL officer for more than 25 years, before retiring from the Navy in July 2014 and returning to the Citadel as Commandant of Cadets.
His leadership roles include commanding special operations forces in the Balkans, Africa, Iraq and Afghanistan and leading men and women in combat at varying levels. He holds a Master's of Military Science from the U.S. Marine Corps Command and Staff College as well as a Master's of Science in National Security Strategy Resourcing from the Industrial College of the Armed Forces.
Paluso has received numerous service awards, including the Defense Superior Service Medal, Legion of Merit, Defense Meritorious Service Medal, Bronze Star, Meritorious Service Medal (2), Joint Commendation Medal (2), Navy Commendation Medal (5), Joint Achievement Medal, and Navy Achievement Medal.
Paluso was the South Carolina Corps of Cadets Class of 2021 commencement speaker.
The new Commandant of Cadets, Gordon, was announced in March. Gordon is a 1991 graduate of The Citadel and served in the U.S. Marine Corps (USMC) for 30 years, according to The Citadel.
"Colonel Thomas J. Gordon, USMC, The Citadel Class of 1991, brings a wealth of leadership, operational, and academic experience to the role. I am certain he will build on the strong foundations set by Captain Geno Paluso…The Corps will continue in good hands," said Gen. Glenn M. Walters, USMC, (Ret.).