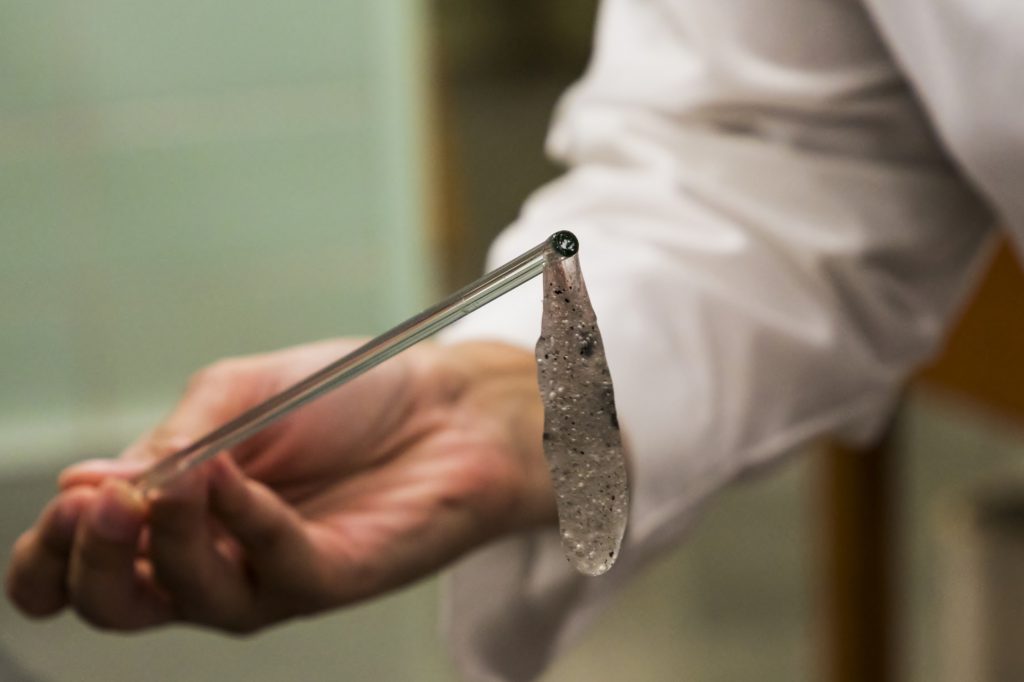 Programs include paid summer undergrad research experiences
Undergraduate researchers are vigorously engaged in discovery and learning at The Citadel throughout the year. Now more are being selected for paid research opportunities. For example, some cadets and students are helping the U.S. Department of Defense improve methods of identifying traumatic brain injury. One is looking into the potential results of future earthquake shockwaves in Charleston. Others are innovating a substance to use in the restoration of artifacts and artworks. They began their projects after being selected for Summer Undergraduate Research Experience (SURE). The program provides stipends to the cadets and students, allowing them to be entirely focused on their research.
"It's a win-win situation for the students, the faculty and The Citadel," said Professor Dena Garner, Ph.D., SURE director at the college. "When they are in a lab doing hands-on work, it becomes real. It helps them to improve their critical thinking abilities. It reinforces what they are learning in the classroom and improves relationship skills. Most importantly, they are producing results that make an impact and that can be used in real-world applications."
Cadets and students selected for the SURE program receive stipends of $2,500 for a 5-6 week program, and $4,000 for an 8-10 week experience. Faculty members also receive a stipend for working with the students. The funding comes from a combination of grants and support from the Office of the Provost.
"Our program is still new—we have eleven cadets and students. Our goal is to get National Science Foundation funding for our SURE program in the future in order to increase the number of participants," Garner said.
Traumatic brain injury assessment research with U.S. Dept. of Defense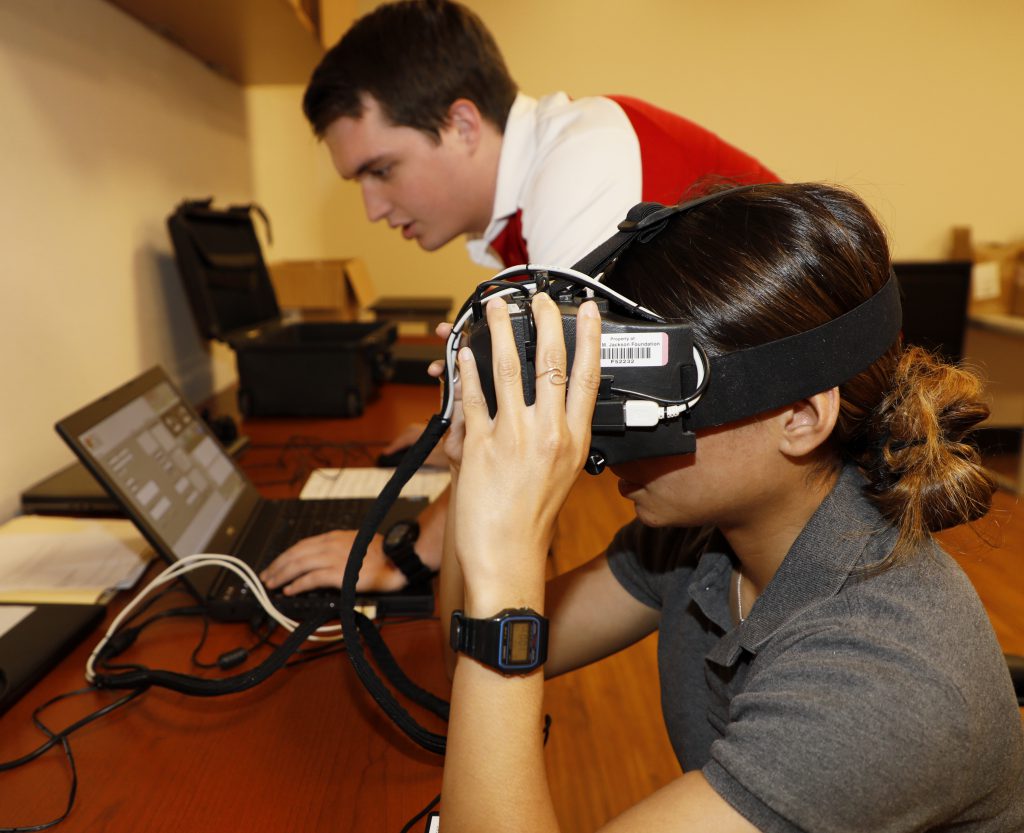 "The objective is to test the validity and reliability of applications and products used to assess traumatic brain injury in military service people for the Department of Defense," said Churchill.
He says the results could also be used for other populations such as athletes.
"We are comparing the visual tracking abilities between a control, or normal group, and people who have had a traumatic brain injury," said Garner. "We believe that we can pinpoint areas of the brain that have been affected." Another lab, in another location, operated by Citadel alumnus David Keyser, Ph.D., Class of 1981, tests people with known brain injuries. Their findings will be compared to the control findings from Garner's team.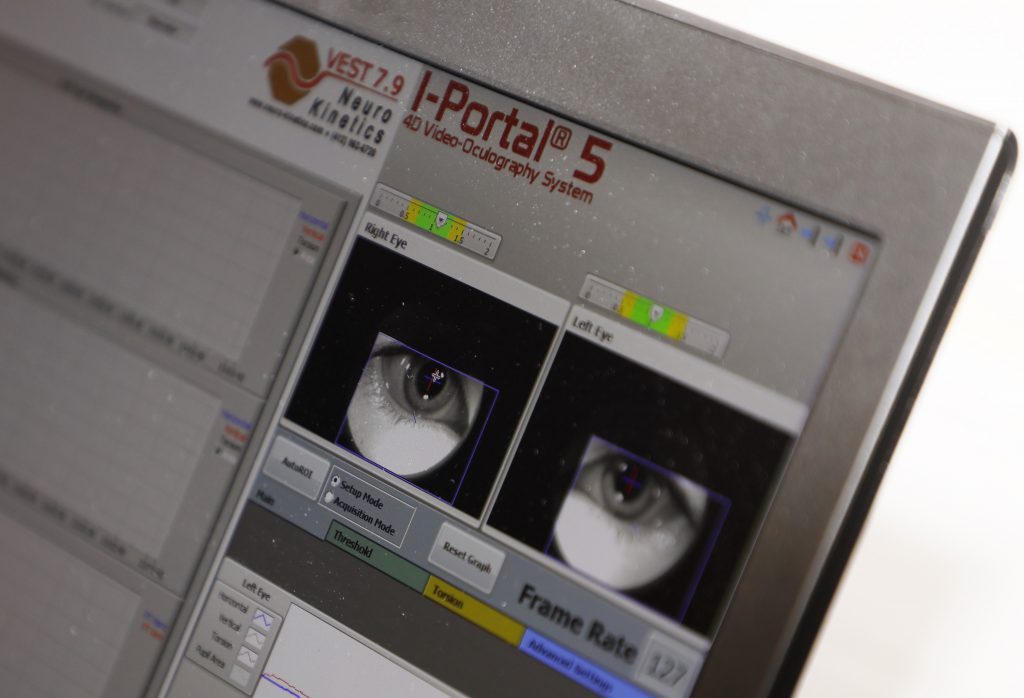 "We have several mechanisms we use, including electroencephalogram (EEG) equipment, that record the electrical patterns of the brain in response to computer programs that our subjects will view while connected to it," Churchill said. Churchill is majoring in exercise science and hopes his work as a researcher will help him get into graduate school.
"I found out about the SURE program when I went to our Career Center to look into internships. This is even more exciting than an internship. It's the kind of thing you come to The Citadel for—to get set up for your future."
Churchill hopes to continue assisting with the project with a goal of publishing a paper that will be useful in helping treat American troops.
Inventing a new compound to save and restore artifacts
Hot humid climates can rapidly deteriorate fragile artifacts and artworks, which, depending on the material, can absorb moisture quickly developing microscopic spores of fungi and mildew that can be difficult to remove. Professor Rebecca Hunter, Ph.D., an expert in analytical chemistry, and specifically, nitric oxide, is developing a gel she hopes will offer a remedy.
"We are creating a gel that produces low levels of nitric oxide which is actually naturally produced by the human immune system," said Hunter. "The idea is that the gel when applied to artifacts that are experiencing biodegradation will loosen the invasive element. It would then simply be peeled off, removing the debris without harming the object."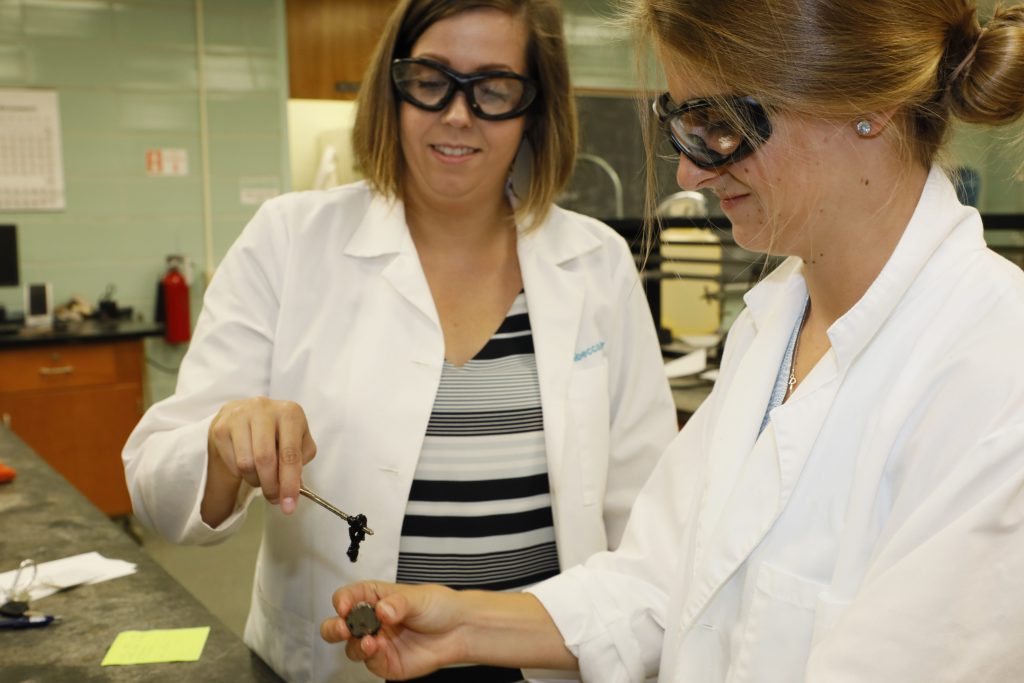 Cadet Tinslee Dilday, a senior majoring in biochemistry, says it's a matter of trial and error, over and over again, until they concoct the right compound.
"I think it's important to understand how the processes of creation, observation and notation work in order to document each step," Dilday said. "It's an amazing opportunity that I couldn't do full-time if I wasn't getting paid. I'd have to have a summer job and squeeze research in where I could."
The soccer-playing biochemist explains how they are using super paramedic iron oxide nanoparticles, or SPIONS for short, which are also magnetic.
"They are doped with nitric oxide, transforming them into polymers that we hope to put on an artifact like a first edition book and then be able to remove without leaving a trace," Dilday said.
Her professor understands that the trial and error process is of the most important part of undergraduate research.
"Having the confidence to keep doing things despite failure is especially important," Hunter said.
Creating an affordable device to measure fluids in motion
Entering his third year of studies, Aaron Budd is heavily focused on developing a device to measure fluids in motion. Budd served in the U.S. Marine Corps for nine years which is where he became intrigued with aviation engineering. He is now a veteran student majoring in mechanical engineering through The Citadel Evening Undergraduate Studies program, supported by his GI Bill® benefits.
"Think about an airplane and its parts. When you think about the wing, consider the air moving over the wing. That air is a fluid," Budd said. "We are developing a low-cost version of a high-dollar piece of equipment used to in the study of fluid dynamics, which means fluid in motion."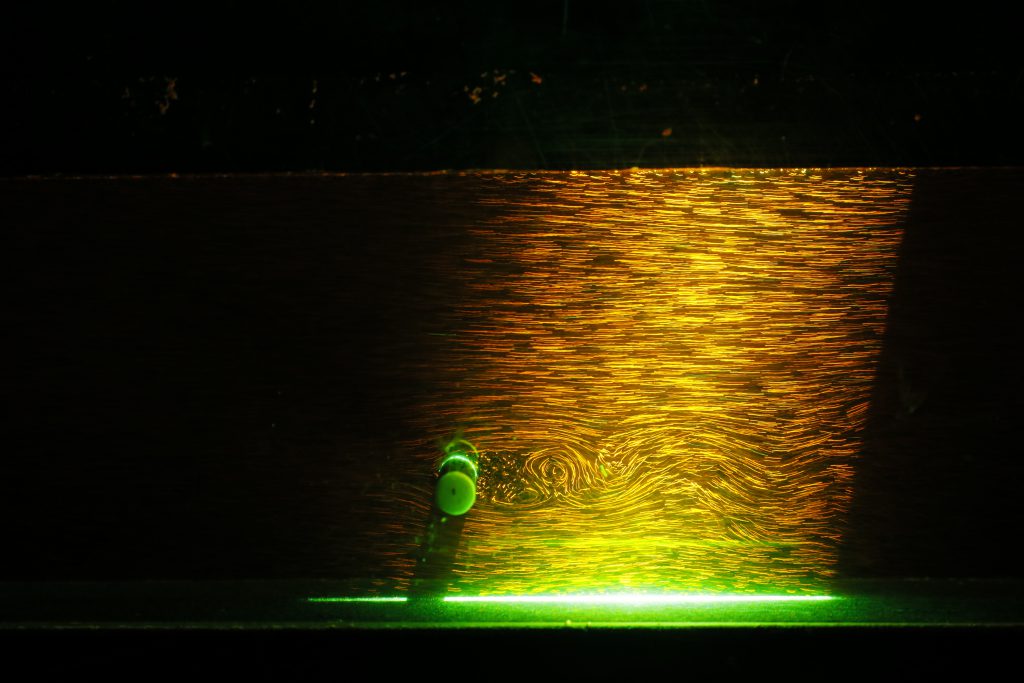 Aaron explained that he used 3D printing to create a laser and other items that he then adapted to a piece of equipment that was already in one of the college's engineering labs. The result is a particle imaging velocimetry, or PIV measuring system.
"The laser comes through the cylindrical lens and splits the beam into a sheet, hitting the mirror then reflecting down into the water where we have tiny red micro-meter particles," Budd said. "The particles move with the same density as the water and when they flow it creates an oscillating pattern. We take a high speed recording of it and then examine each frame. From that we are able to measure the velocity."
Budd believes he is close to proving that he can get the same data with an investment of a few hundred dollars that is obtained from a piece of equipment than costs $100,000. He hopes to use it for aerospace-related research to help visualize the stress on an airplane wing when it is flying, but says it can be used for other mechanical and civil engineering projects as well.
Predicting earthquake impacts with shear wave velocity analysis
When an earthquake occurs, a wave of energy pushes up through the earth.
"Assessing how that energy, the shear velocity of that wave, will impact the top 100 feet of soil is allowing us to model the possible impacts that would be felt above ground here in the Charleston area should another big earthquake occur," said Professor Simon Ghanat, Ph.D., a member of the Department of Civil and Environmental Engineering faculty with a specialty in seismic site response studies. "The largest earthquake in the history of the southeastern U.S. was right here in 1886 and killed more than 100 people."
Ghanat explained that Charleston is still considered an earthquake hotspot based on geological surveys.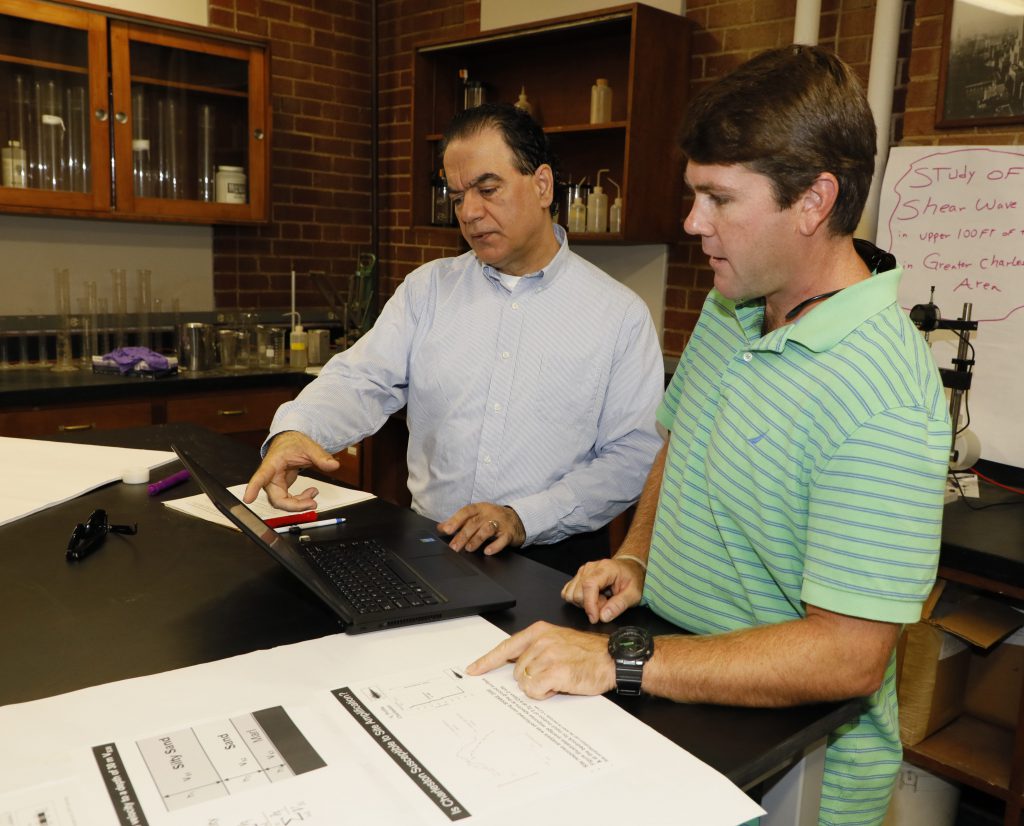 Working with him on the earthquake shear wave velocity project is Emmett Smith, who is majoring in civil and environmental engineering through The Citadel's Evening Undergraduate Studies program.
"I work for the city of Charleston and during the regular academic year take classes in the evenings at The Citadel," Smith said.
To get started Smith accessed data from several engineering companies, and then compiled it through a variety of formulas to estimate the shear wave velocity of the top 100 feet of the soil profiles. They are working to use the shear wave velocities to predict the response of soils at a variety of Charleston-area locations.
"The top 100 feet are the most important when it comes to potential damage. Soil in Charleston is sandy and unstable because it's like a sponge. It can even liquefy in some cases," Ghanat said.
They plan to publish their findings when they complete their research in hopes of developing a common application for the use of the data.
"We've got a great working relationship and this process has helped me with my communication and observation skills too," Smith said. "Being a paid researcher for this project with Professor Ghanat has provided me the chance to be very focused on my studies."
For more information about The Citadel's Summer Undergraduate Research Experience, or other research opportunities please click here, or email uro@citadel.edu.