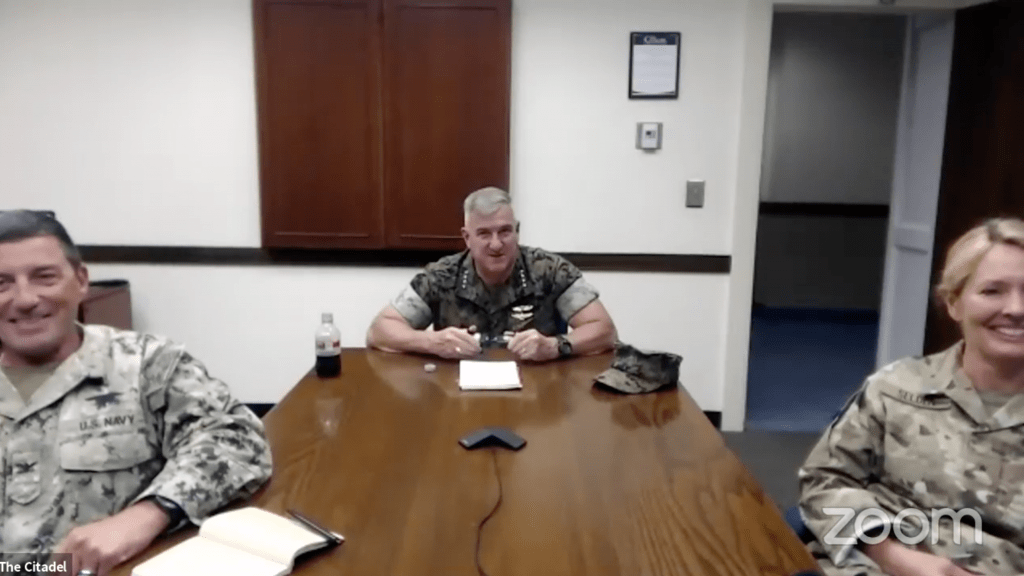 Citadel president, provost and commandant answer questions during July 8 event
As The Citadel moves forward with Operation Fall Return 2020, an agile, conditions-based plan to return cadets and students to face-to-face instruction, college leadership is communicating regularly to keep all constituents informed.
The Citadel President, Gen. Glenn M. Walters, USMC (Ret.), Sally Selden, Ph.D., the provost, and Capt. Geno Paluso, USN (Ret.), the commandant of cadets, led a virtual town hall meeting July 8 for cadets and their parents, to supplement the other communications being used to convey developments related to the operation. Members of the Zoom audience submitted questions via the Zoom chat function, many of which were answered live.
The top six takeaways from the virtual conversation:
Report dates and class dates for Corps moved up one week for compressed semester that will end just before Thanksgiving.
Protections in place will include masks and sanitation supplies for cadets, and methodical, expert, and ongoing sanitization of all campus facilities.
Cadets asked to complete COVID-19 test as close to two weeks prior to return as possible and submit emailed test results to their TAC (or for freshmen, to admissions@citadel.edu).
The Citadel's plan is informed by lessons learned from hosting U.S. Marine Corps staff and recruits at the college for two weeks of observation before the recruits ship out to Parris Island for basic recruit training.
The Citadel will temporarily modify cadet barracks assignments for three groups of cadets — athletes, cadre and knobs, and remaining upper-class cadets, in order to reduce the risk of COVID-19 spreading during the phased arrival of each group.
The Citadel will modify academic courses to a "hybrid" academic model, and will use a phased arrival plan for matriculation. These changes help the college maintain appropriate social distancing.
Also noted was a study by Cornell University researchers, reported in Inside Higher Education, that concludes that an in-person semester would result in fewer campus members being infected, compared to an online semester where campus populations would be out in communities where fewer protective measures are in place or required.
Approximately 1,000 people joined the Zoom town hall session live, and the recording link on Facebook has been viewed 12,000 times.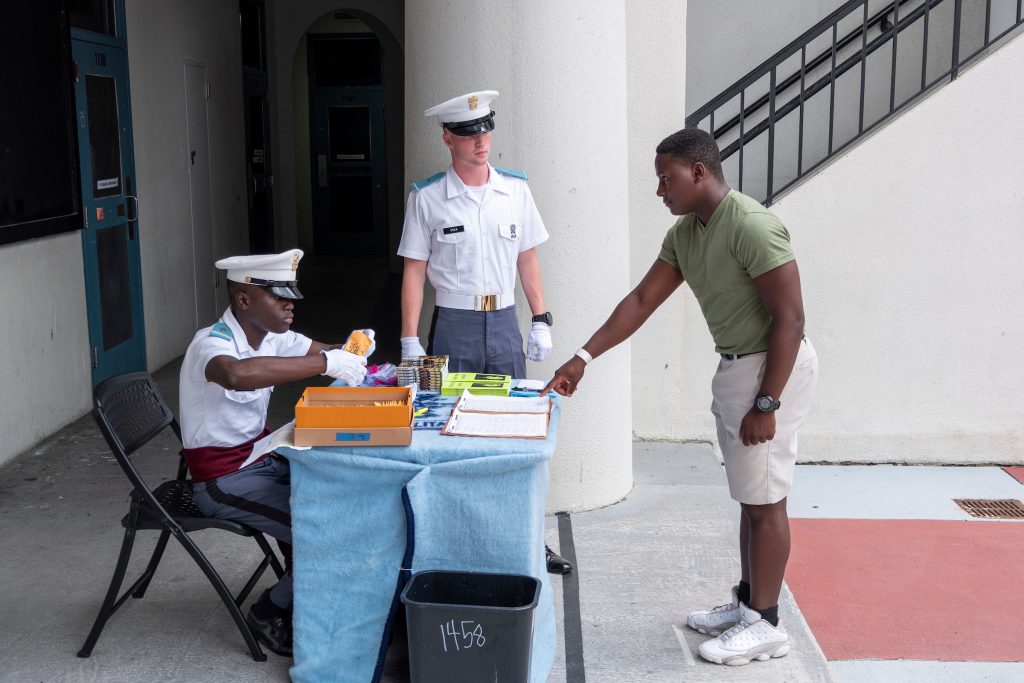 The next virtual town hall will address incoming freshmen and their parents. The information and link are as follows:

Citadel Class of 2024 Fall Return Town Hall
Tuesday, July 21 at 7 p.m.
https://citadelonline.zoom.us/j/98449029652?pwd=TU4wb0FZUTVEMEFNZzBmQ3JnZUxxQT09
Have a question? 
As Operation Fall Return 2020 progresses, information is added to the Operation Fall Return 2020 website where frequently asked questions can also be read. 
Members of The Citadel Family with questions are encouraged to submit them here.
Watch the July 8 Operation Fall Return 2020 Virtual Town Hall for cadets and parents below.