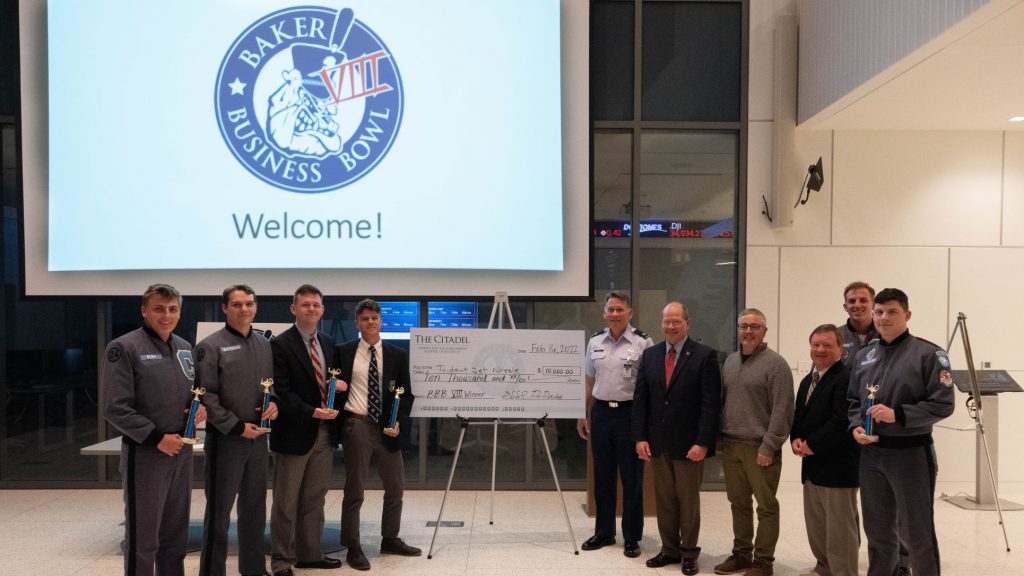 By Alaina Rink, CGC '22
The $10,000 Baker Business Bowl VIII prize goes to team Trident Jet Nozzle. Their product is a jet nozzle attachment that improves water safety by increasing steering precision. Team Trident Jet Nozzle is an interdisciplinary team, with four Mechanical Engineering majors and one Finance major.
Additionally, they are looking forward to representing The Citadel in the first ever SoCon Entrepreneurship Challenge next week, when they have another chance to win an additional $10,000 prize.
Members include:
Will Bush
Luke Maynard
Lucas Robbins
Joseph Roland
Josiah Schainblatt
Corbet Warren
Team ACE Aeronautical Engineering Consulting came in second place, earning $5,000. They intend for their company to plan, design and develop vertiports that accommodate multiple styles of electric vertical take-off and landing aircraft designs. ACE team members include:
Chandler Beale
Collier Summers
Cadets, evening undergraduate students, veteran students and graduate students who have the determination to turn their idea for a new product or service into a business are eligible to compete. "The Baker Business Bowl showcases our most creative students and is a way to put their learning into action," said Michael Weeks, Ph.D., dean of the Tommy and Victoria Baker School of Business.
In the first round, the entrepreneurs submit a summary of the proposed business venture. There were 33 entries this year from multiple disciplines. 10 of these teams performed their elevator-pitches in the second round one month later, but only five teams could advance to the final round on Feb. 16.
Shawn Swartwood, a professor of entrepreneurship, has been involved with each round of this year's competition. He was pleased to see alumni, and especially members of the Class of 1989, encouraging the teams in the final round. "It is great to see former students giving back to current students," he said.
This year's other finalists were The Auditory Assistant, Colonic Tattoo and Wound Closure. All the teams presented their fully developed business plans, which include marketing, budgeting and production strategies. They also answered questions from the judges.
This year's BBB panel of judges included:
Joseph Conti
Faye Gooding
Deborah Kaufman
Mark Kohler
Antonio Linnen
David Saulnier
This annual event is possible thanks to the platinum sponsorship from The Citadel Class of 1989 and the gold sponsorship of Dan D. Nale, Ph.D., '82. Nale said, "The ability to compete in a competition like the Baker Business Bowl says a lot about the students' futures and The Citadel. There was a diversity of teams and products present tonight. It was a great event, very professional."
For these teams, the final round of the Baker Business Bowl is just the first step.
---
Alaina Rink is a graduate assistant in the Office of Communications and Marketing while pursuing a master's degree in English. She earned her undergraduate degree from the College of Charleston in secondary education English and taught in the Charleston area for four years.