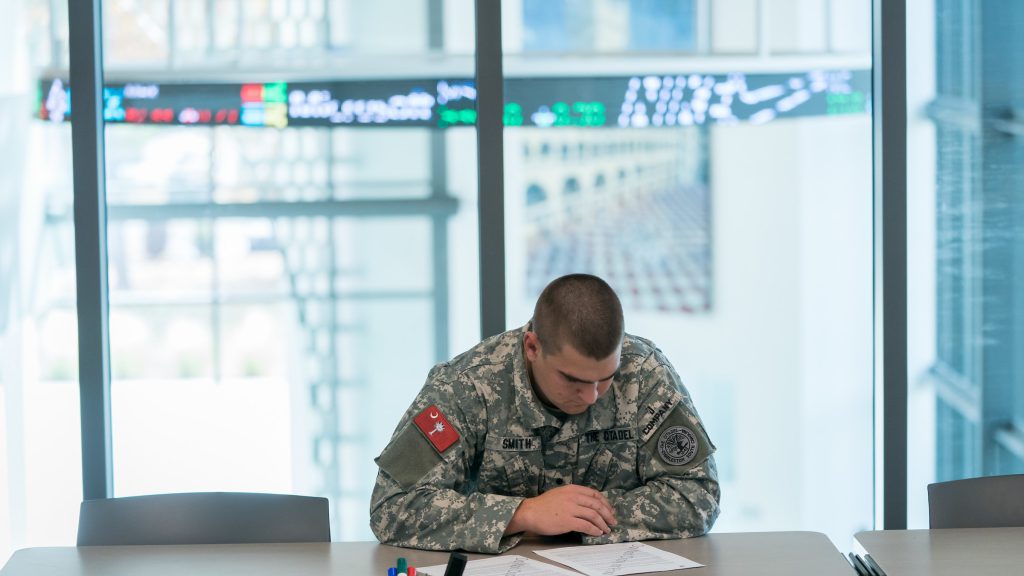 During the spring semester, the Tommy and Victoria Baker School of Business (BSB) will host two competitions — each with a the grand prize of $10,000.
The first is an annual competition in its eighth year: the Baker Business Bowl.
The BBB is a program aimed at helping budding entrepreneurs who have an idea for a new product or service, and the desire to turn that idea into a business. It's open to cadets, evening undergraduate students and graduate students.
The second, though, is brand new: the SoCon Entrepreneurship Challenge.
BSB to host the SoCon Entrepreneurship Challenge
Budding entrepreneurs from across the southeast will travel to Charleston next semester for the inaugural SoCon Entrepreneurship Challenge. This business pitch competition is scheduled for Feb. 25-26 and will be held in the Bastin Hall Atrium.
Students will participate in two categories: for-profit and not-for-profit. The winning team in each category will win $10,000. You can view the event schedule here.
"This is an opportunity for us to support students and their passion for entrepreneurship and innovation," said Michael Weeks, Ph.D., dean of the Tommy and Victoria Baker School of Business. "We will also have the chance to show off Bastin Hall and our commitment to educating leaders of principle."
Colleges in the SoCon include:
University of Tennessee at Chattanooga
The Citadel
East Tennessee State University
Furman University
Mercer University
Samford University
University of North Carolina at Greensboro
Virginia Military Institute
Western Carolina University
Wofford College
For more information about this competition, please contact Shawn Swartwood.
Baker Business Bowl VIII moves into the final round
The eighth annual Baker Business Bowl is now down to the final five teams. They include:
ACE Aeronautical Engineering Consulting
This company will plan, design, and develop vertiports (a type of airport for aircrafts that land and take off vertically) to accommodate multiple eVTOL designs.
Colonic Tattoo (Glow Ink Solutions)
The team's goal is to to lower the rate of colon cancer/ lesion misidentification in surgery by using a glowing ink encapsulated in acrylic microspheres which will be injectable into areas of interest in the colon during a colonoscopy.
The Auditory Assistant
This company produces a robotic face that will be paired with robotic arms and hands and will be able to sign American Sign Language. The face is necessary in order to convey emotion.
Trident Jet Nozzle
Team Trident Jet aims to improve the safety of waterjet-powered boats (jet boats and jet skis) by increasing their maneuverability. This will be done by developing an attachment for the jet nozzle that increases the mobility of the vessel.
Wound Closure
This company wants to develop a device that can detect bacteria in a wound to help doctors determine the best way to prevent early on infection. This will save money for hospitals by helping prevent readmits due to infection caused by harmful bacteria.
These five teams moved onto the final round of competition after they, along with five other teams, participated in round 2 of the competition. Also known as the "Elevator Pitch," this round required each team to present a short overview of their business and then answer questions from a panel of judges.
The BSB would like to thank the judges:
Faye Gooding
Debby Marindin
Robert Bonelli
Joe Conti
Samy Cuzmar
Greg Gordon
Colin Griffin
Michael Merriken
Scott Swartzwelter
The final round of Baker Business Bowl VIII will be the business plan presentation; it is scheduled for Feb. 16, 2022. This is when the finalists will present their full business plan to a panel of blue-ribbon judges.
To read the full Fall 2021 Baker Business Blast, click here. To subscribe to the newsletter, click here.