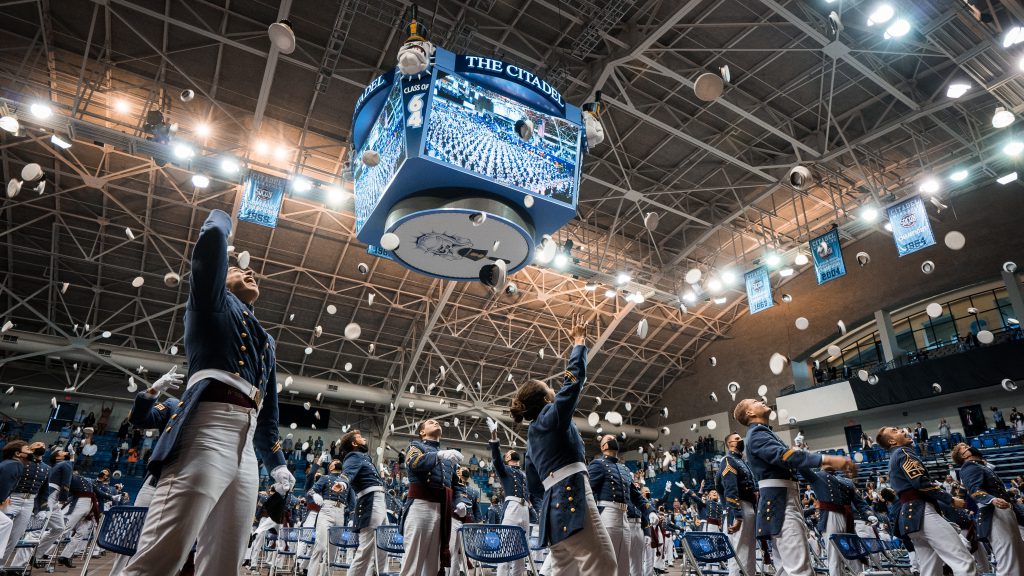 After a year like no other, and a successful return to campus for both semesters, more than 560 members of the South Carolina Corps of Cadets accepted diplomas during The Citadel's commencement ceremonies on Saturday, May 8 in McAlister Field House.
About 27% of the class accepted commissions as U.S. military officers just prior to graduation.
Graduates accepted their diploma from President of The Citadel Gen. Glenn W. Walters, USMC (Ret.), Class of 1979.
As once of his last official acts, the outgoing Commandant of Cadets, CAPT. Eugene Paluso, USN (Ret.), '89, served as the 2021 commencement speaker for both morning and afternoon ceremonies.
The top academic programs for the Class of 2021 included business administration, criminal justice, intelligence and cyber security, mechanical engineering, civil engineering and political science.
The following cadets were among the graduating class:
Adams, Carson Fletcher
Adams, D'Andre Keshawn
Adcock, Jenna Mackenzie
Addy, Skyler Reid
Adkins, Zachary Scott
Ajami, Austin Raymond
Al-Tamimi, Isaac
Altidor, Christal Jessica
Ansell, Allyson G
Antoine, Tashma E
Argy, Matthew Richard
Austin, Brody Michael
Bachelor, Brent Douglas
Bailiff, Carleton , III
Baker, Heath Wilson Branham
Banda, Kevyn Micaela
Banzon, Michelle Maria
Barfield, Anna-Marie
Barnes, Andrew Kenneth
Barnes, William Greene, II
Bates, James Branson
Battle, Donnetta Re'shon
Beehler, Jack Bryan
Bent, Christian Caleb
Beveridge, Nicholas Tyler
Bilton, Kiel Curran
Blakely, James Austin
Blankenship, Adam Samuel
Bley, John Durham
Blumer, Samuel Gillespie
Bolchoz, Brian Joseph, Jr
Bolden, Ruby Lysette
Borneman, Conrad Blake
Boyette, Benjamin Harrison
Brabazon, Andrew Vernon
Brabston, Robert Maxwell
Brackett, Christian Alexander
Brainos, Myna Marcelle
Brechtel, Donald Leroy, III
Brewington, Chamond Tavon
Bridges, Hunter Alston
Brooks, Nathan Hoyle
Browder, Lucas Martin
Brown, Hayden Alan
Brown, Joshua Jamal
Brown, Kevin Michael, II
Brown, Robert Colleton
Brown, Taurus Jermaine
Brunson, William Miller
Bulnes, Louis Alexander, Jr
Burch, Tamia Necole
Burdette, Nolan Mark
Burgess, Halen Michael
Burn, Murray Thomas
Butler, Ian R.
Butler, John Charles Smith, III
Cable, David Charles
Camacho, Cameron Matthew
Camatcho, Patrick John
Campbell, John Charles, Jr
Campbell, Thomas Jacob
Caron, Andrew Robert Jeffrey
Carpenter, Logan Gary
Carter, Charles Michael, Jr
Cassell, Michael Richard
Cavender, Jordan Tyler
Chaisang, Porntep
Chen, Yen-Ru
Cherry, Cody Blake
Christianson, Christian Alan
Christie, Garrett Alexander
Clark, Cameron Rayne
Claytor, Tyler Austin
Clements, William Charles
Cline, Matthew Brian
Coan, Henry Connor, IV
Coffey, William Housh
Cohen, Micah Lewis
Colon, Adam
Conley, Victoria Nicole
Connolly, Gavin Francis
Connolly, Keegan Davis Goodwin
Contreras Muñoz, María Fernanda
Cooper, Darien Cyrus
Coppola, Theodore John
Corbitt, Tyler Justin
Coward, Delson Boston
Craig, Dev Canque
Crawford, Robert Thomas
Crawford, William Timothy, II
Crook, Jesse Burgess
Crosby, Jonah Ashmore
Culp, Jonathan Carroll
Curtis, Michael Ian
Curtis, William Houston
Dahlen, Matthew Paul
Daniel, Grant Matthew
Davis, Brandon T
Davis, Brett Carlton
Davis, Philip Bailey
Davis, Riley Carlyle
Dawkins, Evan Bryce
De Jesus Lopez, Sharlissa Marie
De Los Santos, Samuel Douglas
De Oleo, Simon
Decker, Derek Brent
DeJong, Christian Alexander
Delorme, Alexander Evan Reginald
Desjardins, Andrew Stephen
Dettenmayer, Hayley Rose
Devine, Matthew Connor
Dickson, Parker Haven
Diggs, Brenton Malik
Diggs, Taylor Rose
Dittrich, Matthew Edwin
Dix, Logan Austin
Dixon, James Lee
Dixon, Matthew Scott
Donaldson, Gary Matthew
Douglas, Tyler Jarrett
Dragon, Jack Holden Carmen
Duboise, Christian Alan, II
Duncan, Chad Alan
Dunne, Owen Charles
Edwards, William Blodgett
Eggers, John
Ellison, Tyler McGwire
Elmore, Jackson Price
Engel, Samantha Rose
Eubanks III, Willie , III
Evans, Warren Wesley
Ewer, Cameron Davis
Fannin, Aaron Patric
Faulkner, Sean-Thomas Belton
Fenlayson, William Lewis
Fenney, Robert Andrew
Few, James MacRae
Fiddie, Jacob Walker
Field, Joseph Matthew
Filippis, Miles Martin
Fisher, Robert Clayton, III
Flanders, Collin James
Flowers, Jason Emmanuel
Fohn, Samuel Matheu
Fonteneau, Etienne Roger
Fortner, Ray Campbell
Frazier, Christopher Jordan
Fredericks, Brianne Lawlor
Fricchione, Nicholas Paul
Fricke, Christopher Ross
Friedlander, Justin Abraham
Fuhr, Megan Elise
Fuhrman, Davis William
Funai, Nicholas
Furmanick, Christopher Cache
Gambrell, Joshua Cecil Emmett
Garber, Erin Rae
Garrard, Robert Campbell
Garrett, Haven Williams
Gebrayel, Zavier Alexander
Gentle, Jeremy Christopher
Gibbons, Mitchell Banks
Gilberto, Aaron Augustus
Gillette, Timothy Van
Gomes, Thomas Antonio Holt
Gomes, Thomas Antonio Holt
Goodwin, Amelia Caroline
Goodwin, Michael David, Jr
Gorczynski, Joshua Paul
Graham, James Louis, IV
Graham, William Edward
Grant, William Henry
Gray, Briona Marie
Gray, Charles Stuart
Gray, Jonathan Andrew, II
Gregg, Alfred Leon, II
Grisette, Ulysses Riddle, IV
Grooms, McKinley Neal
Guerry, Caleb Mason
Haas, Haden Wayne
Hamm, Mitchell Gregory
Hammerstone, Thomas Russell, II
Hammond, Anthony Tyrese
Hammond, Noah Lane
Hanna, John Mitchell
Hardee, Jacob Alexander
Hardesty, Joshua Erwin
Harding, Jacob Wheeler
Hardman, Hamilton Aubry
Harrington, Bryce Edward
Harrison, Blake Robert
Harrison, Evans Maxwell
Haydel, Daniel Benjamin
Hays, Conner Edward
Haywood, Garry Steven, II
Heidt, Calahan Mitchell
Hemminghaus, Harrison Wolff
Henderson, Liam Reed
Hendricks, Lillian Elizabeth
Hernandez, David Michael
Herring, Buddy Garrett, II
Hester, Caleb Michael
Hill, Catherine Elizabeth
Hocutt, Michael Alexander
Hoffman, Parker Ross
Holladay, Allen Joseph
Holland, Graham Michael
Hollingsworth, Kathryn Ellen
Holmes, Kienen JaQuan
Hou, Mao-Xiang
Howard, Javier D'Fredrae
Htoo, Joshua Gaynay
Hudson, William Lee
Hughes, Al Thomas
Hughes, Connor Ellis Cushing
Hughes, Wilbur Lewis, IV
Hurtt, Matthew John, II
Hutton, Hunter Greer
Indrieri, Elvis Anthony
Insani, Derian Joseph
Ivey, Patrick Nicholson
James, Warner Ammons
Jarrett, Jonathan Ray
Jenkins, Clifford Abbott, II
Jenkins, Trenton Guy
Johnson, Chalita Acquann
Johnson, Gabriela Carolina
Johnson, Karl Lindsay
Johnson, Patrick Jayroe
Johnston, Kaeley Elizabeth
Jones, Andrew Patrick
Jones, Dusty Lee
Jones, Jordan Piatt
Jordan, Christopher Brent
Josepher, Jacob Beringer
Judkins, Charles Andrew
Kelley, Wesley Jacob
Kennaw, Tanner Matthew
Kenney, Tyler Michael
Kerner, Jared Matthew
Kidner, Jeffrey Pleasant
Kidner, John Barrett
Kilgallon, Cameron Lee
Kilpatrick, Austin Chandler
King, Justin B
King, Mellanie Nicole
Knapp, Jacob Patrick
Knizek, Karl Lister
Kober, James Joseph, III
Koch, Alecia Brianne
Kokowsky, Roman John
Kollmann, Jonathan Fuentes
Kreisler, John Christopher, Jr
Kress, Patrick Mitchell
Kress, Patrick Mitchell
LaDouceur, Alec Francis
Landstreet, Joseph Brice
Lanham, Cameron Scott
Lassiter, John Bolton, Jr
Lawson, Tanner Stansell
Layden, Lillian Marianne
Layden, Lillian Marianne
Leaphart, Spencer Andrew
Lee, David Joshua
Lewis, Desmond Jeremiah
Linder, Katelynn Rose
Lindsay, Daiveon Jonique
Long, Jackson Bennett
Long, Nicholas Reid
Lopouchanskiy, Michael Alex
Lowe, Elijah Jeremiah
Lucarelli, Joseph Peter, II
Mack, Hope Katelyn
Mack, Stanford Cleophus
Maddox, James Ryan
Maddray, James Ian
Maharrey, Ryan Tanner
Mangum, Cole Asher
Mansell, Harrison Trevor
Manzione, Catherine Marie
Mappus, Andrew Michael
Marsh, Charles William
Martin, Andrew Kenneth
Martin, William Brett
Martin, Zedina Amaria
Massey, Aidan Hunter
Mathis, Preston , Jr
Mazyck, Matthew Deshon
McAllister, Trevor Adger George
McCarthy, Ryan Matthew
McCoy, Cullen Michael
McCullough, Alexander Blake
McCutchen, Kody Mills
McCutcheon, Matthew Warren
McGregor, Mason Wren
McKee, Marshall Montgomery
Mckenzie, William Granvil
McNeil, James David, Jr
McNemar, Conner Ernest
McSheehan, Kenneth Todd
McSwain, Connor Scott
Mehl, Brock Christopher
Merrick, Devin Hunter
Miles, Regina Amber
Miller, Davis James
Miller, Emilie Casey
Miller, Jesse Dean
Miller, Robert Campsen
Mills, Hunter Lewis
Mills, Logan Parks
Minges, Reid Edward
Mitchell, Zane Thomas
Moorman, William Talley, Jr
Moreno, Trevor Daniel
Morris, Sierra Marie
Moseley, Caleb Daniel
Moses, John Dowlin, Jr
Moule, Jacob Spencer
Muehl, Chase Christopher
Munday, Connor Garrett
Murphy, Joseph O'Connell
Nabholz, Samuel Whitson
Najjar, Christian Samuel
Najjar, Christian Samuel
Nathan, Tyler Edward
Neeley, Hunter Lewis
Nerny, Matthew Ryan
Neumann, Dustin Alexander
Neumann, Dustin Alexander
Nine, Andrew Charles
Niswender, Craig Robert
Nulman, Matthew Ross
Nuttall, Ryan Mims
Nyhart, Devyn Crawford
O'Brien, Brooks Patrick
O'Brien, John Brice, Jr
Oerman, Brandon Austin
Ogobri, Timiebi Alexander
Oladimeji, Ade Tosin
Oliveira, Blake Andrew
O'Melia, Kaitlynn Christine
O'Neal, Robert Pruett
Opp, Amber Nicole
Osborne, Houston Avery
Owens, Jonathan Colie
Owens, William Truesdale Patterson
Padgett, Kenslee Noel
Pantsari, Ansley Ryan
Pappas, Nicholas Patrick
Park, Jason Bum
Park, Jie Young
Parker, Alex Christopher
Parnell, Andrew Riggs
Peeler, William David, II
Peters, Patrick Donnelly
Pfarrer, Charles Patrick, IV
Phillips, Antonio Louis
Piacentini, Nicholas James
Pierce, Lindsay Brogaw, IV
Pinckney, Kenya Durant, Jr
Player, Matthew Adam
Poulin, Samuel Joseph
Powers, Ethan W
Pozzani, Jennifer Elaine
Price, Campbell Scott
Prickett, Fuller Dupont
Rathke, William Van
Ray, Troy Cahil
Reeder, Andrew Patrick
Reen, Sean Flanagan
Reid, Ronald Jay, Jr
Reid, William Hartley
Rentz, Olivia Mary
Reyes, Vanessa Angelica
Reynolds, Scoville Hewitt
Rhode, Timothy James
Rhodes, William Scott
Rice, Kaiden DreShon
Richardson, Ashlee Jordan
Richardson, Benjamin Thomas
Ricker, Eric Donald
Robards, Frank Benjamin Walker
Roberts, Kevin Daniel
Robertson, Derrick O'Neal, Jr
Robinson, Jonathan Derick
Rodgers, Ian Mitchell
Rogers, Thomas Edward, IV
Roth, Hannah Lauren
Rowe, William Hampton
Royal, Krishawn Jordan
Royer, Joie Elin
Ruotolo, Nicholas John
Rush, Matthew Randall
Russell, Adam Robert
Sabo, Jonathan Frank
Salter, Ryan Timothy
Sasser, Robert Scott
Sawyer, John Dylan
Scronce, Logan Beatty
Sebold, Garrett Joseph
Seidler, Christian Alejandro
Sessions, Keyonte Jentavis
Severnyak, Alexei Leonidovich
Sharpe, Pedro Caleb
Shaw, Charles Tucker
Shealy, Charles T
Shields, James Charles
Shih, Chien
Shipley, Jeremy Mark
Shively, Brandon Nicholas
Shuman, Joshua Mitchel
Silman, Chase A
Silva, Zachary Christian
Simpson, Daniel Scott
Sisson, Zachary Pierce
Smith, Dante Ravelle
Smith, Douglas Donald
Smith, Halston Parker
Smith, Zion Matthew
Smithdeal, Thomas Clark
Snipes, Lashonda Michell
Solomon, Luke Russell
Spencer, Alex Theodore
Sprinkle, John Bascomb
Spurlock, Kenneth Doyle
Stafford, Stanislav Patten
Stanley, Ethan Davis
Stephan, Ian Joseph
Stewart, David Colson
Stewart, Gavin Foster
Stockdale, Samuel David
Stokes, Gabriel Joseph
Stork, John Henry
Stout, Yudai Gregory
Strong, Emma Michele
Strunk, William Chadwick
Swain, Matthew Connor
Swanson, Adam Leslie
Swindel, Clifford Nicholas
Szparaga, Bradley Daniel
Taylor, Wesley Graham
Teague, Amanda Beth
Thaggard, Tucker Charles
Theriault, Jacquelyn Danielle
Thomas, Cameron Scott
Thomas, Connor Reed
Thomas, Seth Sung-Hoon
Thompson, Jason Coleman
Thorne, Charles Larry, III
Tillman, Peter Bennett
Timmons, Joseph Thornton
Timpner, Evan William
Totty, Jameson Sloan
Towers, Ashley Eileen
Troiani, Anthony Francis
True, Jacob Michael
Turner, Cody Alexander
Tuten, William Barney, III
Tywater, Robert Houston
Valencia, Joshua Isai
Vallos, John Hensel
Van Maanen, Aaron Edward
VanHerwynen, Jackson Hunter
Vettel, Eric Thomas
Vettel, Luke Timothy
Wagoner, William Austin
Walker, Benjamin Etheredge
Walker, James Adam
Walker, Johnny L
Wall, Matthew Tyler
Watford, James Dean
Watson, Corey Parker
Watson, Jeffrey Gray, Jr
Webster, Colton Joseph
Webster, Derek Paul, Jr
Wedgeworth, Harrison Cameron
Weldon, William John
Wellons, Phillip Wayne
Wengerd, Chase Isaac
Wentley, Daniel Denver Cabatana
Westmoreland, Jonathan Charles
Weyrich, Christian Alexander
Whalen, Maxwell Arthur
Whitfield, Garrett Hardy
Wiand, Thomas Christopher
Wilkening, Gabriel Christian
Wilkes, Daniel Edward
Williams, Caleb Jarrod
Williams, Ryan Alexander
Williams, Sydney Anne
Winborn, JoAnna Rae
Winkler, Henry Joseph
Winterstein, John Daniel
Wise, Brian Matthew
Woods, Justice Janjaye
Young, Greyson Steele
Young, Justin Drew
Zappendorf, Ronald Jack, III
Zuschlag, Samuel Crittenden