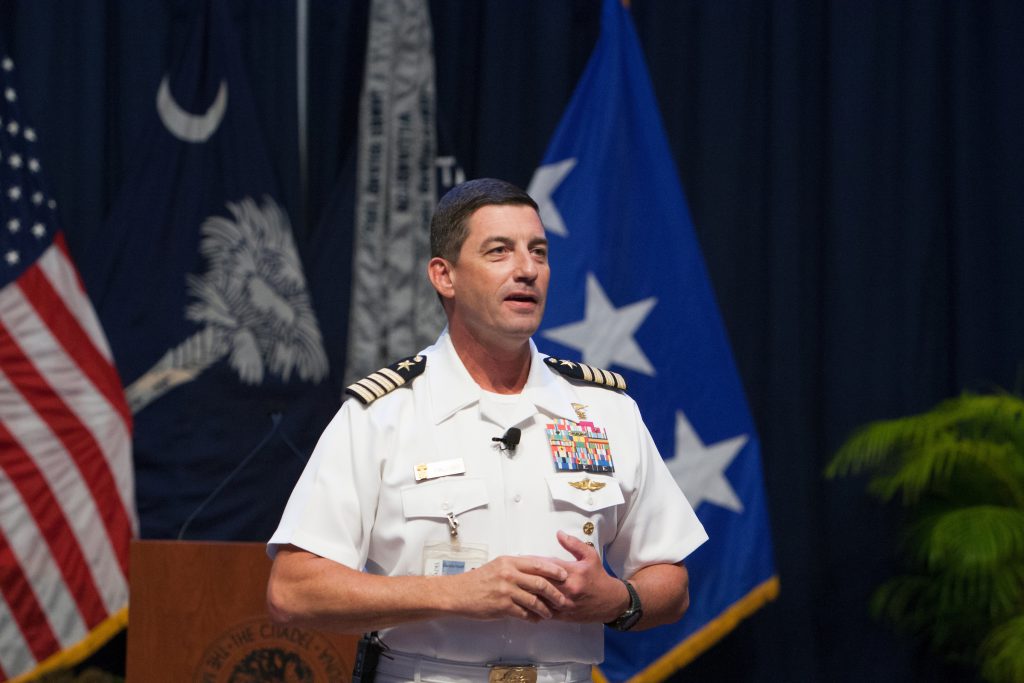 Photo above: The Citadel Commandant of Cadets, Captain Geno Paluso, USN (Ret.), '89, addressing freshmen cadet recruits in 2018
Citadel Family:
After serving as Commandant for nearly seven years, Captain Geno Paluso, USN (Ret) '89 will pursue great new opportunities upon completion of his contact 30 June 2021. Captain Paluso and his wonderful family serve the college and our campus community extraordinarily well- he is an extremely effective Commandant. I take this opportunity to not only notify our campus community of his plans, but also share a few of his many achievements.
Since arriving in July 2014, Captain Paluso demonstrated the same professionalism, grit, energy, and determination as Commandant that made him a highly successful and decorated U.S. Navy SEAL officer. He was a superlative, dynamic leader in the Fleet, and brings the same each day to his Alma Mater as Commandant.
Like the military, The Citadel is a learning organization, and after carefully assessing the Corps' leadership training model, Captain Paluso began adding much-needed structure and renewed focus. He also established experiential training events including leadership reaction courses for cadre and individual classes, and cadet officer and non-commissioned officer academies. These refinements advanced The Citadel's overall leadership development model, enhancing the ability of the Corps to lead and command the Corps. Captain Paluso's innovations give our cadets additional tools to be strong, professional, and effective leaders.
The results speak for themselves—the South Carolina Corps of Cadets continues to shine. Our graduates are sought after not only for their academic achievements, but also their leadership skills and character, developed during their time as cadets. They continue to graduate in four years at the highest rate in South Carolina, have record employment rates, flourish in military service or their chosen careers, and garner the financial and professional rewards from doing so.
More recently, the Corps of Cadets' performance has been extraordinary in executing the real-world mission operating in the COVID-19 environment. Following appropriate health and safety measures while staying focused and holding each other accountable, it is no accident they are finding success while students at many other institutions are struggling. These achievements are the result of the direction and leadership our cadets learn and implement as part of their experience under the Commandant and his staff. Captain Paluso's leadership is facilitating our success, and imparting to the Corps invaluable lessons during these extraordinary times.
Captain Paluso will guide the Corps and Commandant's Staff for the remainder of the academic year. The College will begin a national search in November for our next Commandant, continuing our tradition of excellence while building upon Captain Paluso's outstanding work. This position is critical to implementing The Citadel's leadership development model, and the leader we ultimately hire has big shoes to fill.
I look forward to the remaining months of Geno's tenure. I am excited for both his and The Citadel's future.
Semper Fi, and Go Dogs!
Glenn M. Walters '79
General, USMC (Retired)
President