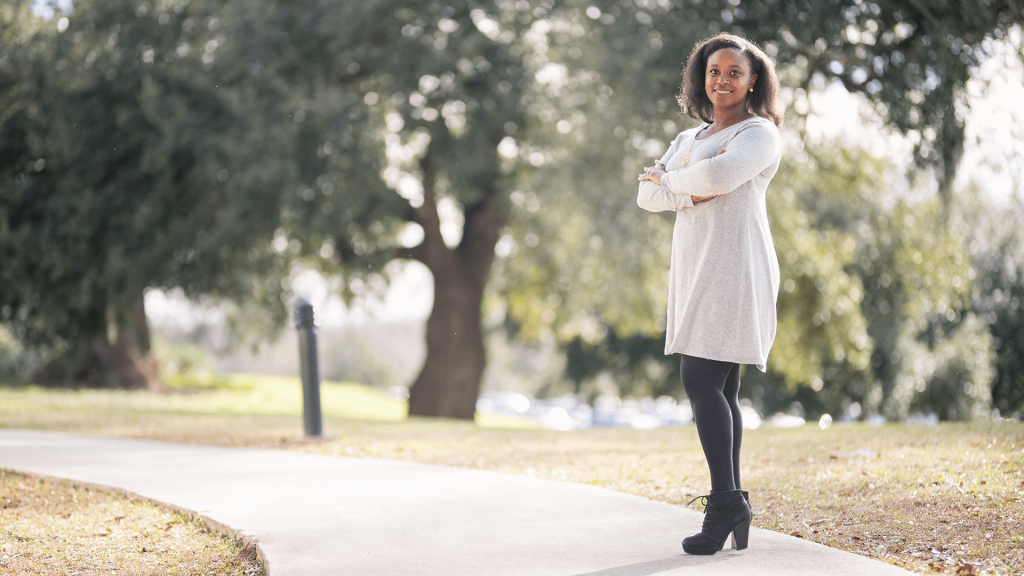 Citadel Graduate College student studies effect of sleep on emotional well-being
As seen in The President's Report 2018
Students are no strangers to sleep deprivation, but in Shaniqua Crews's case, lack of sleep sparked an interest that led to her thesis research. Crews, who is working on her master's degree in school psychology, began conducting research last fall on sleep and its effect on emotional well-being.
"On a campus like The Citadel, where total fitness and resilience are so important, sleep could be an even more important factor," said the Summerville resident. "The amount of sleep you get affects your performance in so many different ways. Particularly with respect to the military, you need to be at your best and performing your best at all times. It's an important factor to consider when you're thinking about the total fitness of cadets or military personnel."
Working with her advisor, psychology professor Capt. Alexandra Macdonald, Ph.D., along with exercise science professor Maj. Dan Bornstein, Ph.D., Crews gathered information on the sleep habits of cadets. Using Fitbits for a three-week period, she measured how long they were taking to fall asleep and how long they were sleeping. Through surveys, she collected data on psychological variables such as anxiety, stress and depression.
"Psychology research shows that social support—family and friends you believe care about you—helps fight against stress and anxiety," said Crews."The Citadel is a population that is strong on brother- and sisterhood, and social support is something that could help when dealing with stress and lack of sleep. We are planning to compare the data to that of other colleges and military personnel."
The interdisciplinary collaboration that went into the research was an unexpected bonus for Crews.
"I am in the psychology department, and we live in our own world in Capers Hall," she said. "I got to meet a lot of different people from many different disciplines and hear their perspectives, and it made for a well-rounded, balanced picture."