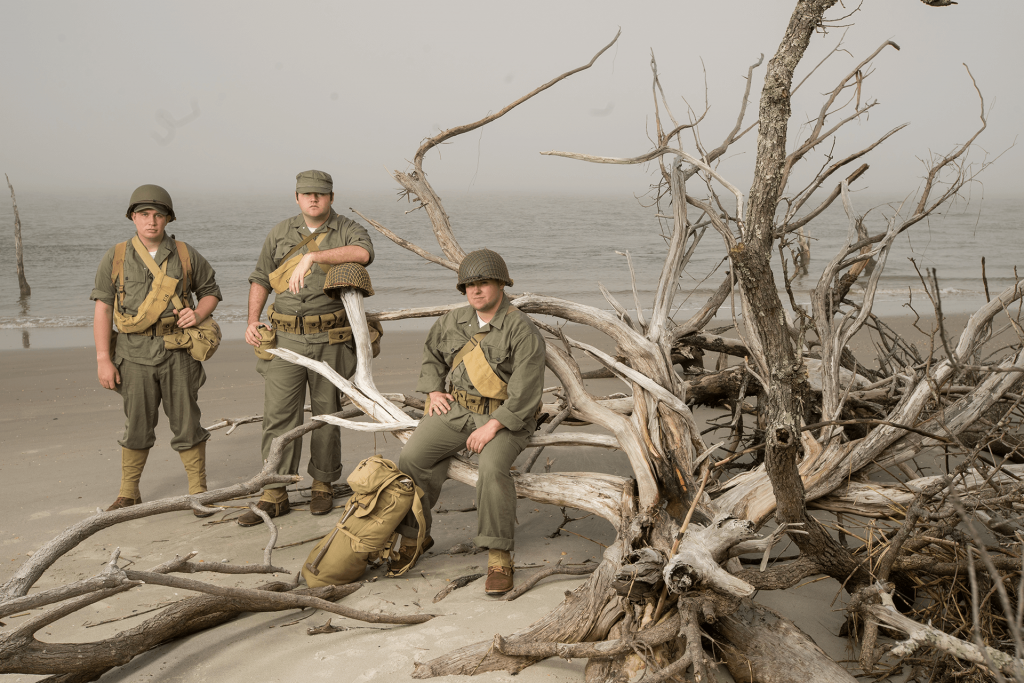 Military Living History Society brings the battlefield to life
As seen in The President's Report 2018
On November 20, 1943, members of a heavy weapons section of the 105th Infantry waded ashore in the World War II invasion of Makin Atoll. At the time, Makin was a chain of Japanese-occupied islands in the Pacific nation of Kiribati, and the 105th Infantry Regiment of the 27th Infantry Division was an inexperienced New York Army National Guard unit that had been federalized in the war effort.
Seventy-five years later, in November 2018, a group of cadets from the Military Living History Society, including Cadets Porter Magnuson, Charles Hill and Cody Bailey (pictured left), traveled to Fort Morgan, Alabama, to take part in the anniversary reenactment of the Makin battle. Dressed in period reproduction uniforms, the cadets began their day on a three-mile road march to the marina where they boarded an actual World War II amphibious landing craft, known as a "Higgins boat," to make their way to Mobile Bay. With them they carried a 35-pound machine gun, a tripod and about 1,500 rounds of blank ammunition.
"We try to expose cadets to military life of the periods they enact," said retired Baker School of Business professor Col. William Sharbrough, Ph.D., who has served as a faculty advisor to the club since 2002. "It becomes a leadership activity. They play the roles of military leaders of their unit and interact with other military units. We help them to understand the tactics, equipment and military history."
The club is more than just a reenactment club for the 25 or so cadets who serve as its members—it offers additional training in teamwork, weapon safety and accountability.
"It's a leadership program, and at the same time, it's an experiential learning program," said physics associate professor Maj. Luke Sollit, Ph.D., who also serves as a faculty advisor for the club. "We teach military history in a manner that you just can't get any other way. You put on the equipment, you go out there and you see how it all works together."