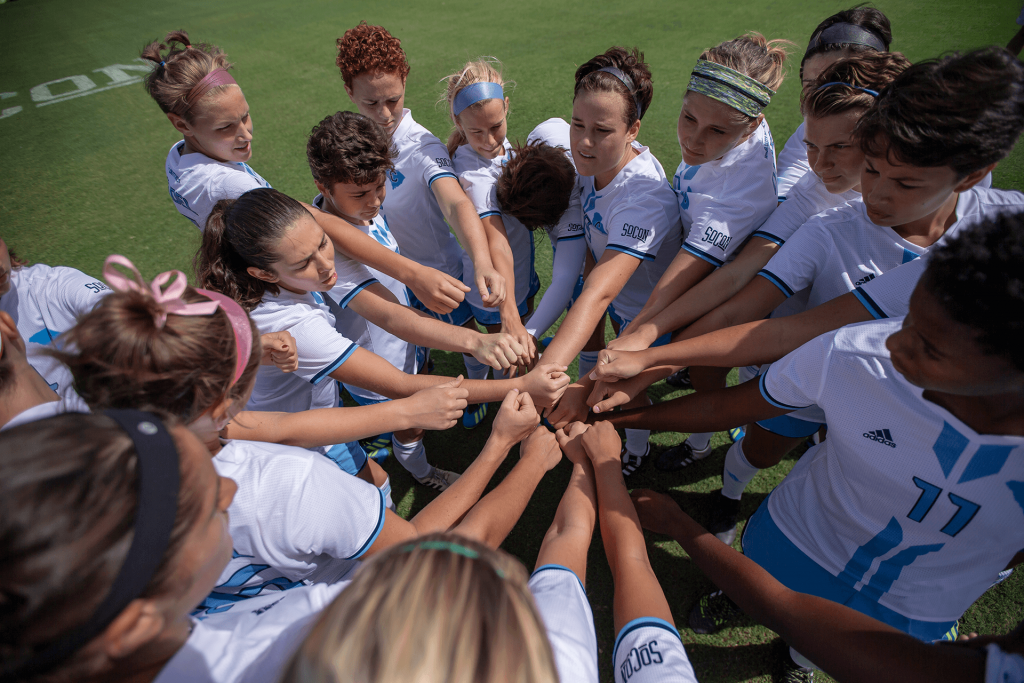 Citadel Women's Soccer team builds momentum
As seen in The President's Report 2018
When head soccer coach Ciaran Traquair (pronounced Keer-in Trah-quer), who hails from Coatbridge, Scotland, near Glasglow, first arrived on campus in 2016, the team had a 1-19 record. After three years with Traquair on the sidelines, the record is 9-10, and the momentum for the youngest women's soccer team in the Southern Conference is on the upswing.
For Traquair, building good relationships with players was critical to turning the tide.
"The kids didn't enjoy soccer, and the program was in disarray," he said of the program he inherited.
Traquair began recruiting.
"I told recruits, 'You're going to come here and change the culture.'"
And change the culture Traquair and his players did. With a 3.55, women's soccer has the highest grade point average of the college's 16 teams. The Bulldogs ended the 2018 season on a high note, winning a Southern Conference Tournament game for the first time in four years. Along the way, they beat the University of North Florida and East Tennessee State for the first time in program history and VMI for the first time since 2014.
"On paper, we shouldn't have beaten those teams," Traquair said. "But we played like we had our lives on the line, and we won."
Cadet Kessy Bradshaw, a forward who scored seven goals of the season, including two game winners, was the first Citadel player to be named to the Southern Conference All-Freshman Team since 2014.
"We were able to go up against some great teams with some very skilled players," said Bradshaw. Knowing that we out-worked some of them and played our hardest has given us the confidence we need to move towards the top of the conference and compete against anybody."