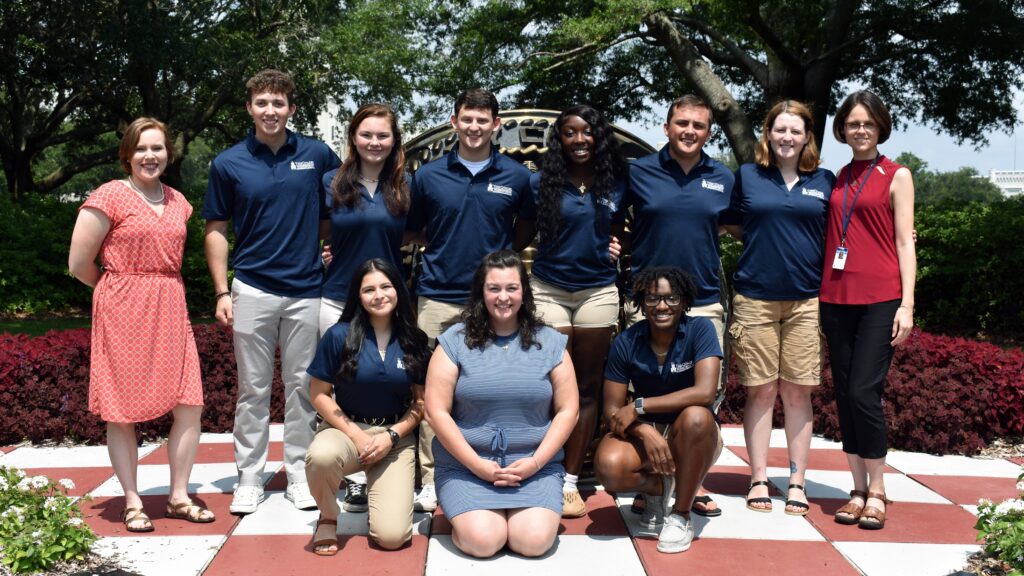 Summer is a time for many to rest and reset before the next academic year begins, but for one particular group of cadets and students, it's a time to give back to their community. Since 2012, the Summer SUCCEED program at The Citadel has selected cadets, veteran students and graduate students who want to devote their summer to full-time service. After undergoing a competitive selection process, the Summer SUCCEED fellows spend their time giving back to schools and camps in the area, while receiving a stipend and in some cases, barracks housing. The Summer SUCCEED program is a service learning effort through The Citadel's Krause Center for Leadership and Ethics.
Dedicating an entire summer to volunteering and giving back to the local community isn't how many would spend their time off, but for Summer SUCCEED fellows — it's an easy choice. Many want to get real experience in their future career fields and better the community, including those who are a part of it.
"I am constantly inspired by the transformative impact our Summer SUCCEED fellows have on our community. Every year, our cohort of exceptional young leaders have exemplified the true meaning of leadership, ethics and discipline — values that are instilled every day at The Citadel," said Christina Arnold, director of service learning and community engagement at The Krause Center for Leadership and Ethics. "Their dedication, passion for service and commitment to bettering their communities have not only enriched their own lives but the spirit of the Summer SUCCEED program. This program continues to shape the leaders of tomorrow and I'm honored to be a part of it."
The Summer SUCCEED fellows for 2023 aren't quite done — they will continue to work at their volunteer sites in the upcoming week as the season comes to an end. The fellows have spent their time impacting underserved youth in the area by helping them grow and flourish academically and socially. One camp where Summer SUCCEED fellows helped, hosted on The Citadel's campus, was this summer's STEAM camp, where they helped campers participate in hands-on activities that related to science, technology, engineering, art and mathematics. The Summer SUCCEED group served 10 different community sites, including: Camp Rise Above, Charleston County School District, Charleston Therapeutic Recreation Department, The Citadel STEAM camp, Fields to Families, Hope to Home, Children's Museum of the Lowcountry, Sweetgrass Gardens and Pattison's Academy.
Before the Summer SUCCEED fellows embarked on their journey of service learning, they went through a week of training where they were prepared on safety and how to work with younger students and those with disabilities. Some volunteer programs had the fellows receive additional onsite training from their community partners.
One fellow from this year was Torri Myers, a rising junior at The Citadel. Myers has been involved with service opportunities ranging from farming produce to directing 5k races. This summer, she was excited to help elementary school students and cultivate lesson plans for her teaching career — as an education major, this was crucial for her future career plans. Myers loves working with children and felt rewarded in that environment. Her volunteer sites were with the Charleston County School District.
"Summer SUCCEED has made my summer one of the best I've ever had. Seeing the kids with smiling faces running towards us, giving us hugs and yelling our names every day made it all worthwhile. As an education major, being given the opportunity to teach a few classes was so beneficial because I was able to use skills that I've learned in my classes at The Citadel and put them into action. I couldn't have chosen a better way to spend my summer," said Myers.
In addition to the participants of the SUMMER SUCCEED program, generous donors from The Citadel community play a significant role in ensuring the program's ongoing success. One such longstanding supporter is Jay Ethridge, Class of 1981, who has been contributing to the program for several years. Another recent but impactful donor is David Peacock, Class of 1984. Other notable donors for the Summer SUCCEED program include the Class of 1983 Leadership and Ethics Fund, Mr. and Mrs. G. Steele Dewey III, '67, Leadership Development Fund and Capt. Thomas Metzger, '61, (U.S. Army) Leadership Fund.
The Citadel held a Summer SUCCEED Breakfast on July 26 to celebrate and recognize the students that were involved in the program, whether through working with volunteer sites or supporting campus offices through trainings and other assistance. The Summer SUCCEED fellows presented on their volunteer sites and were able to reflect on the past few months, while their community partners also had the chance to reflect as well on their experience working with these Citadel cadets and students.
The cadets and students who immersed themselves in this program had opportunities to enhance their leadership skills, multicultural competence and professional development. While the summer isn't finished yet, last year's program saw a total of more than 3,000 service hours. For more than 10 years, Summer SUCCEED fellows have positively led and educated their peers about principled leadership and service on campus and in the community.