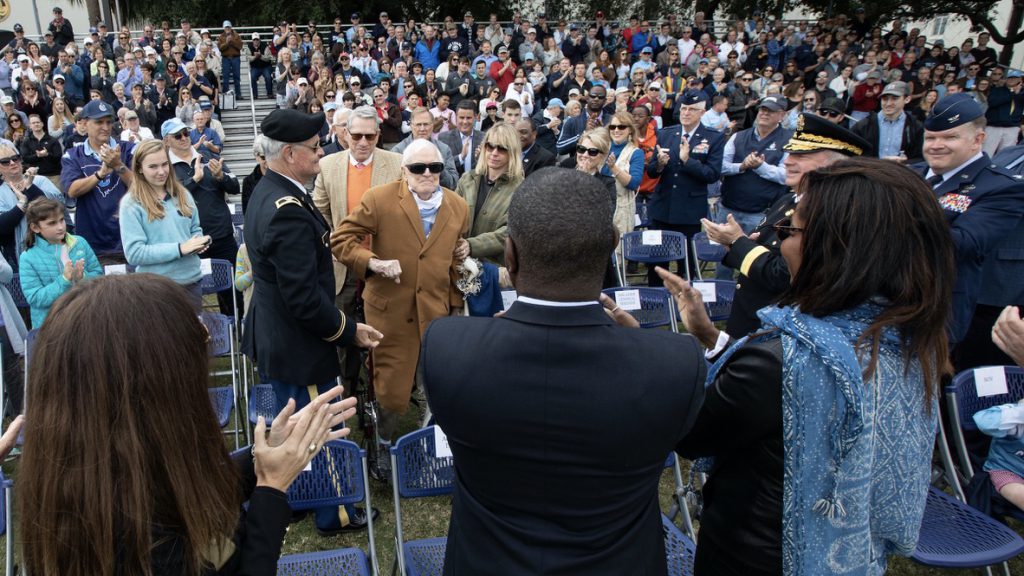 Photo: Marion Smoak recieving a standing ovation during the Homecoming 2018 dress parade
The Honorable Marion Smoak, Class of '38, dies at 103 years old
The Citadel is remembering one of its longest-living alumni who dedicated his life to his family and country as a veteran, a lawyer, and through a career in politics and international relations. The Hon. Marion "Joe" Smoak, the regimental commander for the Class of 1938, died in May, just two months shy of his 104th birthday.
Smoak was The Citadel's oldest alumnus and was known for living life to its fullest. In fact, Smoke visited his alma mater — at the age of 102 — for Homecoming 2018, his 80th class reunion.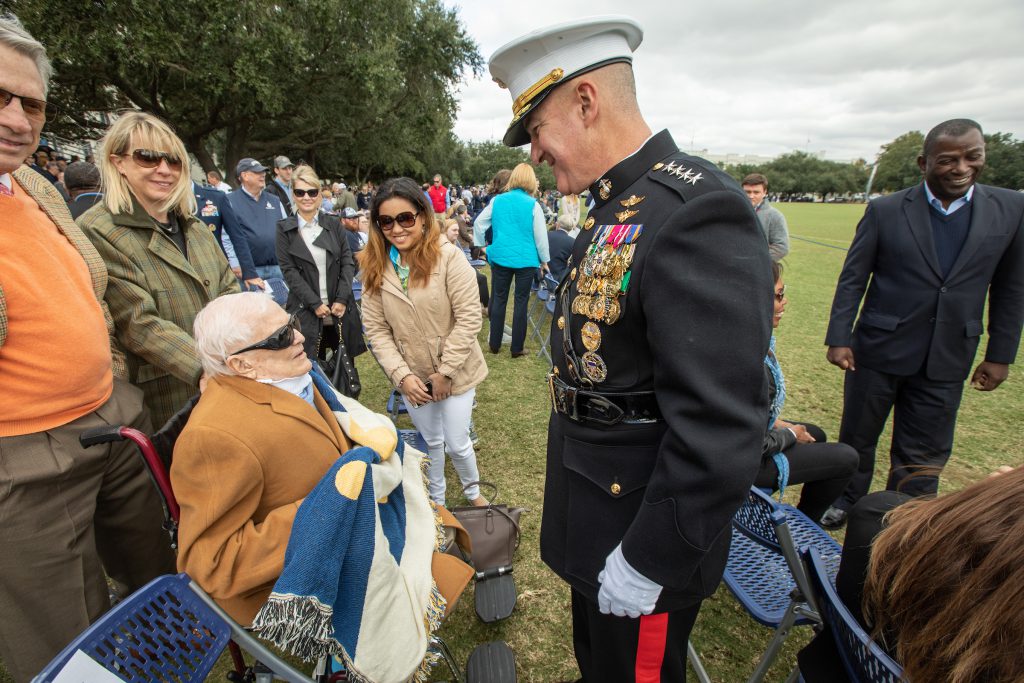 "Whether serving as an Army airborne officer, a South Carolina state senator, or a U.S. Ambassador, Ambassador Smoak embodied The Citadel's core values of honor, duty and respect," said Gen. Glenn M. Walters, USMC (Ret.), president of The Citadel. "I had the pleasure of seeing Joe at Homecoming 2018, shortly after I took office as president, when he was being celebrated at our dress parade. Then, as always, he was a fine example of a Citadel graduate, and he will be missed."
During Smoak's visit, the homecoming crowd gave him a standing ovation. Accompanied by his daughter, Smoak had an afternoon meeting with friends for his daily martini (what he said was the key to a long life). And, as the oldest living regimental commander, Smoak met the youngest regimental commander at the time, Cadet Col. Sarah Zorn.
"Having the honor of meeting Ambassador Smoak during homecoming was one of the highlights of my year as regimental commander," said Zorn.
A long and colorful life of consequence
Smoak was born in Aiken, South Carolina, in 1918. He earned a degree in business administration from The Citadel and went on to law school at the University of South Carolina, before being commissioned as an officer in the Army during World War II.
Smoak began his military career as an instructor at the U.S. Military Academy, West Point and later served as Staff Judge Advocate of the 11th and 82nd Airborne Divisions, for the Berlin Command in Germany and in the International Affairs Division, Department of the Army.
Smoak retired from military service in 1961, entering politics in his home state, helping organize the South Carolina Republican Party. In 1966, he was elected to the state senate, one of only five Republicans to serve in the South Carolina Senate since the Reconstruction era. His work as a senator caught the attention of national party leaders, and in 1969 Smoak was called to Washington and appointed deputy chief of protocol at the State Department under President Richard Nixon.
Smoak retired from the Department of State in 1974 with the grade of Ambassador. He later served as part of Ronald Regan's campaign and transition team. (Smoak's political life also led to him being in the same place and same time as John F. Kennedy when he proposed to Jacqueline Bouvier.) In addition, his professional pursuits included a long career as a real estate developer.
While in the Army, Smoak married Mary Frances Meister Higgins. At the time of her death in 2015, they had been married 55 years. The couple had two sons and a daughter. They had homes in Washington D.C. and in Palm Beach, Florida, where Smoak helped lead philanthropic efforts.
"He was our chief of protocol for the 50th anniversary of the International Red Cross Ball," said Nancy Rollnick, who chaired the gala with her husband Bill. "We called him Twinkle Toes because he could dance anybody under the table. He was 90 years old when we first called him in Washington to ask him to be our chief of protocol. He was somewhat breathless when he got on the phone with Bill and apologized by saying he had just come in from a game of tennis and was somewhat rushed as he was riding with the hounds that afternoon. Tennis and fox hunting the same day at 90. That was Twinkle Toes!"
Smoak will be interred at Arlington National Cemetery, with a celebration of his life to take place at a later date, according to his family.
"He was a South Carolinian, a Citadel graduate and Regimental Commander of the Class of 1938, a World War II veteran, a member of the Greatest Generation, a teacher at West Point, a master paratrooper, polo player, fox hunter, horse show rider, tennis player, the world's best dancer, and the best dad, mentor, and friend anyone could ever be so lucky to have," his daughter, Mary Frances Walde, wrote in a Facebook post. "Please keep enjoying your evening martini. Rest in Peace. We love you always."

The Palm Beach Post
Read the full obituary from the Palm Beach Post here.