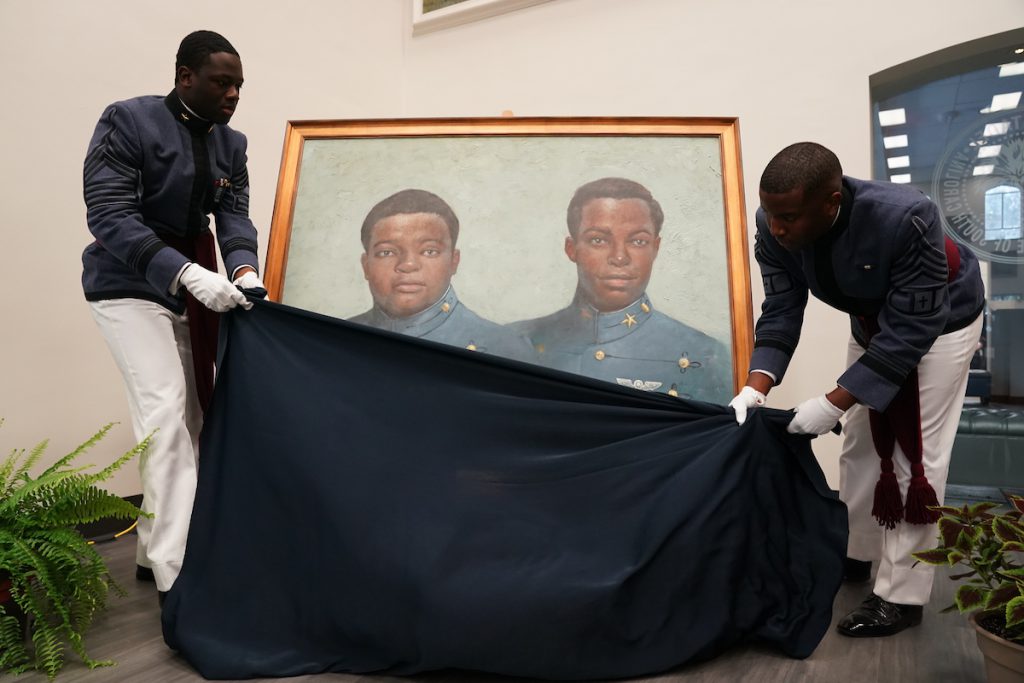 Classmates, family and friends of Charles Foster, '70 and Joseph Shine, '71 attend celebratory event
Photo above left to right: Cadet Edward Scott, vice president for the cadet African American Society at The Citadel, and Cadet Desmond Sigler, president, remove the covering from the new portrait of Charles Foster, '70, and Joseph Shine, '71, during a homecoming event on campus on Nov. 13, 2021.
With a senior cadet on each side of the painting, and after speakers noting the many contributions of The Citadel's first two African American cadets, the velvet covering was removed.
A portrait of Charles Foster who graduated in 1970 and Joseph Shine, Class of 1971, pictured together is now, at 64 x 54 inches, the largest portrait in the great hall of Daniel Library.
"To me, this morning is magical. Seeing this portrait of these two chivalrous men, in this place with all of these other portraits, is magic," said the South Carolina Corps of Cadets Regimental Public Affairs Officer, Samantha Walton, at the installation ceremony during the college's 2021 Homecoming weekend.
Walton, who presented a memento of the event to Judge Margaret Louise Beane Seymour, the wife of Joseph Shine, was among a standing room only crowd gathered in the library's main gallery to view the portrait of the two men who are now deceased.
"It's an honor to be here. I know Joe would be so proud," said Seymour, a senior United States District Judge for South Carolina who lives in Mt. Pleasant. "I really appreciate all of the work that's been put into recognizing his contributions."
Foster and Shine both grew up in Charleston. Foster entered the college in 1966, with Shine following in 1967. Both still have family and friends in the Lowcountry.
"I thought today was absolutely beautiful. I remember his mother coming to every single event on campus when Charles was a cadet, so I had to come for her now," said Genea Galloway, Foster's cousin. "This is really important to us, to the family, and to know that he's inspired other African Americans and people of color to get an education here? We're proud of this moment."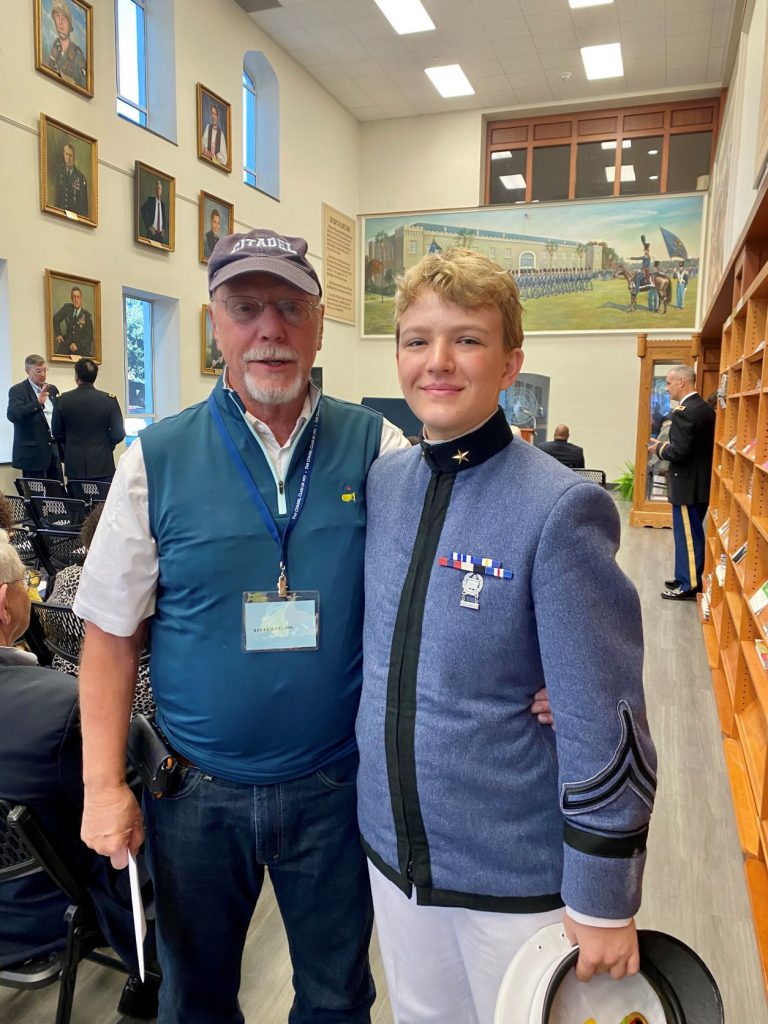 "This is very emotional for me. It's been a long time coming," said Jim Lockridge, '71, who was Shine's roommate all four years at The Citadel. "Joe and I were like brothers. We pretty much did everything together for four years. If we weren't on campus, I was at his house or he was at mine. We stayed friends."
Lockridge's granddaughter Elizabeth, a freshman in The Citadel Class of 2024, joined him for the portrait presentation. She is the seventh member of their family to attend the college.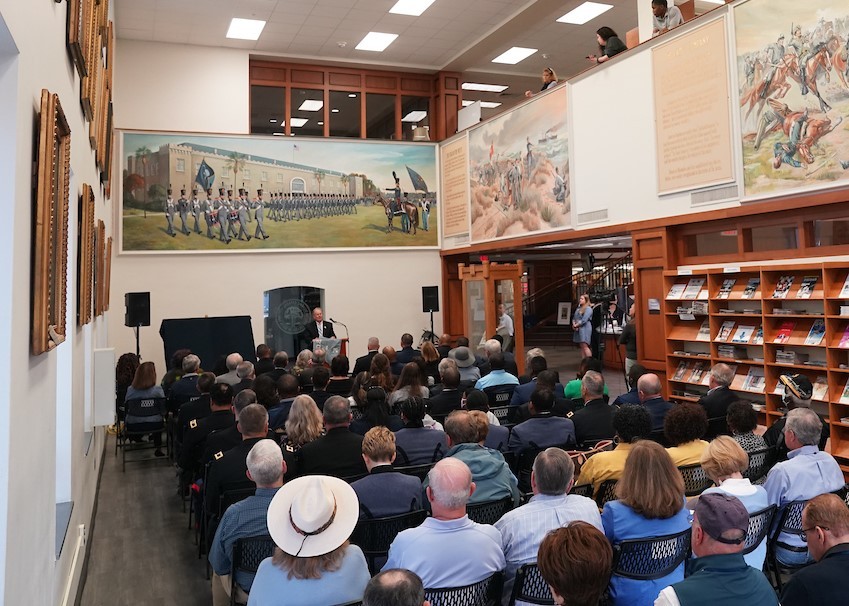 "There were those who tried to stand in their way. To say the road was difficult was an understatement. It's no secret about the racism that existed throughout all of America, not just the deep south. But they had allies," said Theodore "Tip" Hargrove III, '71, who spoke at the installation ceremony.
Hargrove added that the fact that Foster and Shine both graduated and did it in four years was "a testament to courage and determination, friendship and faith."
"This portrait is critical to one particular group — our cadets," said The Citadel President, Gen. Glenn M. Walters, USMC (Red.), '79, while addressing the audience. "The reason we have the portraits in this hall is to honor significate graduates, but also to inspire cadets who are here today. Those of us gathered in this great hall of learning are men and women of different races, backgrounds and beliefs sharing one thing, lifelong ties to our college, our community, and those associated with The Citadel."
Among those attending from the Charleston community was a group of Foster's childhood friends. They all attended C.A. Brown High School together, a high school that no longer exists.
"Charles was super smart. Ever since we were little kids," said LeRoy Seabrook, childhood friend of Foster's. "I'm happy to see our black young ladies and men here today pursuing their studies. He opened that door."
About the portrait
The portrait was commissioned from artist Reyneir LLanes with funds from several groups including The Citadel African American Association, The Citadel Foundation, The Citadel Alumni Association and the Classes of 1970 and 1971. It was first unveiled in 2020 during a small, private event due to COVID-19. The public presentation of the artwork was finally possible in fall 2021.
Resources
Read more about Charles Foster in The Citadel magazine here.
Read more about Joseph Shine here.
Watch videos from or take part in the Charles Foster Black History Project with The Citadel Library and Archives at Daniel Library here.