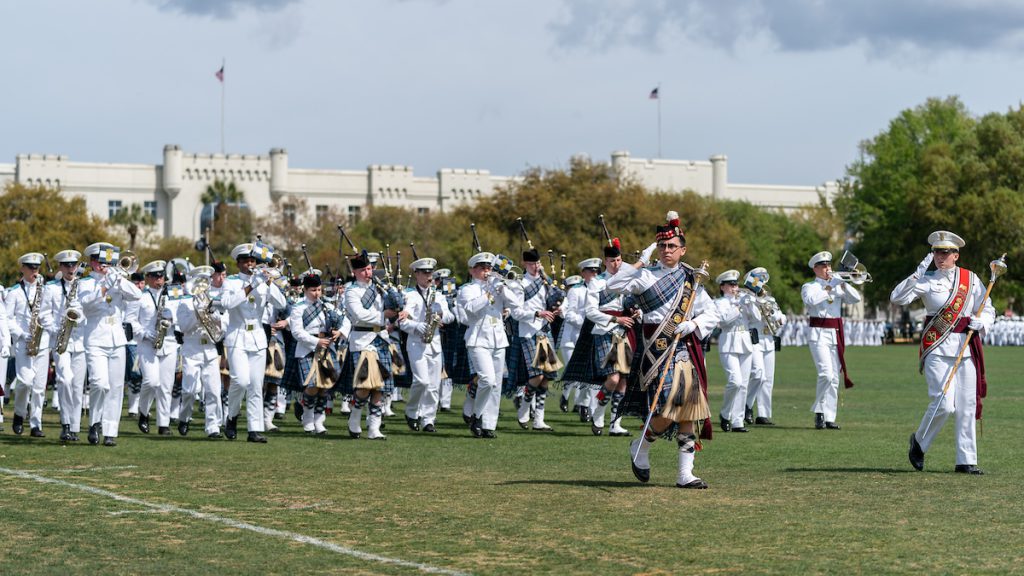 Photo: Awards parade during Corps Day Weekend 2019
The Palmetto Medal Award, one of the highest awards presented by The Citadel, would normally be presented at the military review parade during the 2020 Corps Day Weekend. Due to COVID-19, all Corps Day activities on campus were canceled. However, The Citadel believes it is still important to recognize this year's awardees who embody the college's definition of principled leaders.
Below are the three leaders who would have been recognized during the parade that was scheduled for March 26.
Theodore A. Hargrove
Theodore A. Hargrove III is a veteran of the U.S. Air Force, an attorney and a devoted Citadel alumnus. A 1971 graduate of The Citadel, Hargrove served for four years in the U.S. Air Force as a judge advocate general. He is currently in private practice in San Angelo, Texas, where he specializes in criminal defense and family law.
Hargrove has served on the State Bar of Texas Family Law Council and the Texas Criminal Defense Lawyers Association as well as the State Bar Grievance Committee. In 2014, he was elected district director of The Citadel Alumni Association Board for Texas, Oklahoma and Arkansas, and in 2016 he was named Outstanding District Director.
Hargrove currently serves on The Citadel Alumni Association Board of Directors and as the chair of the Ring Committee. He is a member of The Citadel Foundation's Mark Clark Society and Citadel Legacy Society for his loyalty and generous financial support of the college. Additionally, he has personally paid one cadet's tuition and helped raise funds to support another cadet during her senior year. At the 316th training squadron at Goodfellow Air Force Base, where. Hargrove is an honorary commander, he welcomes young Citadel graduates who have been stationed there to life in Concho County, Texas.
For his loyalty and devotion to his alma mater and his generosity of spirit, The Citadel Board of Visitors is proud to award Theodore Hargrove the 2020 Palmetto Medal.
Olivia D. Jones
Cadet Captain Olivia Donetta Jones is an all-star cadet. A member of the Honors Program and a Gold Star recipient for academic excellence, she is the Papa Company commander. As a junior she was named regimental academic NCO, an inaugural position she earned for her leadership skills. In that position she excelled, carving out a carefully defined role for future cadets who succeed her.
Jones is a political science major with a 3.94 GPA. A curious intellectual, she traveled to the Arctic to conduct research with the Biology Department on the impact of chemicals on the natural environment. She has been active in several programs, including The Citadel in D.C. and the Fund for American Studies.
Jones excels in all of her endeavors, but it is in her work with others where she stands apart. As a No Kid Hungry intern with the Lowcountry Food Bank, she set up food service sites for children in low-income, rural areas. During an alternative winter break with Americana World Community Center, she served immigrant and refugee populations in Kentucky.
For her compassionate leadership and selfless service, The Citadel Board of Visitors is proud to award Cadet Olivia Jones the 2020 Palmetto Medal.
Richard B. Snyder
Cadet Colonel Richard Benjamin Snyder, the 2020 regimental commander, is a selfless leader and a scholar who has excelled in all dimensions of cadet life.
Snyder is a business major and a U.S. Army-contract cadet who will commission as a second lieutenant when he graduates in May.
From squad sergeant to regimental commander, Snyder has excelled in positions of increasing rank and responsibility. As the regimental commander, he is the highest-ranking cadet and the leader of the 2400-cadet Corps. In that capacity, he is focused on cadet morale and welfare, and he has worked with the commandant to improve the culture and climate of respect in the Corps of Cadets.
Snyder is a role model and an inspiration to the Corps. Under his leadership, the door to the regimental commander's room is always open, offering an invitation to those he serves to drop in and hang out or to seek his counsel. He has also worked to implement initiatives such as the freshman and sophomore leadership reaction courses.
For his principled leadership and commitment to excellence, The Citadel Board of Visitors is proud to award Cadet Ben Snyder the 2020 Palmetto Medal.