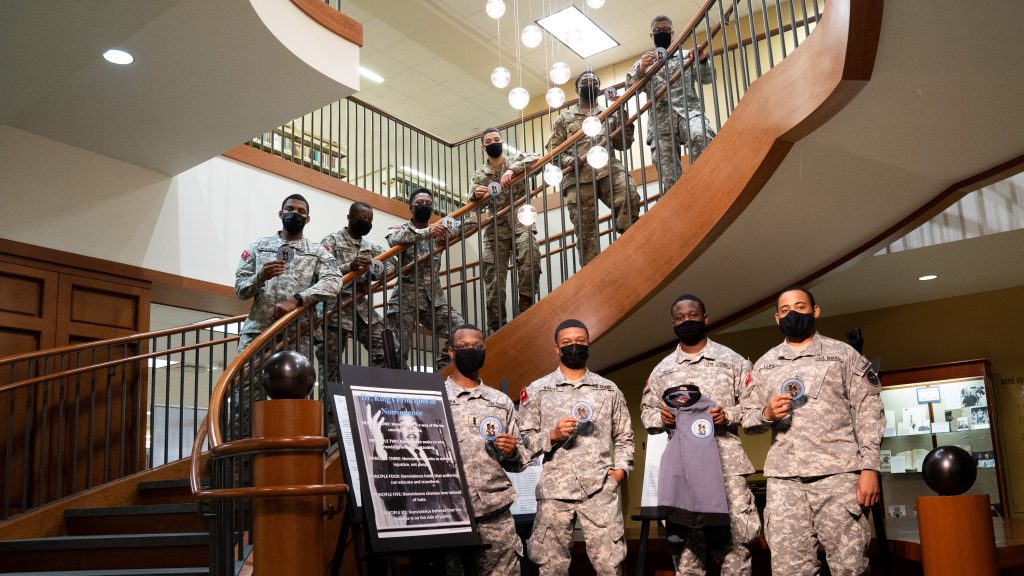 A new generation of cadets has officially earned The Citadel African American Society membership patches. The cadets received their patches — fittingly — in February, Black History Month, in the lobby of Daniel Library.
As far as records show, this is the first time cadets in the African American Society have been able to earn club patches.
Cadets who have paid their membership dues, and attended a certain number of meetings, are eligible for their club patch. For cadets who had paid their dues, the first round of patches were free, paid for by The Citadel African American Alumni Association.
The African American Society was founded in 1971. In the 1972 yearbook where, the organization made its debut, the caption underneath says it was founded for "the purpose of providing members with a spectrum of Black History, fine arts, and American life style. Members are involved with social work, which gives them knowledge and insight about problems facing Black people today."
Before the pandemic curtailed their volunteering opportunities, cadets with the African American Society would travel to local public schools — such as Charleston Development Academy and Burke High School — to help students with their homework, or sometimes to just speak with — and encourage — them.
"The Society has been very instrumental in my cadet career. We talk about our history in our institution, as well as our history outside of it," said Cadet Ruby Bolden, Regimental Affairs Public Officer for the South Carolina Corps of Cadets. "I have a sense of pride when I say that I am a part of a society that represents all of me! The bonds we make in our Society come from our experiences — both good and bad — and our triumphs as a people."
The Society was the concept of Joseph Shine, '71, and Larry Ferguson, '73.