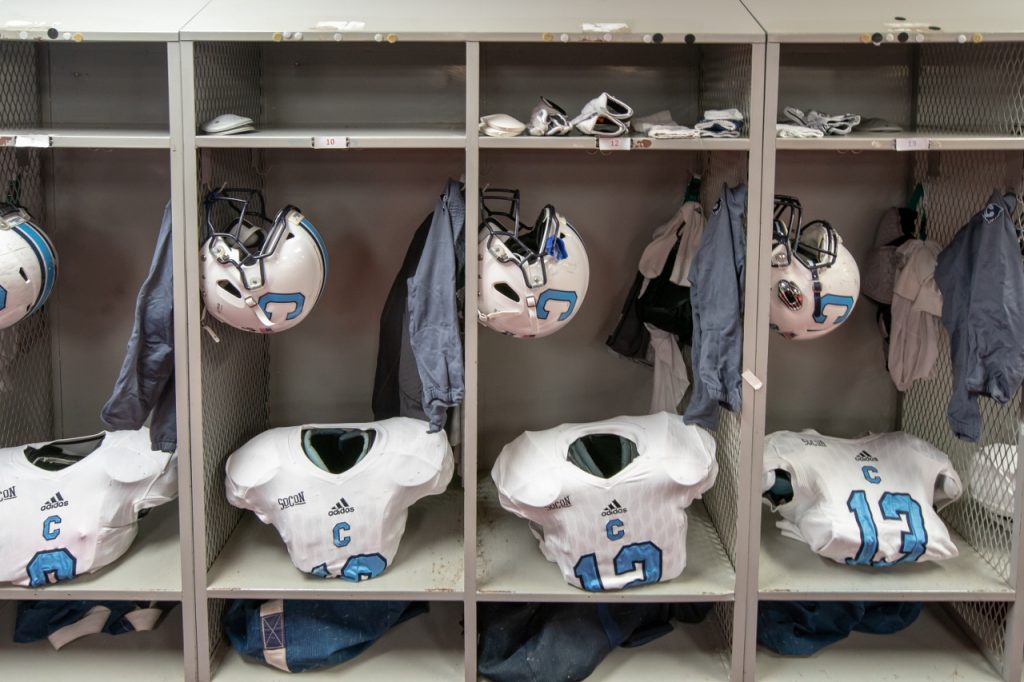 As seen on SportsIllustrated.com, By Joan Niesen
When coach Brent Thompson's Bulldogs allowed an Alabama field goal with 4:59 to go in the first half of Saturday's game, the coach wasn't too concerned. The Citadel, an FCS program widely expected to be trampled by the No. 1 Crimson Tide, were only down three points, 10–7. In the nearly five minutes remaining before halftime, Thompson's objective was to chew up clock and go into the locker room down by just a field goal.
Instead, his team put together a 44-yard drive, taking the ball from its own 25-yard line to the Alabama 30. The Bulldogs gained one yard over the next three plays, and then Jacob Godek drilled a 48-yard field goal to create Saturday's most surprising halftime scoreline: Alabama 10, The Citadel 10. "From there it was, what's the adjustment going to be?" Thompson says. "How long can we stay in this one?"
The answer would be barely more than two quarters—but the Citadel went into halftime tied with a team that, until last week, had not led by fewer than 16 points after two quarters in 2018.
"One thing we've realized ever since we've been here is, our kids will get up for those games," Thompson says. "They'll play extremely hard. Most of my guys don't have a whole lot of scholarship offers coming out of high school. They play with a little bit of an edge."
And for 30 minutes of game clock, that edge was enough to match Alabama, score for score. The Bulldogs, who run the triple option, managed to achieve their goal of simply holding onto the ball so long to the Tide wouldn't get a chance to put the game out of hand, and The Citadel took advantage of the shots it created for itself. After all, this is a team that had beaten South Carolina 23–22 and played two other defending national champions (Florida State and Clemson) since Thompson arrived as offensive coordinator in 2014. Thompson, and many of his players, had been here before, which is why halftime was a more measured affair than one might imagine.
There would have been plenty of reason to throw a party in that 15-minute break: No team has even been within striking distance of Alabama at the half this year, which makes it all the more remarkable that the Tide were tied with a tiny military college whose roster is stocked with kids that didn't get FBS offers. Thompson tried to bring down the collective heart rate.
"I liken it a lot to golf," Thompson says. "You're about ready to go on the back nine. You've had a great first nine at the Masters as a younger guy. The pace starts to pick up, and everybody gets hyped up, and as you go to the back nine, you kind of blow a few holes."
That's what Thompson wanted to avoid. So he took his time even getting off the field, letting his own head clear. There were two or three minutes off the clock, he says, before he even stepped into the locker room. "Listen," he told his players. "Settle down. Here's what we're going to do. We're a second-half ball club. We need to make some adjustments here. We've got to figure out what their adjustments are. We can't lose our heads here."
Thompson's worst fear was that his team would expend too much energy at halftime and go out flat—and his mellowing tactics worked. Alabama fumbled its kickoff return to open the third quarter, and the Citadel mustered enough yards to get into field-goal position. But after a false start penalty, the kick started wide right and stayed wide right, and momentum shifted. From there, Alabama cruised to a 50–17 win. But Thompson and his players were anything but discouraged that their magic wore out.
"It's going to be great for our program to rely on this past experience, no matter what [FBS] program we play ever again," the coach says. "Our young guys are going to remember this experience as one of the most positive experiences."
"We got what we wanted out of it. We got what we needed out of it."