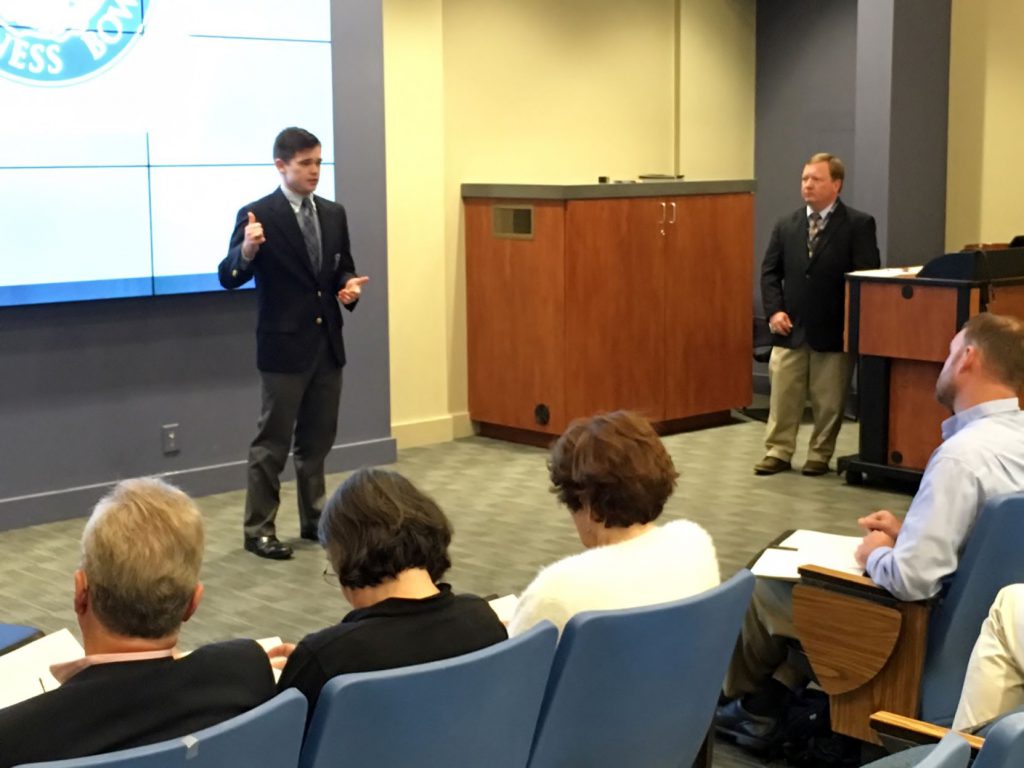 As seen in the Post and Courier, by Jeff Hartsell
Citadel freshman C.J. Walker admitted to some nervousness before he made his "elevator pitch" at the school's Bulldog Business Bowl.
"It's a little bit nerve-wracking," the cadet from Charleston Collegiate School said. "But compared with being a knob in the barracks, it was fine."
Walker pitched his business idea — repurposing the rain tarps of baseball teams into other products — to eight judges in the "elevator pitch" stage of The Citadel's fourth annual Business Bowl in December.
His five-minute presentation was followed by 10 minutes of pointed questions from the judges, who whittled the field down from nine teams to five.
Those five teams will further develop their business plans before making more detailed presentations in April. The winning team will receive $10,000 in seed money for its start-up company, and the runner-up will receive $5,000. The Business Bowl is open to all Citadel students, whether cadets, day students, veteran students or the evening program.
"The grand prize is $10,000 to start your business," said Shawn Smartwood, adjunct professor and director of internships at The Citadel's Baker School of business. "But the real value is in the knowledge you gain along the way, what you need to do and the contacts you need to make."
With the Business Bowl, sponsored by members of The Citadel's Class of 1989, in its fourth year, some of the start-ups generated by Business Bowl winners are underway.
Gray Turner, who graduated from The Citadel's evening program, was the winner of Business Bowl II in 2016. He used his prize money to launch S.C. Property Tax Relief, a company that helps clients make certain they aren't paying more in property taxes than required.
"The $10,000 was wonderful to win," said Turner, who was 34 when he enrolled at The Citadel after 10 years working in assessor's offices in Georgetown and McCormick counties. "But the process of going through the Business Bowl, I don't know of any other school that does anything like it.
"The individuals The Citadel brings to the Business Bowl are top-notch, entrepreneurs and CEOs from the private sector, and they mentor you through the whole process. It's one thing to go through a business plan in a classroom. It's another thing to apply it to a real-life business, and that's what the Business Bowl helps you do."
Turner felt so strongly about it that he returned to serve as a judge and mentor at the 2016 Business Bowl.
"I'll always feel indebted to the Business Bowl," he said. "Shawn has done a phenomenal job with it, and without the guys from Class of 1989 it would not be here."
Lucas Snyder, Citadel class of 2015, finished second in the first Business Bowl with his idea for growing hemp for industrial use in South Carolina. Today, he runs S.C. Hemp Growers Association LLC, as well as working a full-time job in Charleston and operating a farm in his native Gilbert.
The seed money he won from the Business Bowl helped Snyder travel to other states and to Canada to see how hemp growers were producing crops and connecting with manufacturers.
"It solidified the fact for me that the idea was something worth pursuing and something that has a lot of potential," he said. "I got to see places where it is working and bring those ideas back to South Carolina."
Snyder said South Carolina farmers are expecting their first hemp crop in 2018. Twenty farmers were granted licenses to grow hemp, which is the fiber of the cannabis plant.
"If you look around your office, anything not made of stone or glass can be made with hemp," said Snyder, who said the BMW automobile plant in Greenville is using hemp in some of its door panels. "It's still very early in South Carolina in terms of getting the processing and technology here, but it's a great opportunity for farmers in this state."
An opportunity, he said, that The Citadel's Business Bowl helped him grab.
"The fact that the judges saw the potential in this idea was a big driving force for me," he said.