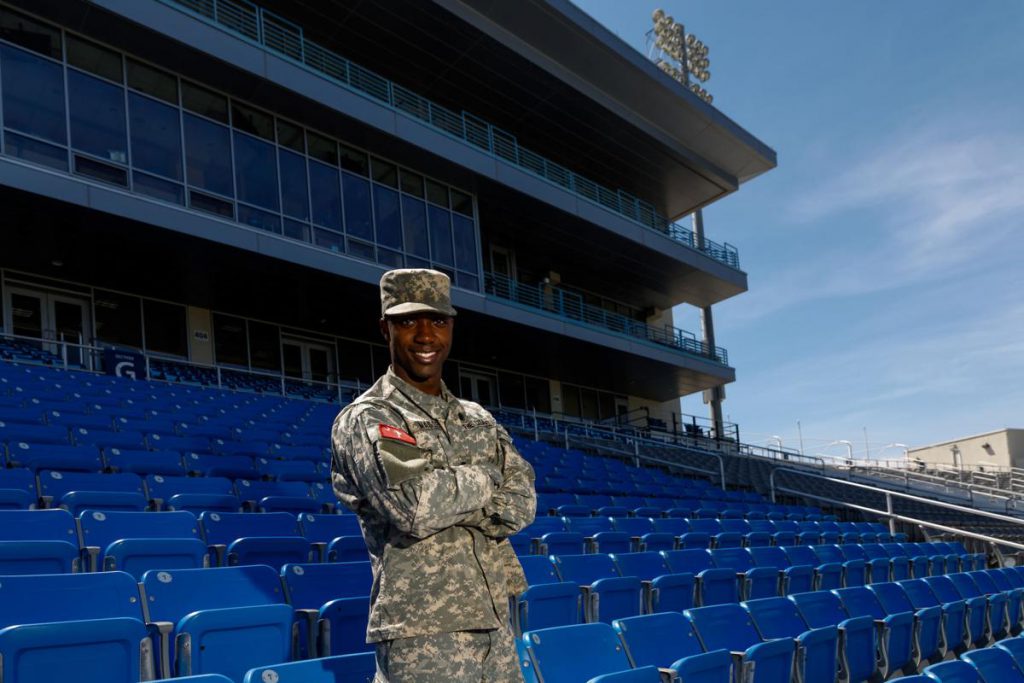 As seen in The Post and Courier, by Jeff Hartsell
Josh Massey awoke in the training room at The Citadel, unsure of where he was or who was staring down at him.
It was August of 2015, the start of Massey's sophomore season at The Citadel. The 5-11, 190-pound defensive back from Rock Hill had collapsed on the sideline after making a tackle during a drill. It was his second concussion in two seasons with the Bulldogs.
"That was the worst one," Massey says now. "It was pretty scary. I started having migraines and I was struggling to do day-to-day tasks. The migraines were awful; they'd put me down for the count a lot of days."
Cleared to return to action, Massey suffered another concussion in October 2015. It was his third concussion in 13 months and second of the 2015 season, which according to Citadel protocol meant a minimum of six months away from football.
"When you get two in one season, they make you sit out for six months," said Massey, a 2018 graduate of The Citadel. "They don't want to take any chances with you. And I appreciate that, because I was so stubborn I probably would have tried it."
At just 20 years old, Massey found himself meeting with a neurologist, and at a crossroads. The son of Cookie Massey, a football and baseball standout at North Carolina, Josh also starred in both sports at South Pointe High School, where he built a reputation as a big-hitting defensive back and an honor society student.
The first part of that self-identity was going to have to go.
The neurologist explained to Massey about the latest research on Chronic Traumatic Encephalopathy (CTE), a degenerative brain disease found in former athletes.
"He said he couldn't predict what would happen if I kept playing," Massey said. "It was a tough conversation. But when he said that if I was his child, he would advise me to stop playing — that's when I knew it was time to give it up."
Massey stayed on scholarship and turned his competitive fire into the classroom, and his duties as a student-coach. He graduated with a 3.99 GPA, served as Bravo Company's Academic Officer, earned gold stars for academic excellence and made the Commandant's List for his work in the Corps of Cadets.
Massey also made the President's List and was named the 2018 Baker School of Business student of the year, and now works as a risk analyst at Ernst and Young in Charlotte.
"I tell people I'm a competitor at my core, and I had to find something to compete in," he said. "I channeled a lot of that into the classroom. But I was still struggling with how exactly I would make my mark."
Outside the class, Massey got involved with the Charleston Miracle League, the Fellowship of Christian Athletes and The Citadel's African-American Society.
He and former Citadel fullback DaSean Daniels, whose playing career was ended when he suffered a brain aneurysm in 2015, made themselves invaluable as student-coaches.
"They both were huge contributors," Citadel head coach Brent Thompson said. "They were on scholarship, so they felt they had to work and provide something for the team, and they were as big a part of the team as any of the 11 guys on the field.
"Josh broke down all our film on defense, and DaSean was our military captain and liaison to the Corps of Cadets. They did so much work for us and were with us for so long, we'd gotten use to them. So when they graduated, we had to retrain and that's when we hired (quality control coaches) Bobby Ruff and Colton Korn."
Today, Massey said he's free of any lingering symptoms from his concussions.
"I'm still active, but I watch what I get involved with," he said. "People want me to play pick-up football, or join different teams. But I really can't take that chance anymore. I've slowed down, but I haven't let it slow my life down."
And then there's the question Massey discusses with his girlfriend — Would he let his own kids play football?
"My girlfriend asks me that all the time," he said. "I want my kids to do everything they want to do, and to give their effort into something. But I pray to God it's not football.
"I appreciate the game and it opened doors for me I never thought would be open. But I don't know if it's always worth what you have to sacrifice as far as your health. I've experienced the best and the worst about football."
Notes
The Citadel held its first scrimmage of the preseason Saturday at Johnson Hagood Stadium. Thompson called it "sloppy" and said "We have a long way to go." … The offensive highlight was a 60-yard run for a TD on a reverse by receiver Raleigh Webb … An offsides on fourth-and-goal at the 1 spoiled a scoring chance, recalling last year's red-zone troubles … LB Phil Davis had a good scrimmage on defense, and grad-student transfers Shawn McCord (DT from St. Francis) and Isaac Stewart (LB from Louisville) look like contributors … West Ashley product Dexter Freeman took a swing pass and turned it into a long gain. The A-back is a transfer from Newberry and must sit out this season.
The Citadel has not made an announcement yet, but the new Voice of the Bulldogs will reportedly be Luke Mauro, a 2013 graduate of Quinnipiac University. He has worked for the Class A Daytona Tortugas baseball team since 2016, and has also spent the past four years as the radio voice at Stetson University.