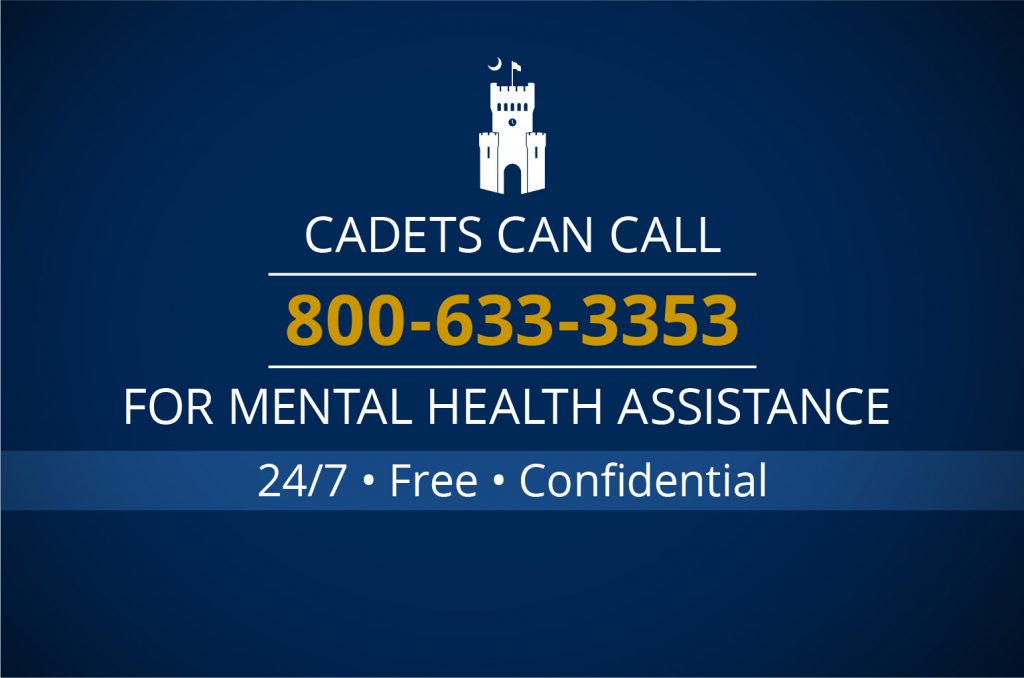 Mental health is an integral element of fitness, which is a core component — one of the four pillars — of a Citadel education. 
To address mental health concerns, The Citadel has implemented a Student Assistance Program (SAP) for all currently enrolled cadets.
This program provides free, confidential mental health and wellness support, including:
A 24/7 telephone hotline that cadets can call to discuss any personal difficulties or concerns, or to schedule a tele-health health counseling appointment with an off-campus therapist. Cadets can call 800-633-3353 at any time for assistance.  
A link to schedule an online tele-health counseling appointment with an off-campus therapist. Visit www.mygroup.com/portal/student and click "Request a SAP" to schedule an appointment. 
In an email to the Corps of Cadets announcing the SAP, The Citadel Commandant of Cadets Col. Thomas Gordon, USMC (Ret.), said:
My goal is to reduce stigma around mental health and to encourage cadets to seek professional help and guidance when they are struggling. This is how we become better, resilient, principled leaders. Please set aside concerns about the impact that talking to a professional might have on your military or professional aspirations. In the majority of the cases, there will be no impact. In cases where there is an impact, it is far more important for you to take care of yourselves than to worry about future outcomes.

Your health and wellbeing are important to me, and they are critical for your success. I encourage you to use the services offered by this program to seek support for yourself and other cadets as well.