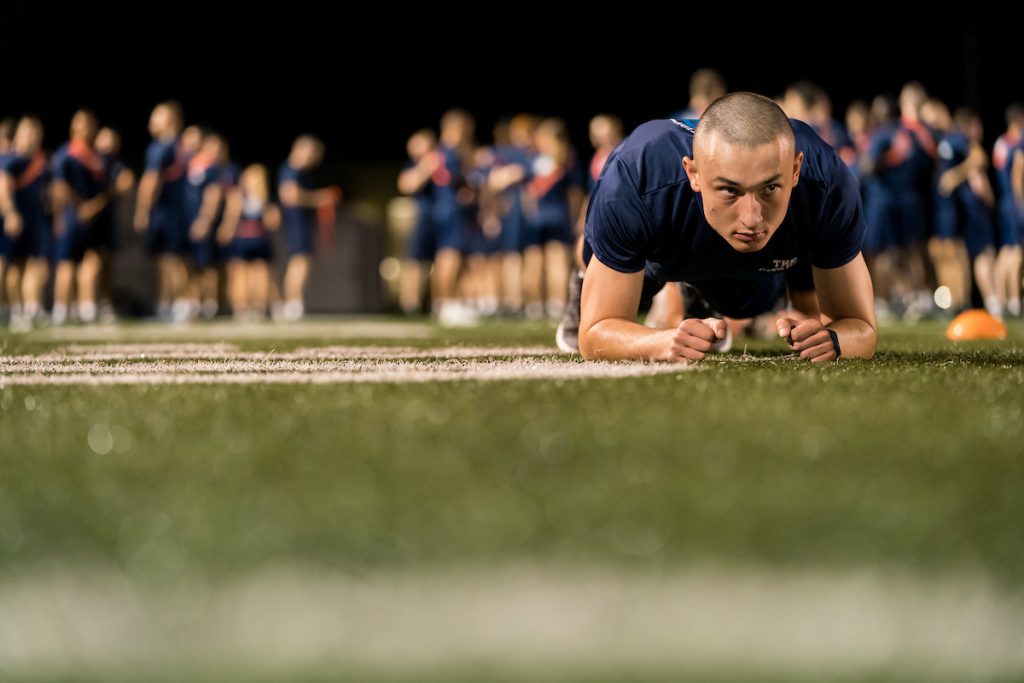 Attaining a professional, military-level of fitness is not only an essential goal for every member of the South Carolina Corps of Cadets, it is a requirement. Physical fitness is a fundamental part of the college's military culture. It is the reason for the infamous 5:30 a.m. wakeups. And, fitness is one of the pillars underpinning the general success of each cadet.
"The Citadel's Leadership Development Program is unique in its focus on the whole person. It rests upon four pillars – character, academics, military and fitness," said The Citadel Commandant of Cadets Col. Thomas Gordon, USMC (Ret.), '91. "Fitness here is not simply physical. We develop spiritual health and emotional strength. Conversely, the physical component contributes to character development by building resiliency. All you have to do is one more, one more time!"
The Citadel Physical Fitness Test (CPFT) is taken by every cadet, every semester.
"Each fall, all cadets complete a diagnostic CPFT within the first week of returning to campus to assess their baseline fitness levels," said Kasee Haugen, the director of The Citadel Physical Readiness Program. "That helps them know their strengths and weaknesses as they prepare for the CPFT that will stand as their record each September."
Every company within the Corps has an Athletic Officer who is crucial to the success of the program. They lead their company during morning physical training and help coach cadets toward their individualized goals.
"Each branch of the U.S. Armed Force has its own fitness test. Our CPFT takes something from three branches," Haugen said. "This year the three-event test consists of the Army's hand-release push up, a Marine Corps standard max hold plank and a 1.5 mile, Navy standard run."
Those who fail to attain the minimum score on their CPFT are enrolled in the college's Remedial Physical Training Program, giving them two extra days of training weekly. They are then given a second opportunity to pass in November. If they do not pass, its back to the remedial program and more extra days of training, and the loss of campus leave overnights.
"For senior cadets, not passing the fall CPFT means losing the privilege of participating in the Ring Presentation Ceremony," Haugen said. "And in the spring it means not participating in the Long Gray Line Parade and not participating in the graduation ceremony."
For cadets on military scholarships, failing the CPFT can have even greater consequences, like being forced to forfeit their scholarships after repeated failures.
"Believe it or not, most cadets embrace the challenge and find it motivating," Haugen added. "Our goal is for them to graduate with healthy fitness habits that will last a lifetime, benefitting them as they serve in the military or as they take on other career and life challenges."
More resources
Military.com: Ace Any Military PFT

Army.mil: Army Combat Fitness Test
Marines.com: USMC Physical Requirements
AirforceMag.com: Choose your PT Test
MyNavyhr.navy.com: Navy Physical Readiness Program