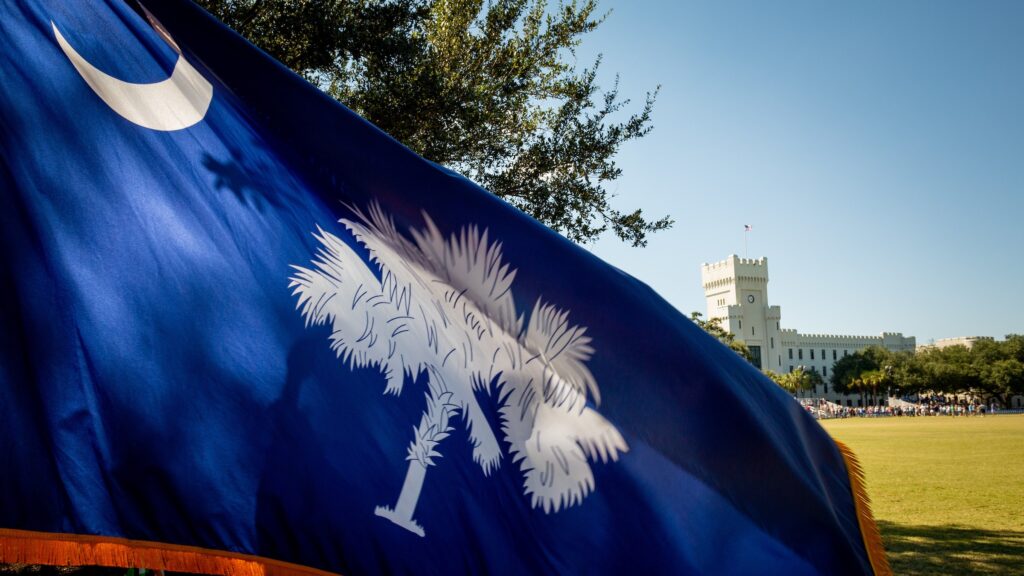 Board of Visitors votes to maintain freeze for in-state cadet tuition costs
During a meeting in June, The Citadel Board of Visitors unanimously voted to not raise in-state cadet tuition for the 2023-24 academic year; at the same time, the BOV voted to moderately increase out-of-state cadet tuition.
At an earlier BOV meeting in November, the board voted for a 4.25% tuition increase for both in-state and out-of-state but has since determined that will not be required.
"Thanks to The Citadel's efforts to offset costs, as well as additional funding provided by the South Carolina legislature and Gov. Henry McMaster, we are able — for the fifth year in a row — to ensure the majority of our cadets do not see a tuition increase," said Col. Greg Delleney, '74, chair of The Citadel Board of Visitors. "As inflation continues to take a toll nationwide, we are grateful for the opportunity to relieve some financial concerns as we continue our commitment to educate and develop principled leaders for all walks of life."
This comes as the Higher Education Price Index (HEPI) projects a 4.5% tuition increases for many institutions across the country. The HEPI estimate is calculated with available year-to-date data points coupled with a forecast of remaining numbers based on historical data.
The South Carolina Corps of Cadets
The Citadel is one of the only two remaining 24/7 military institutions, aside from the federal academies. As such, when comparing college tuition rates, it is important to note that The Citadel's fee structure is different because the costs of room and board, and multiple sets of military uniforms, comprise the overall "all-in" rate. This is because members of the South Carolina Corps of Cadets — all undergraduates — must live in the barracks, eat most meals in the mess hall and wear uniforms while on or near campus. Laundry, dry cleaning and books are also included in the all-in rate, with those costs calculated as part of each cadet's One Card/Quartermaster Account.
The all-in rate does not include other items such as fees that vary according to the academic major or schedule of each cadet or student. Those major-specific fees align with the higher cost of some majors for faculty, labs, materials or programming.
For out-of-state cadets, there will be a small increase in pricing for additional fees; all cadets will also see a slight increase in room and board.
The costs of attendance for the 2023-24 academic year are below. Freshman year charges are higher because of first-year uniform purchases.
| All-in cost for cadets, 2023-24 | In-state | Out-of-state |
| --- | --- | --- |
| Upper-class | $27,094 | $51,894 |
| Freshmen | $33,880 | $58,680 |
The Citadel Graduate College
In-state students in The Citadel Graduate College's in-person programs will also see a 4.5% increase in their tuition, while out-of-state prices will remain the same as last year; tuition for online programs will stay the same. Additional fees are different from those for cadets, as CGC students do not live on campus.
The costs of attendance for the 2023-24 academic year are below.
The Citadel Graduate College programs
(*per credit hour), 2023-24
In-state
Out-of-state
College Transfer/Evening Undergraduates
$500
$925
Graduate Students
$695
$1,020
Online College Transfer Undergraduates
$500
$500
Online Graduate Students
$695
$695
The Citadel has a consistent track record of achieving some of the highest four-year graduation rates in the state of South Carolina, as well as some of the highest rates of employment after graduation with alumni earning top salaries. This combination of high four-year graduation rates, high employment and high salaries helped The Citadel earn recognition as #1 Public College in the South by U.S. News & World Report for 12 consecutive years.