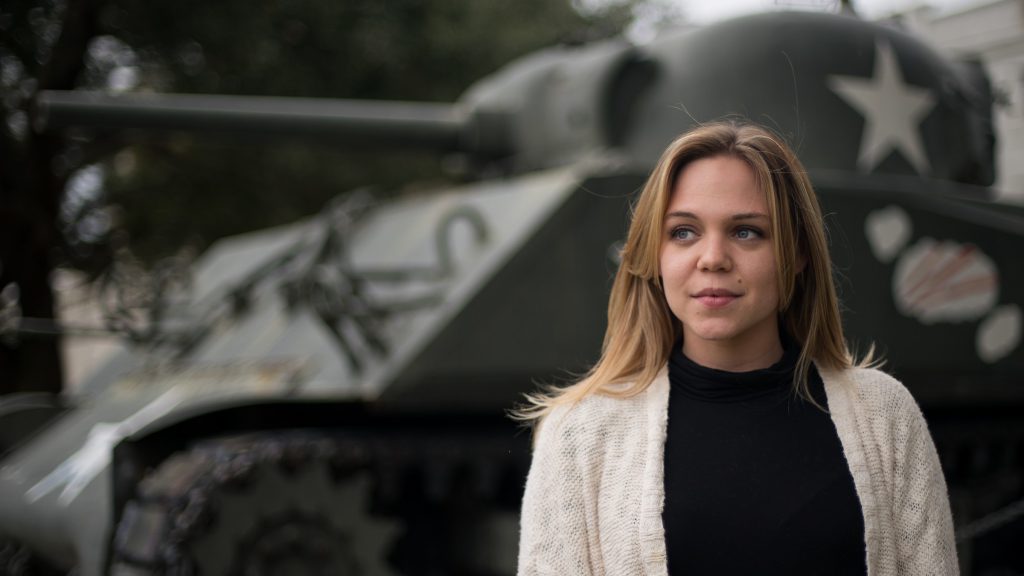 In recognition of Veterans Day on Nov. 11, The Citadel is highlighting some of the college's exceptional veteran students from different branches of the U.S. Armed Forces.
There are approximately 250 veterans currently studying at The Citadel, either as undergraduate or graduate students. They have the option of taking their classes as day students alongside the Corps of Cadets, as evening students with other non-cadet undergraduates or online. In addition, they are provided with multiple resources through the Veteran Student Success Center on campus.
Named #1 Best College for Veterans in the South for three years in a row, the Military College of South Carolina is honored to help our nation's heroes advance their education.
Q&A with Ashlyn Howard, Class of 2024
Ashlyn Howard, USAR, is a veteran day student at The Citadel. She is pursuing a Bachelor of Science in Business Administration, Marketing and Business Development, with a minor in English. After graduation, Howard plans to become a JAG lawyer, working in military law. After retiring from the military, she plans to move into business law.
Q. How long did you serve in the military? What was your time on active duty like?
A. I'm currently still in the military. I'm in the Army Reserves, and I'm a sergeant. I left for deployment in October 2019 and got back at the end of August 2020. The 180 days of active duty status allowed me to be eligible for the veteran program.
During my time overseas, my job was accounting for all personnel on Al Asad Airbase in Iraq. So I was keeping track of roughly 4,000 people on a daily basis for nine and a half months. It was a lot of pressure, but it was interesting.
One other thing — the ballistic missile attack on January 8, 2020 happened to my base. So I actually saw about half of the missiles flying. Our whole airfield got blown up. We had historians come afterwards, which was interesting, because technically everybody on that base made history.
Q. What was it like to experience something like that?
A. Every time a missile would hit, even though it was about 500 yards away, dust would come in to our bunker, because the missile was so fast. We had missiles that hit all the way on the other side of the base and I would still feel the blowout and the dust come into my own bunker just because it was so massive. It was insane.
The scariest thing with them is that we'd hear 'incoming,' but the missiles wouldn't hit for two to four minutes. So you're just sitting there waiting, plugging your ears because you don't know what's happening.
Handling that at 19 years old was crazy. But I was more scared before it started than while it was happening — it was just a whirlwind.
Q. How did you hear about the veteran program at The Citadel?
A. I found out about the program while I was living in Columbia, South Carolina, going to online school and working as a waitress. I had a National Guard lieutenant come in, and I noticed he had a Citadel ring. I asked him if he had been a cadet, and he said no. He told me how he had 180 days of active duty orders, which allowed him to attend The Citadel as a veteran. His only caveats were that he couldn't live on campus and couldn't go to the mess hall, but he would go to class, go home to his wife after, and he was able to graduate with a Citadel degree and a ring.
Q. What experiences from your military service have prepared you to be a better person?
A. Now I have a lot more focus, especially because I learned so many life lessons and how to grow really, really quickly. I'm able to focus more on my studies and to see things as stepping stones on the way to my end goal. So I do my work and grind. I throw myself into it now — before I would get hung up on little, annoying things.
Q. What are your interactions with the cadets like?
A. An advantage of being here is being able to to give the cadets some advice or even share my experiences with them. It's also cool whenever they realize I'm practically their age — most of the other veterans don't have that advantage — but I'm only one or two years older than them. I like being able to share the steps I took to get here, in hopes that maybe they can learn something from it and use it for their own advantage, whether or not they're going to join the military.
Also, there's a cadet that I kind of mentee in one of my classes, because it's me and her and the rest of our classmates are guys. So I just wanted to take her under my wing and give her someone to talk to.
Q. What's your favorite thing about The Citadel as a whole?
A. I really like the classes. I went to a bigger university before, where I was sitting in lectures with 150 students. They didn't take attendance and didn't really care if you showed up for your tests. This is so intimate. My biggest class here had fewer than 30 students. So I always recognize the same faces. You are able to get more hands-on learning that way and get to know your professors, and I really enjoy that. Also, on a different note, I just love the layout of the campus.
Veterans interested in attending The Citadel can find information about programs and opportunities here. Additionally, information about benefits for veterans can be found here.