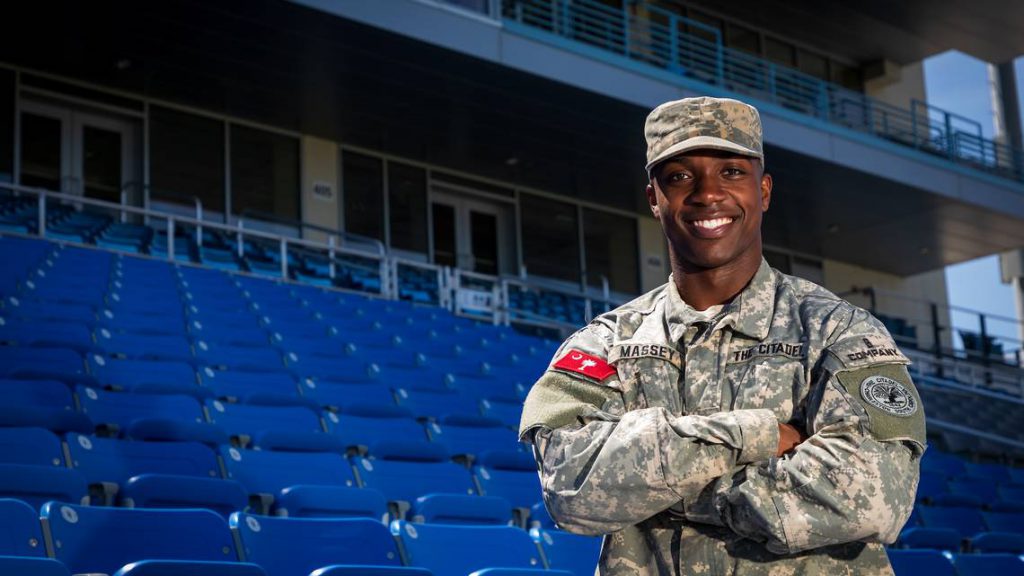 As seen in The Herald, by Bret McCormick
Josh Massey can't let that one "B" go.
The Rock Hill native and former South Pointe football and baseball standout graduated from The Citadel with a 3.99 grade point average. He received an "A" grade in every college class he took. Except one.
Massey dominated his academics despite a scary end to his football two years into college. He was named The Citadel's 2018 Undergraduate of the Year and Baker School of Business Student of the Year, while making the Dean's List every semester. Massey was also named to the President's List, an elite achievement at The Citadel that honors cadets that contributed to cadet life, while excelling academically.
He lives in Charlotte now, working as a risk analyst at Ernst and Young. The Herald caught up with Massey recently to talk about the injuries that forced him to stop playing football, and what's happened since.
Tell me about what ended your football career:
It really started that first year in camp, my freshman year, I started getting concussions. I got my first one in camp, made it all the way through that season and got a couple of starts and playing a lot. Then roll around to the next year of camp, I got another concussion, then beginning of the season I got another concussion. Protocol at The Citadel is if you get two concussions in a season you have non-contact for six months. So while I was going through that protocol and trying to rest up, I started going to the neurologist because I started getting migraines, multiple times a week. I just couldn't focus, had a lot of complications with light bothering me, bunch of things. My neurologist told me basically, once you get one you're more susceptible to get others. There is not enough research to tell us what exactly is going on, what will happen. So he pretty much laid it out on the table that if I kept playing there was a high possibility it would keep happening. I called home and talked to my parents a lot and just got more comfortable that there is a lot more to life after football, and decided it was probably best for me to stop.
Do you remember how you got the concussions?
I remember the most about the one in camp in my sophomore year. That one was the worst of all of them. It was during camp, we were doing a stump drill, DBs versus wide receivers, and you come up and fight off a block and make a tackle. I ran up and I got off the block and my chinstrap kind of came up, but I was already engaged going to make a tackle at that point, so by the time I made contact with the ball carrier my helmet and everything crashed back into my face. I tried to walk it off and the next thing I know, I just collapsed over on the sideline. That was pretty bad. I woke up, or came to, in the training room and they were just trying to help me get it together.
How scary is that? It's much different than breaking your leg or something more cut and dry…
That was actually terrifying. When I came to I didn't realize where I was, I didn't know who the people around me were. It scared me. At that point I wasn't coherent enough to call my parents and let them know what happened. It was like being a complete stranger in a completely new place.
How hard was it to let football go? Was it easier because you had a brain injury?
It was actually a lot harder than you might think, even though I had people telling me "we don't know what could happen to you," and I had already seen with forgetting things and being lost that it could be terrible. But it became a part of me and that became a part of who I saw myself as, "Josh Massey, student-athlete." I went through an identity crisis, thinking, 'oh my goodness, I don't know what's next. I didn't plan on this." Getting it cut short so early made it even more difficult to let it go.
If, and when, you have kids, would you let them play football?
You know, my girlfriend asks me that all the time. I always want to say I would let my kids do whatever they want to do, but seeing the road it's taken me down, I pray to God that they don't want to play football. At the end of the day, I'd probably let them but it would be the last sport I'd actually want them to play. It opened up doors I thought I would never have and I definitely appreciate it, but at the end of the day, it's not worth giving up your health for.
If she's asking, I think we know what her opinion is…
(Laughs) Yeah.
I know you were a super strong student, so what grade point average did you graduate with?
I graduated with a 3.99.
Wow! Josh, that's really good…
I made one B my freshman year and that was it.
How mad were you about that B?
I was furious. Whatever.
What class did you get a B in?
Spanish.
No bueno. So you're with Ernst and Young. What are you doing with them and how did you end up there?
I'm in the risk advisory practice. I'm an auditor of sorts. A lot of what I do is acting as an internal audit function at some companies. It's more about risk management and putting controls around that risk. For our specific practice, what we really want to focus on is making the corporate world a safer place though security, protecting investors basically. Right after I got those concussions I had a teammate who went through the same thing and he was like, "hey, let's go down to the career center." That was the best place. I lived in that place. They got me linked up with a couple of people in that office and I was working on my resume and just put all my effort into that. I did a couple of internships, I interned down at Santee Cooper, I applied to some stuff at the FBI, and through a series of internships, I landed with (Ernst and Young) last summer and on the way out, during my exit interview, I actually got the offer.
So you're dealing with financial sectors?
We do a little bit of everything, data security, fiber security.
Where are you based?
Charlotte.
Your parents happy about that?
They won't say it, but yeah. (Laughs)
Your high school alma mater has had a pretty cool four years. How fun has that been to watch and brag about?
I actually played with a couple of guys at The Citadel that I played against at South Pointe, and we would always go at it about who was better. My senior year we were one of the lower seeds in the playoffs and we beat Goose Creek, and I actually played with that running back at The Citadel. So I just get to talk a lot of smack to people. I've actually made it to every one of those state championship games. It's been great to watch.
I'm sure you're busy with your life and work, but would you ever be interested in mentoring or coaching young people in Rock Hill, or at South Pointe?
I do try to get back as much as I can to do some mentoring there. There is a coach, the d-line coach, coach (Gerald) Peake, who stays in the kids' ears. Whenever I come home on breaks I always link up with him and try to talk to a couple of guys and maybe take some guys to lunch. After my concussions, I got really involved with FCA, the Fellowship of Christian Athletes, and one day I'd love to get involved with the FCA at South Pointe and be around, and be involved in that capacity.