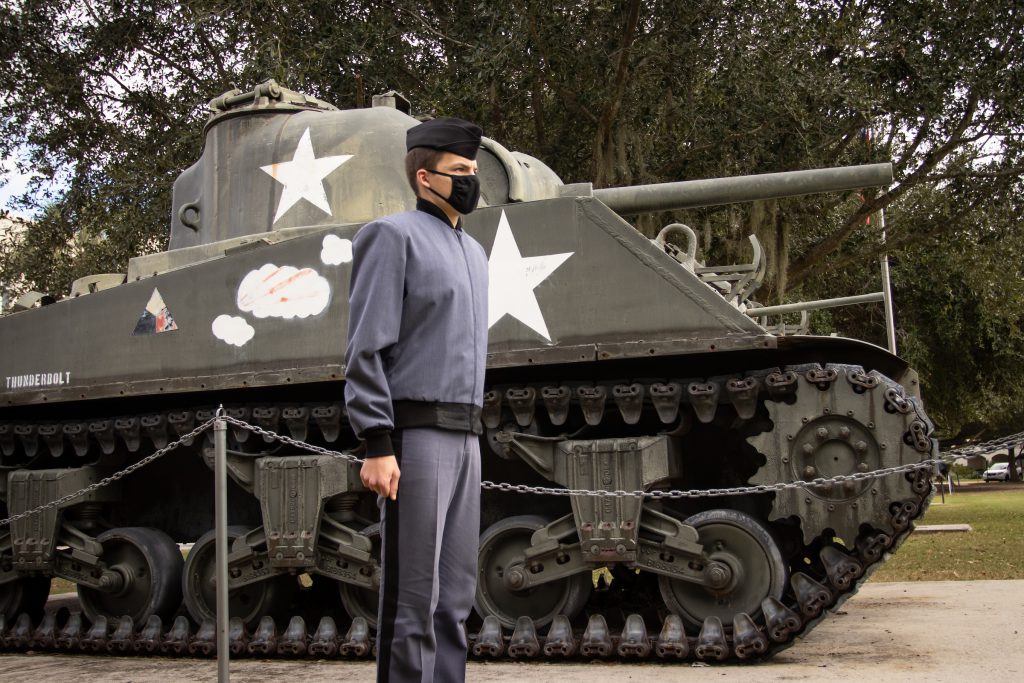 By Cadet Merritt Reeves, The Citadel Class of 2022
Historic photos provided by The Citadel Archives and Museum
Photo above: Cadet-recruit William Douglas Workman V, The Citadel Class of 2024, a sixth generation Citadel cadet, poses for a portrait on campus on November 20, 2020.
When Billy Workman of Orangeburg matriculated in August of 2020, he was simply echoing the Workman family tradition. He was after all the sixth in a line of William Douglas Workmans to attend the Military College of South Carolina, a father-son tradition that dates all the way back to the late 19th century and his great-great-great-grandfather.
Billy's full name: William Douglas Workman V.
In 1882, The Citadel resumed operations after closing its gates for 17 years after the Civil War. In that year, William Douglas Workman enrolled along with over a 100 other cadets. An 1886 graduate, he was the first of Billy's ancestors to attend the college.
The second William Douglas Workman in the family line was William Douglas Workman Sr. who graduated from The Citadel in 1909 and was valedictorian of his class.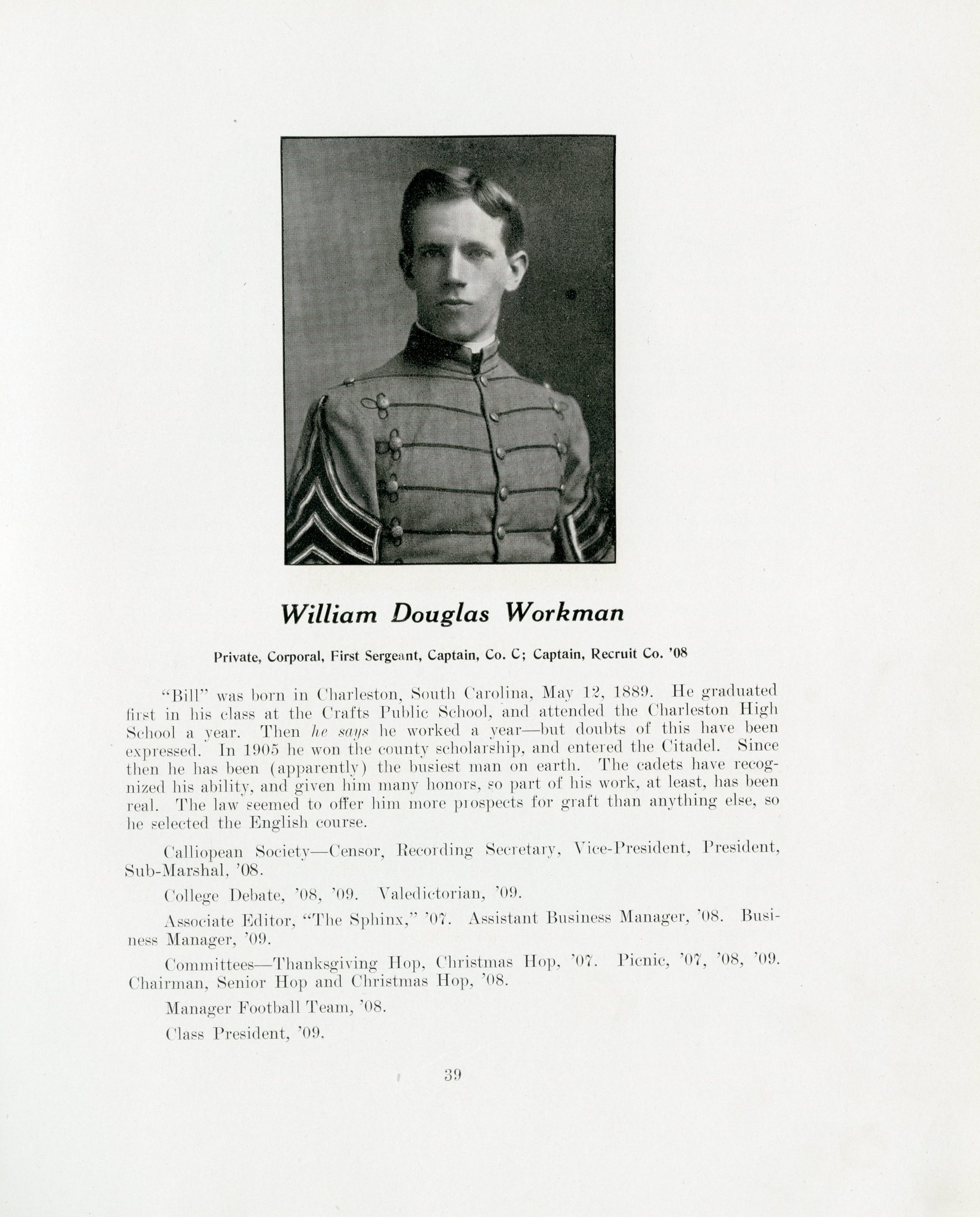 William Workman Sr. was also the second, and the last, Workman to attend The Citadel before it moved from Marion Square campus to its current location on the Ashley River. Billy's great-aunt, Dee Benedict, talked about her grandfather's service during World War I.
 "If you look at my grandfather, he really was an absolute hero of the bunch," said Benedict. "Back when South Carolina was in its own brigade, he led the charge and broke the back of the Germans."

Dee Benedict, Billy Workman's great aunt discussing William Douglas Workman Sr.
In 1935, William Douglas Workman Jr., Billy's great-grandfather, graduated from The Citadel after holding the rank of battalion commander.
In that year, the Corps numbered 89 cadets who were split into two battalions. William Workman Jr. was Benedict's grandfather and, according to her, he served in North Africa during World War II. "After the war, he stayed in the reserves," said Benedict, "He ran for the United States Senate against a newspaper man in Columbia and had 46% of the vote, which was amazing. There were a bunch of people who would get fired because they supported him which made it almost like a revival thing. Although he lost the race, that was the start of the Republican Party in South Carolina."
Billy's grandfather, William Douglas Workman III, graduated from The Citadel after serving as first sergeant in Tango Company. A 1961 graduate, he attended the college before it was integrated in 1966.
Billy's father, Will (William Douglas Workman IV), who has a cotton ginning business in Orangeburg, was the last of the Workmans to attend The Citadel before the college turned co-ed. 
He graduated in 1989 with the self-proclaimed title "centurion." Known for his sense of humor, Will paid for this comedic streak throughout his years as a cadet with hundreds of tours. These punishments, however, hardly dimmed Will's mischievous spirit.  According to Billy, he is still a jokester.  "He's a pretty laid back guy," said Billy, "but my going to The Citadel has loosened him up even more, and I can relate to him better."
Doing what only felt natural, Billy is expected to graduate in 2024 with a Business Administration degree. After decades of forefathers who roamed the grounds of The Citadel, Billy finally joined the long line of Cadet Workmans. "Billy always had a choice on whether or not he would go to The Citadel," said Will, "but when he decided he wanted to go for himself, it made me really proud. I was happy that the tradition wasn't ending with me."
The Workman family has seen the college through time and progress. Like Billy's Citadel COVID-19 on campus freshman year, each generation has had difference experiences, but one thing remains constant—the lasting bond between alumni and college. With five generations before him, Billy feels a familial expectation, but he waits in earnest to fulfill this role and dreams even of continuing the legacy one day with a seventh William Douglas Workman.
Cadet Merritt Reeves is an intern in the Office of Communications and Marketing. A junior majoring in English with a Spanish minor, she has earned Gold Stars for academic excellence. After graduation, she plans to return to her home town of Columbia, South Carolina and attend law school.