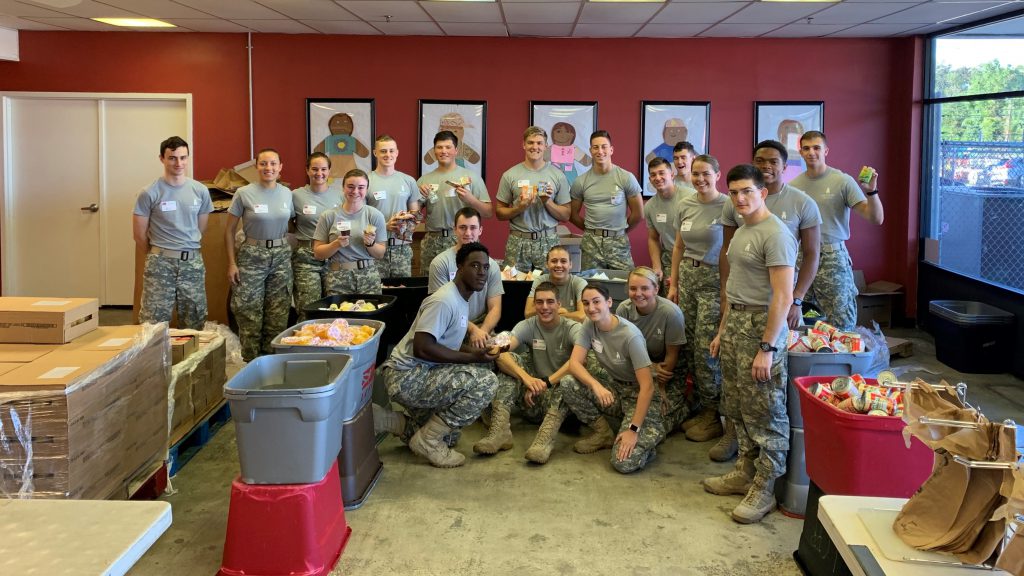 Members of the South Carolina Corps of Cadets learn to be servant leaders all year long. Each of a cadet's four years at The Citadel are dedicated to different aspects of this leadership style: from the first year to the last, The Citadel's leadership model helps cadets prepare, serve, lead, and then command.
To be a servant leader means working to meet the needs of others, in order to allow followers to better focus on, and accomplish, the mission.
One unforgettable day each year
A key example of this type of leadership is concentrated into one day every fall, when much of the campus community is focused on servant learning.
This year, Leadership Day was on Oct. 23. More than 400 sophomore cadets went into the community and helped lend a hand at nearly 30 different community partner agencies. Not only that, but 15 veteran and active duty students also volunteered to spend the day on service learning. All together, that equals more than 2,800 service hours, and an estimated value to the community of more than $73,000.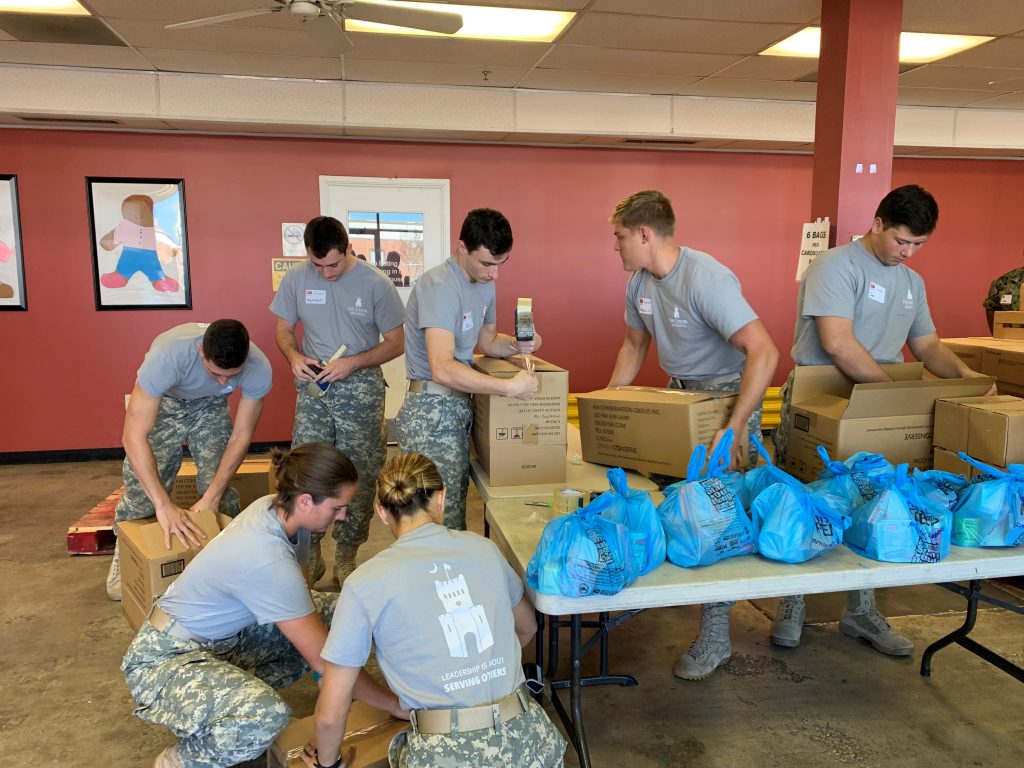 In addition to the sophomores' service learning, 650 freshmen cadets helped educate more than 3,000 students in Charleston County on Leadership Day. The freshmen cadets spent a total of more than 4,700 hours speaking with local students from Kindergarten through 8th grade.
While it's important to remember that Citadel cadets helped out from Wadmalaw Island to McClellanville and as far inland as Harleyville, it's also important to remember how Leadership Day helps the cadets, too.
In their own words
Read some reflections about Leadership Day directly from two sophomore cadets — one who volunteered at Charles Towne Landing and one who worked with the Lowcountry Food Bank.
A team of leaders at Charles Towne Landing
by Cadet Kathryn Christmas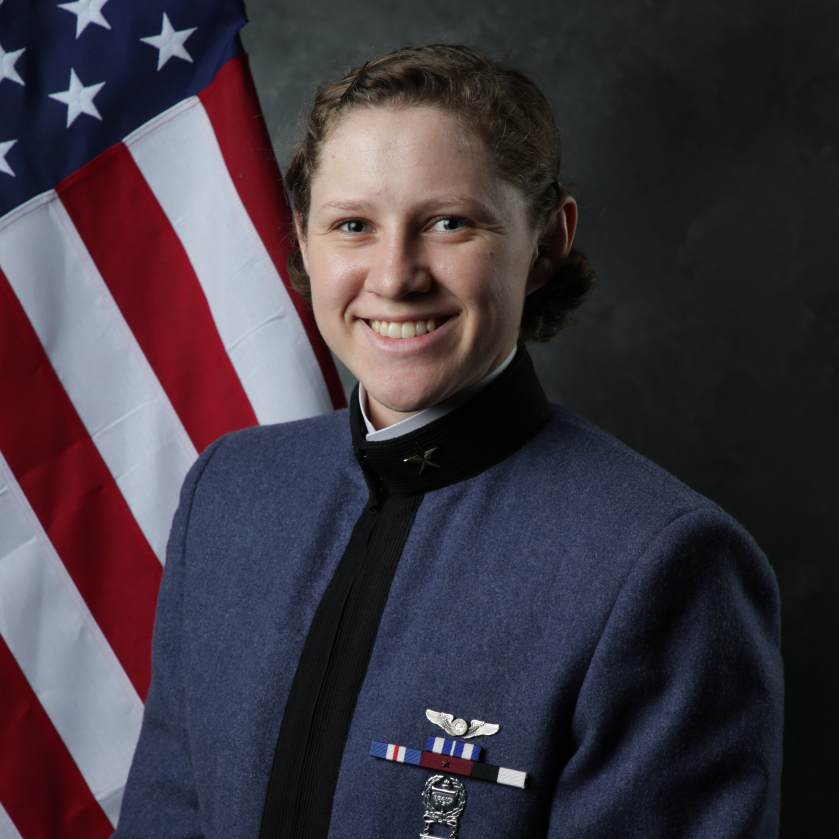 To be completely honest, the night before — and the morning of — Leadership Day 2019, I did not feel compelled to serve my community in any way. My knowledge of the site that my group would be working at was brief, and I did not understand why or how this would help my community.
However, my outlook changed completely when I discovered what my group was going to accomplish at Charles Towne Landing.
When we arrived, Jessica, one of the many caretakers, greeted us and explained that we were going to be cleaning up various animal exhibits. Before that day, I was under the impression that cutting down trees was our only goal. Almost immediately my attitude changed, and I was the most excited individual on that site.
We began in the aviary, an enclosure for confining birds, collecting fallen branches from the water, removing small trees and limbs from the bank, and clearing the pathway for visitors to walk through. We were eager to finish the tasks that she had divvied out among the groups.
Some were lucky enough to find a banana spider, while others were victims of stinging nettle, fire-ants or water soaking through their boots.
Once we finished at the aviary, the puma cage needed trimming. Ear plugs were distributed because of the intense sound from the wood chipper. Different groups were dragging branches to a pile while the rest created a chain towards the wood chipper. I did not think that the job given to us qualified as a group effort, but the way our team came together and knocked out the task quickly and efficiently shocked me. Each individual understood that it needed to be done.
Being a CIC (this means "cadet in charge" yes?), I did not have to harass anyone to begin working or to stop fooling around. It was an understood agreement within the whole team. I tried to make it clear in the beginning that my thought process as a leader was that if I was not working, then the others did not have to work.
I appreciated the opportunity to discover new places and friends during the ten hours of service at our site. In the end, I enjoyed every minute of serving my community at Charles Towne Landing while growing closer with my classmates.
Putting food on Lowcountry tables
by Cadet Angela Lance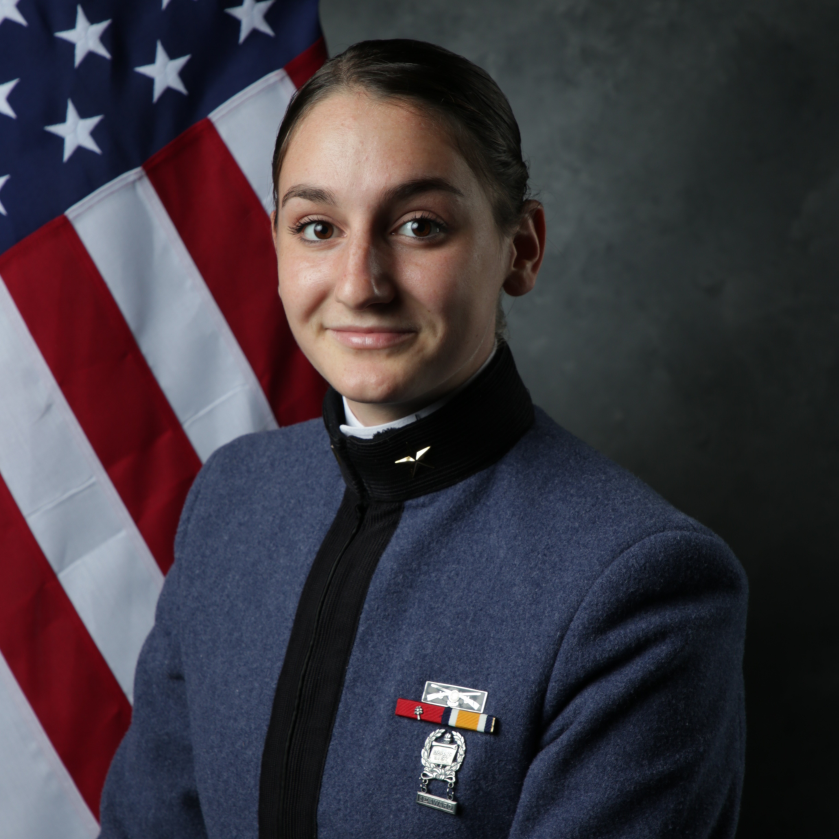 19 members from the Class of 2022 and I went to the Lowcountry Food Bank for Leadership Day. Our mission that morning was to pack grocery bags with meals for the weekend for children who do not know when their next meal will be. The head of the bank called this food insecurity. Food insecurity is different from hunger in the sense that some wake up and are hungry but can go to the pantry or mess hall and have a meal. Those with food insecurity do not know when their next meal is or where it is coming from, it is not a hunger that can be easily solved. Our baggy with a few food items was meant to ease some of this food insecurity.
When we got in the room, there were nine bins set up in a circle, each filled with a different item. There was canned spaghetti and meatballs, canned ravioli, canned green beans, milk, two cereals, a pudding cup, a fruit cup, and a fruit strip. These were very simple food items, but items that would feed them for the weekend. Something that we would just go to the pantry for when feeling too lazy to cook for is something that was meant to last them two days.
Once briefed, we were all ready to make these meals for children all across South Carolina. Without a word, everyone went to a station and instantly, the work was flowing easily. Our method was so efficient that we finished 6 pallets of food in an hour and 15 minutes, which would, in turn, feed 1,084 children.
It was a fun and amazing environment to be in. Everyone was smiling and worked together smoothly. There was a feeling of shared instant satisfaction of seeing these pallets move out and knowing that so many children would be fed from these little bags of simple foods. This was my second incredible experience with the food bank and has always given me a sense of pride. I would encourage all to take on this humbling volunteer project.