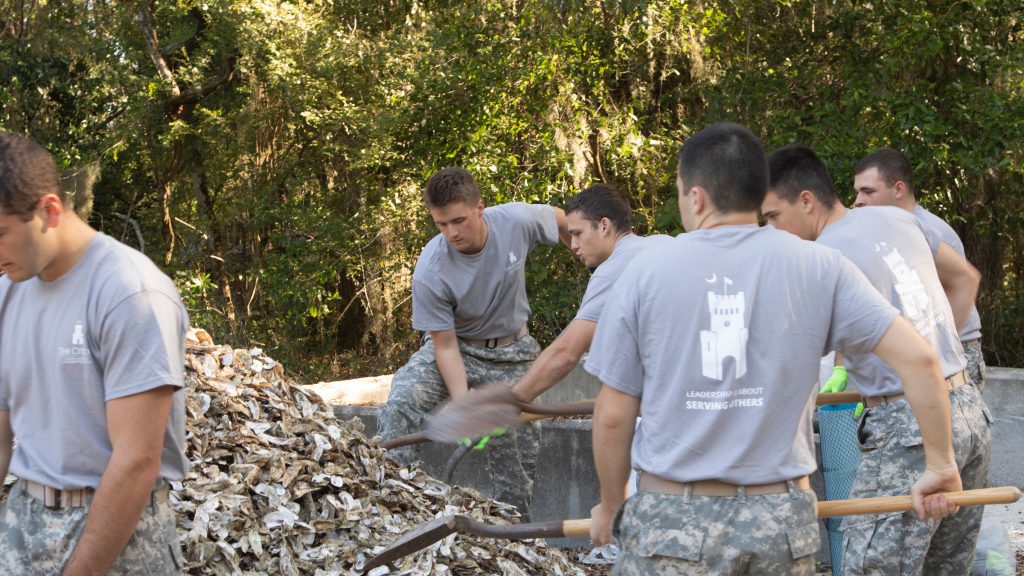 Hundreds of cadets spend their Wednesday doing community service across the Lowcountry
Leadership Day only happens once a year, but the impact of that one day is far reaching.
Activities for Leadership Day are divided by class. Freshmen visit local elementary schools, sophomores choose from a variety of service projects, juniors take part in an on-campus Ethics Enrichment Experience and seniors visit local businesses and organizations to learn from Lowcountry leaders.
When the Corps volunteers, it does so in a big way. Sophomore cadets went out into the community, from Wadmalaw Island to McClellanville and as far inland as Harleyville.
From corner to corner, cadets covered the tri-county area.
Medal of Honor recipient James McCloughan speaking at the sophomore sendoff

Lowcountry Food Bank

St. Thomas & St. Dennis Church

Habitat for Humanity in Huger

U.S. Fish and Wildlife

Bicycles for Humanity

Crate of bikes at Bicycles for Humanity

Johnson Family Farms

Project Street Outreach

Citadel provost, Sally Selden, with cadets at Homeless to Hope Warehouse

Lowcountry Orphan Relief

East Cooper Meals on Wheels

Gen. Glenn Walters, president of The Citadel, with cadets at SCDNR

Gen. Glenn Walters, president of The Citadel, during sophomore sendoff
This year, for the first time ever, a group made up entirely of Citadel veteran students also participated in Leadership Day.
Veteran students on Leadership Day 2019

Veteran students volunteering at FreshStart Visions
While the sophomores and veterans were taking part in the service learning opportunities, Citadel freshmen were in ten Charleston County schools, helping to raise the young students' awareness of heroism and service to others.
Freshmen cadets boarding buses

Medal of Honor recipient James McCloughan speaking at Burke High School
While the freshmen and sophomores were earning some hands-on experience, the juniors and seniors spent the day learning directly from the experts.
Renowned artist Mary Whyte answers questions from senior cadets who attended lectures at the Gibbes Museum of Art as part of their Leadership Day requirements. Twenty cadets, all of whom were fine arts minors, attended. Whyte is a water color artist and the author of six books.

Senior cadets at Leon's Fine Poultry and Oysters listening to Kelly Holland, from Hustle Smoothie Bar

Senior cadets in the Holliday Alumni Center, speaking with multiple leaders from the Lowcountry
Hosts for this year's senior seminars include:
Barnwell Whaley Law Firm
Boeing
Charleston County Government
Charleston County School District
Charleston County Sheriff's Office
Charleston International Airport
Charleston Police Department
Dixon Hughes Goodman
Federal Bureau of Investigation
Gibbes Museum of Art
Life Cycle Engineering
Medical University of South Carolina
South Carolina Historical Society
T. Y. Lin International Engineering
Water Mission
Wells Fargo
---
On average, more than 8,000 hours of service to the Lowcountry are provided by the cadets each Leadership Day. During the 2018-19 academic year, Citadel cadets volunteered nearly 36,000 hours of service, according to The Krause Center for Leadership and Ethics, which sponsors Leadership Day.