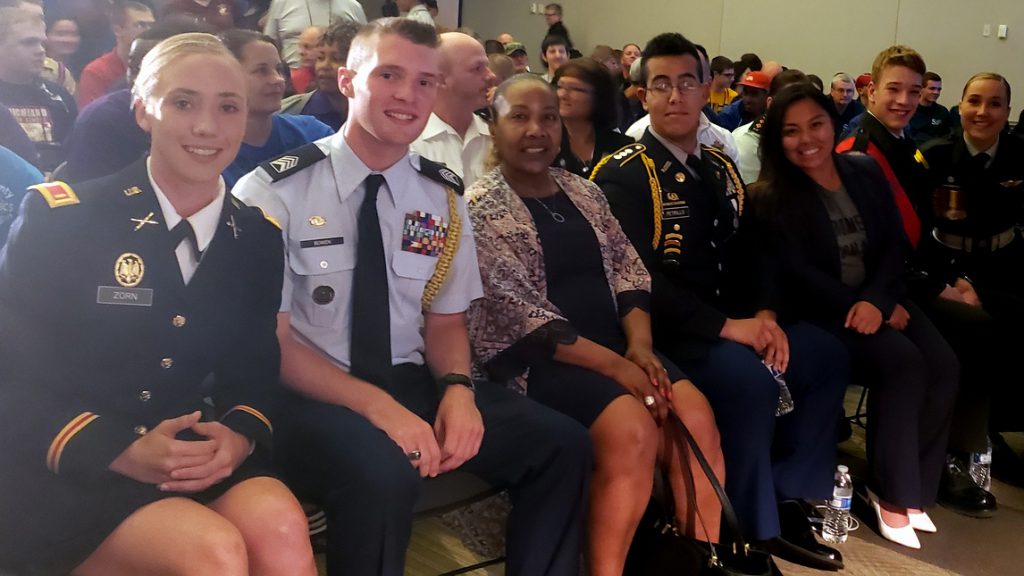 Photo: 2nd Lt. Sarah Zorn, U.S. Army, with fellow speaker at conference supporting JROTC (Courtesy: 2nd Lt. Sarah Zorn)
It was a weekend of leadership, mentorship and learning June 21-25 during the JROTC Leadership and Academic Bowl at Catholic University of America. Cadets from across the globe and all services came together for the annual competition.
During the weekend, the top three percent of teams of cadets competed in academic and leadership competitions and were treated to the advice from multiple guest speakers. Cadets also had the opportunity to visit local historic sites to learn about Washington's history.
During the welcome ceremony June 21, 2nd Lt. Sarah Zorn, the first woman in the 175-year history of the Citadel to serve as regimental commander, spoke to cadets and shared some inspirational moments from her past.
"My journey started much like yours. I was in junior ROTC in high school. This opportunity was given to me through adversity. After my mother passed, I chose a different life in South Carolina," she shared. "I changed my life, which changed my attitude, and changed my attitude which changed my life. Sometimes the only thing between you and what you want are air and opportunity. Sometimes, even through your greatest challenges life gives you your best opportunities."
She said a major figure in her past was her JROTC instructor.
"He helped me get to where I am today. He helped me apply for the national Army ROTC scholarship which fueled my decision to attend the Citadel," Zorn said. "He believed in me, he gave me an opportunity. Sometimes all you need is for someone to believe in you."
Zorn went on to discuss how she continued to grow as a leader as a Citadel Cadet.
"I've learned that a leader has many opportunities. They have opportunities to influence, to change, to learn, to inspire," she said. "The only thing between you and what you want is air and opportunity, and sometimes all you need to do is believe in others. I sought opportunities throughout my Citadel career to learn and be inspired, to love and care for others, to respect my peers no matter their background, to live honorably and try to do the right thing no matter what."
She closed her comments by reminding cadets in the audience to be ready for those opportunities that will define them.
"Opportunities aren't monetary or physical, they're everything that you've been and everything that you will be. They are your hopes, dreams and aspirations. They are what make you who you are," said Zorn. "Opportunities are all around us and you are in control of yours. Sometimes it only knocks once and sometimes not at all, but you must seek it out."
At the end of the weekend, White Station High School, from Memphis, Tennessee, took the top spot in the Army Academic competition, and Francis Lewis High School of Fresh Meadows, New York, was named the winning team for the leadership competition.
Maj. Gen. John Evans, commander of U.S. Army Cadet Command and Fort Knox, spoke to all of the cadets attending JLAB after the Army competition wrapped up. He imparted some words of wisdom with the audience.
"I want to share three things with you because it's important to the way we live our lives. First, live your life with integrity. Let everything that you do be grounded in character because there is nothing that is more irreplaceable than the value of character in your life," he said. "I will tell you that there are many people out there who believe the most lasting legacy you can have is your name on a building or a marble statue, but I will tell you that's false. The most lasting legacy you can have is to maintain your reputation, to never-ever mortgage your integrity."
"The second thing I will tell you, is that we had some incredible teams compete here this week. We had folks who won in lots of different categories, and we had some who didn't win. Ultimately, there can only be one winner, so for everyone else there's loss," Evans went on to say. "Life is about loss – it's not about losing per se, but it's about how you handle loss. I can tell you, you're going to lose, even in striving to win – there's nothing you can do about it.
"Because competition is fierce and you are going to make mistakes, but it is better to fail while daring greatly than to never try at all. When you lose, lose with dignity. Don't let loss define who you are, don't let it take over your integrity, don't let it put you in a place that will make you feel ashamed later on. Much of how you are measured in life is not whether you win or lose, but how you handle those things when they happen. So the number two thing I will tell you is to lose with dignity."
Evans third piece built on that theme, but he spoke on winning.
"It's part of the American ethos to want to be a winner, but you can take winning too far sometimes. In the same way I want you to remember to live your life with integrity, and to lose with dignity, I want you to remember to win with humility," he said. "There's nothing better than a victor who can reach down with their hand and pull somebody else up. So remember when you win, and I hope you win a lot, win with humility."
Other winners from the weekend competition were:
In the leadership competition, William Amos Hough High School of Cornelius, North Carolina, took second place, and Lakeside High School of Evans, Georgia, placed third.
In the academic competition, Marmion Academy, Aurora, Illinois, placed second, and Lake Braddock Secondary School from Burke, Virginia took third.
Col. Carlos Glover "Mega Hooah" Esprit de Corps Award for the leadership teams went to Wicomico High School, Salisbury, Maryland, and to Everglades High School, Miramar, Florida, for academic teams.
U.S. Army Cadet Command manages the Army's Junior ROTC program, which consists of over 310,000 JROTC Cadets across the U.S., four territories, and in four countries. These young men and women routinely exhibit higher attendance, grade point average and graduation rates than their schoolmates. Collectively, they perform more than eight million hours of community service annually.