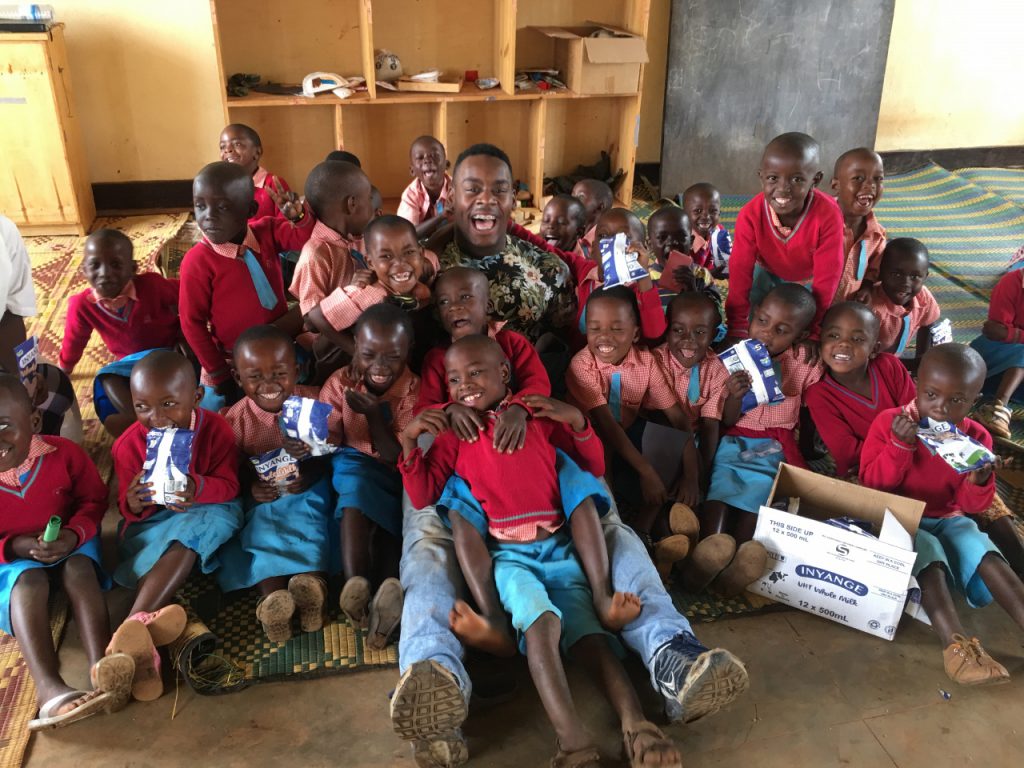 They describe it all at once as enlightening, uplifting, sobering and joyful. The four Citadel men also believe their mission trip to serve school children in Rwanda was probably more beneficial for them than it was for those they served.
Rhaei Brown, David Days, Elijah Melendez and Marcus Milhouse are back in their regular campus routines after completing their mission to bring Vacation Bible School to children in Kigali, Rwanda.
The mission was lead by Citadel Class of 2004 alumnus, Maj. Aaron Meadows USAF, through the Charleston Wesleyan Foundation which has a chapter on campus. The cadets were part of a nine member team, which included two College of Charleston students and two other ministers.
They knew they'd be working with children as young at three, so together they purchased and collected bags of art supplies and toys to share on the trip.
The team traveled for over 24 hours by plane to get there. For the first few days they became immersed in the culture, learning about the currency and memorizing new phrases from the local Bantu-based language called Kinyarwanda.  As part of the preparation phase of the mission they also visited markets, tried local food and enjoyed a safari in the Rwandan countryside.
"The safari was full of breathtaking moments like turning a curve to find an elephant on the road," Brown explained. "We learned that Rwanda is a really beautiful country and different from what we had pictured before we left."
Each night the student team planned their lessons for the days they'd be working at the Eglilse Anglicane Au Rwanda nursery school. They selected the Vacation Bible School themes, sorted supplies and gifts, and coordinated the discussion and the devotion portions of each day.
"We were concerned about how effective we would be in working with the children, who only spoke Kinyarwanda, so we really tried to get a few basics down," said Brown.
School children in the Rwandan school where the mission trip was centered
The cadets' concerns about language barriers didn't last long after they were greeted by the children who either ran up ready with hugs, or approached them shyly but eagerly.
The cadets believe their work with the children was a success.
"Our team did not speak Kinyarwanda but we did speak the language of service, humanity and love. We saw in Kigali while working with the children that those are truly universal languages," Days said.
In the evenings, the cadets attended services with a local church, one in English and one in Kinyarwanda.
"We also visited the Rwandan Genocide Museum and Memorial, and were able to reflect on the causes and effects of that event, and the purpose of our mission in a country that is really still recovering," said Brown.
"Visiting the Rwandan Genocide Memorial was a sobering experience, but it was a great testament of reconciliation," said Melendez. "It gave me hope that we can settle our differences at home in America, if they can forgive and overcome such a tragedy in Rwanda."
The four men agree it was a singular experience for which they are grateful.
"I thought I was going to Rwanda to serve people who needed my help more than I needed theirs, but I walked away feeling like I got more than I gave," said Milhouse. "It was an exceptional experience that showed me how many things I take for granted at home."
Read the first half of the story, "Cadets on a mission: Rwanda" here and watch a video from the mission trip below.
This story was written in conjunction with the help of Cadet Rhaei Brown, with photos provided by various members of the mission trip.