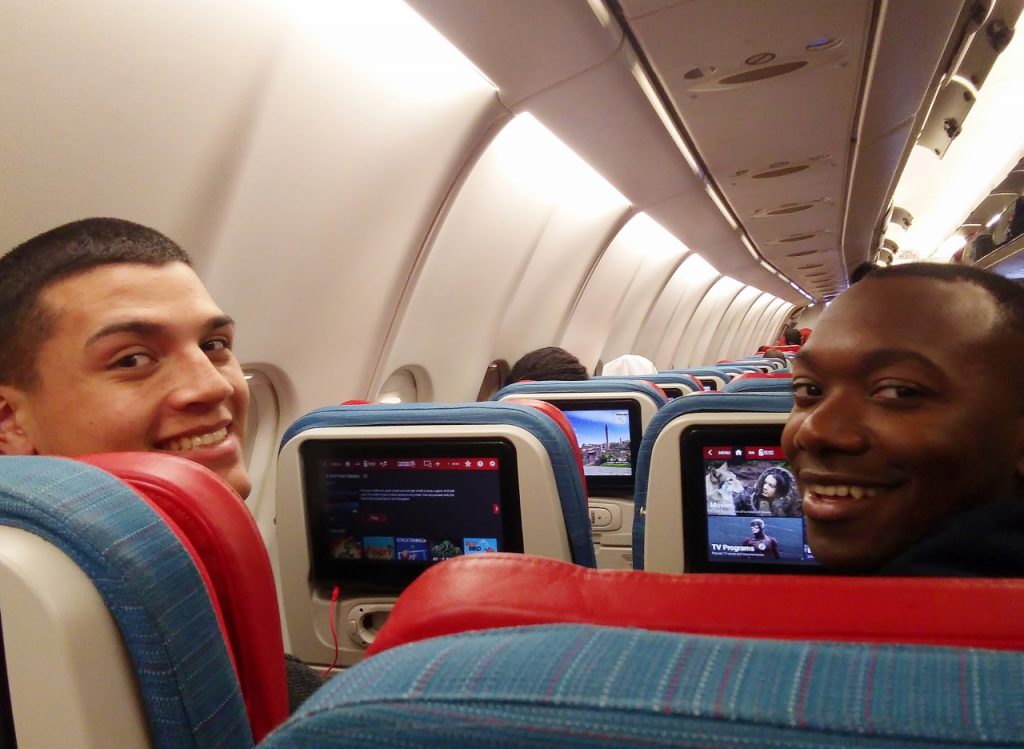 Photo: Cadets Elijah Melendez and Marcus Milhouse on Dec. flight to Rwanda
With Winter Furlough underway and members of the South Carolina Corps of Cadets reviewing their final grades from the fall semester, four Citadel men are on a mission, literally. They are taking Vacation Bible School to children in Rwanda.
Regimental Executive Officer David Days, Regimental Command Sgt. Major Elijah Melendez, 2nd Battalion Religious Officer Marcus Milhouse and Regimental Public Affairs NCO Rhaei Brown are helping lead a collaborative community service project in Kigali, Rwanda.
Investing their time and treasure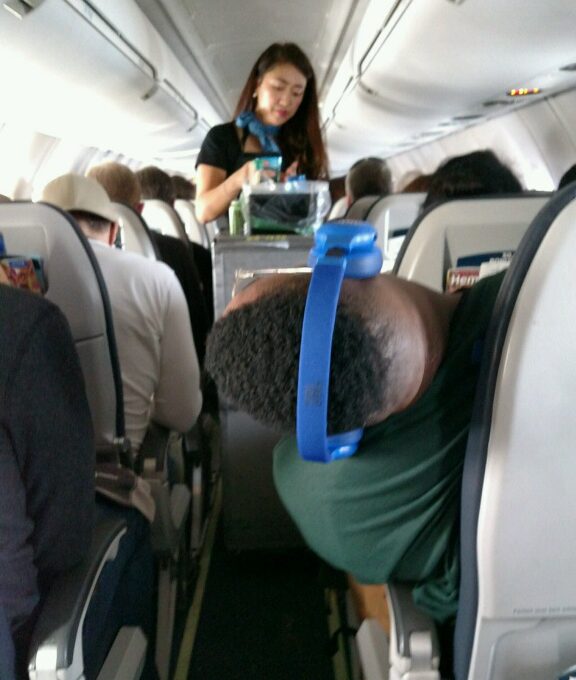 The four cadets funded the mission trip themselves through their personal savings, their families and friends, and with assistance from The Krause Center for Leadership and Ethics at The Citadel. They flew more than 20 hours to get there, making themselves at home on the long flight and grabbing sleep when they could.
The Charleston Wesley Foundation, which is led by Citadel Class of 2004 alumnus Major Aaron Meadows USAF, is behind the week-long mission. Meadows serves as one of The Citadel's pastoral team. A total of nine people are on this trip, including College of Charleston students as well as the cadets.
Letting the children know they are not alone
They are teaching bible school through a ministry that serves children, many of whom are orphans, living in a profoundly impoverished neighborhood.
"I have taken several mission trips with the Charleston Wesley Foundation and am grateful for their leadership," said Days. "This will likely be the most third-world area I have visited to date. I feel the trips are my duty – sharing my love and respect for Christ, letting children in places where life is extremely hard know that they are not alone."
The cadets and students also purchased backpacks, arts supplies, and toys to take to the children.
"I never imagined during my first week as a knob that I would end up preaching the gospel halfway across the world with the people who were standing right beside me all of those years ago," said Melendez.
Check back for more about their trip early in the new year.