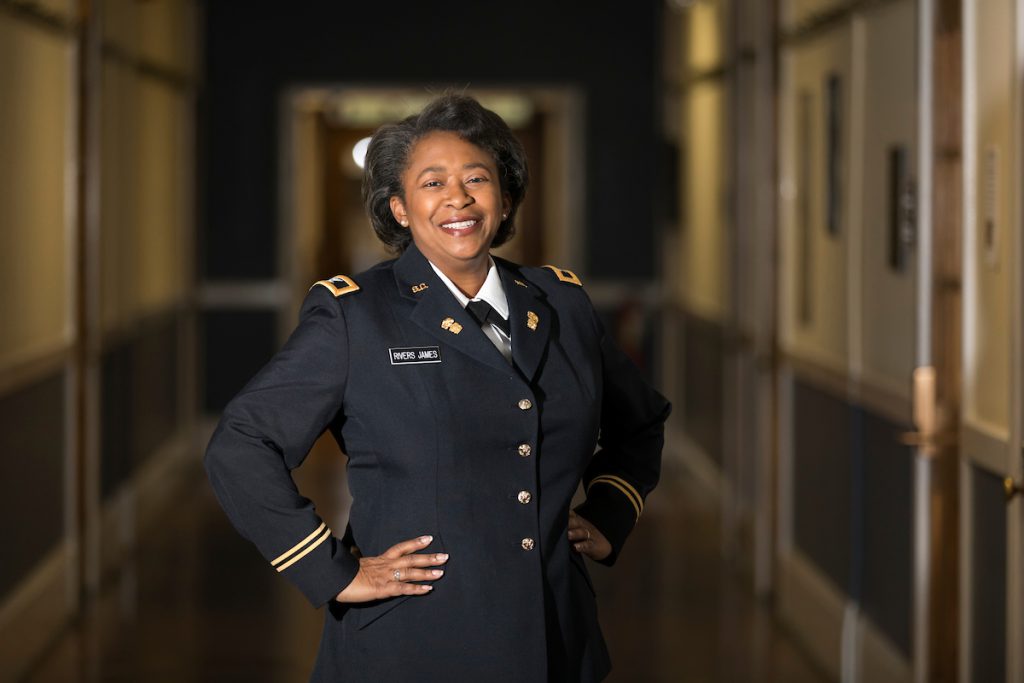 Celebrating Women's History Month with a March 27 presentation
As part of Women's History Month at The Citadel, the new assistant provost for leadership and department head and professor of The Citadel Department of Leadership Studies will give a presentation at 6:45 p.m. Tuesday, March 27 on campus.
Faith Rivers James, J.D., will speak about leadership and her unique professional journey in the Daniel Library Museum Reading Room. The presentation, "Women in Leadership: Leaning In, Reaching Back and Moving Forward Together," is free and open to the public.
Life and leadership
Before joining The Citadel in January 2018, Rivers James served as associate dean for experiential learning and leadership at Elon University School of Law. She also taught legislation, nonprofit organizations, property, and public law and leadership, a course that she created. During her tenure, Rivers James helped develop a leadership program honored by the American Bar Association with the E. Smythe Gambrell Professionalism Award.
Additionally, Rivers James has extensively researched the preservation of African American property ownership. Her research on heirs' property is cited in many scholarly publications. Through collaborations with the Coastal Community Foundation and the Ford Foundation, Rivers James was instrumental in the creation of the Center for Heirs' Property Preservation in Charleston, for which the South Carolina Bar Foundation received the National Conference of Bar Foundations Award for Excellence in Programming.
Rivers James is a Charleston native and a graduate of Dartmouth College, where she majored in government and sociology, and Harvard Law School. She is a member of the South Carolina Bar, the District of Columbia Bar and the North Carolina Bar Association.
The Women's History Month presentation is hosted by the Daniel Library and The Citadel Diversity, Equity and Inclusion Council.
Women's history at The Citadel
Women have been a part of The Citadel since its inception in 1842. They served in supportive roles as staff, nurses, mothers, sisters, girlfriends, company sponsors and mentors.
Women have attended The Citadel Graduate College since it was formed in 1968 and have been part of the South Carolina Corps of Cadets since 1996.
Visit The Citadel Diversity Milestones page to view an interactive timeline of women's history at The Citadel and learn about featured alumnae from The Citadel.