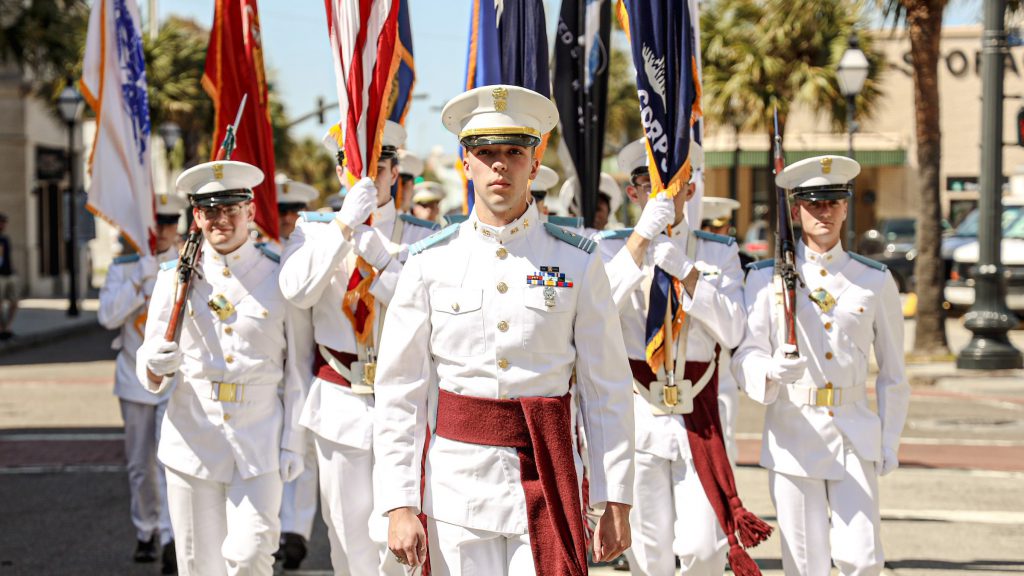 Photo: Deputy Regimental Commander Grayson Gasque leading the March to Marion Square on Saturday, March 27. (Courtesy: Cadet Blake Vasquez)
Looking back at Recognition Day 2022
Having completed the challenges of the fourth-class system, members of the Class of 2025 now begin a new phase of their journey through The Citadel's four-year system of leadership development.
Before the soon-to-be sophomores could learn to be leaders in the Corps of Cadets, first they had to learn to be followers.
That journey, which began on Matriculation Day in the middle of August, finally came to an end Friday, March 25 — when they were recognized by their peers.
After completing the Gauntlet, a series of grueling, physical exercises, a run through campus and their class set, 100 pushups plus the number of their class year — 125 for the Class of 2025 — Regimental Commander Cadet Col. Kathryn Christmas announced the end of the fourth-class system.
The day after being recognized, the freshmen cadets formed up on campus, left through Lesesne Gate as a group and marched to Marion Square, the site of the original Citadel campus, where they renewed their cadet oath.
The march, which is traditionally an important milestone in the life of a cadet, held an even greater significance this year — due to previous COVID restrictions, this was the first time since 2019 that the march was possible.
Each year, Recognition Day is scheduled to coincide with the campus's Corps Day celebrations. This year, The Citadel marked the 179th birthday of the South Carolina Corps of Cadets.
Corps Day events included open barracks and pipe band performances, a Summerall Guard performance and a Jeep review parade.
Throughout the rest of their freshman year, the newly recognized cadets will be preparing to become leaders — and to train the next generation — when they return for their sophomore year.
Cadets going through the Gauntlet. (Credit: Cadet Blake Vasquez / The Citadel)

Cadets going through the Gauntlet. (Credit: Cadet Blake Vasquez / The Citadel)

Cadets running through campus after completing the Gauntlet. (Credit: Cadet Blake Vasquez / The Citadel)

The Summerall Guard performance in honor of Corps Day. (Credit: Russ Pace / The Citadel)

The senior Summerall Guard members watching the juniors perform. (Credit: Russ Pace / The Citadel)

Cadets marching during the Jeep Review Parade. (Credit: Claire Thomas / The Citadel)

Cadet Kathryn Christmas, regimental commander; The Citadel President Gen. Glenn Walters, USMC (Ret.), '79; Chairman of The Citadel Board of Visitors Col. Dylan Goff, '02 during the Jeep Review parade. (Credit: Russ Pace / The Citadel)

A cadet saluting during the Jeep Review parade (Credit: Blake Vasquez / The Citadel)

Cadets marching to Marion Square to renew their Cadet Oath. (Credit: Claire Thomas / The Citadel)

Cadets as they arrive at Marion Square to renew their Cadet Oath. (Credit: Claire Thomas / The Citadel)

Cadets entering Marion Square to renew their Cadet Oath. (Credit: Russ Pace / The Citadel)