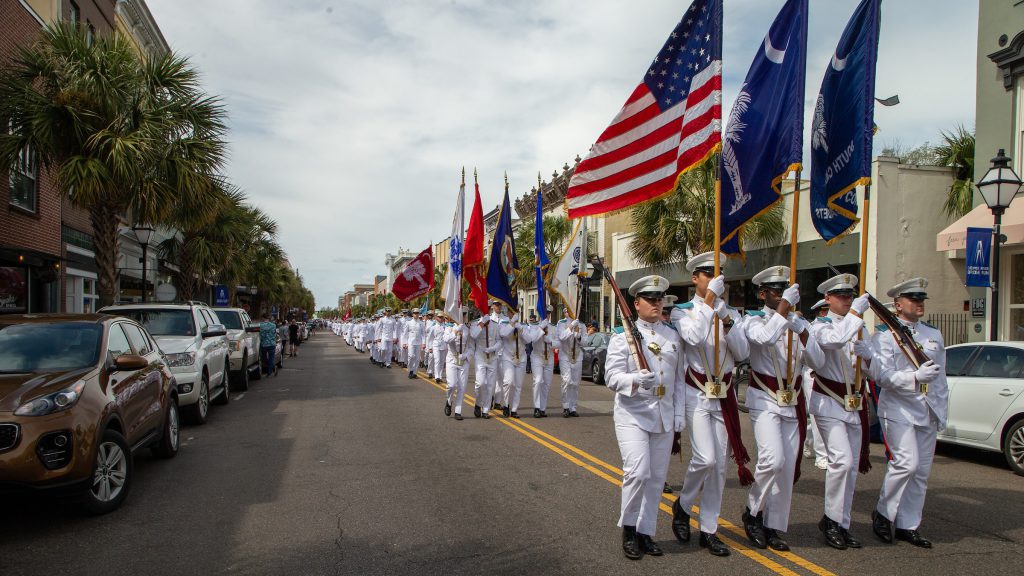 Photo: Cadets marching to Marion Square during Corps Day weekend in 2019.
Cadets in the Class of 2025 are just hours away from being officially recognized as members of the South Carolina Corps of Cadets.
After two years of modifications due to the pandemic, this year's Recognition Day will look as it has in years past, including the iconic march to Marion Square.
On Friday, March 25, cadets will leave their battalions as knobs for the final time and begin the Gauntlet, a series of grueling, physical exercises. After that, the cadets will group up for a run through campus and then return to their barracks, where they will complete a "class set" — 125 pushups — before being officially recognized by the upperclassmen.
The following day, the cadets will make their iconic March to Marion Square where they will renew their cadet oath while facing the building that served as The Citadel's first campus. In 1922, The Citadel relocated to the current campus on the Ashley River.
Recognition Day is one of the most important events for a cadet. It means the end of the fourth-class system and the months of rules and restrictions that accompany it. Being recognized is the culmination of their knob year, and it is the first major step as they progress through The Citadel's four-year system of developing principled leaders.
It's also part of one of The Citadel's most important celebrations — Corps Day, the birthday of the South Carolina Corps of Cadets, is one of the most highly attended weekends at The Citadel. This year marks the 179th anniversary of the beginning of the Corps.
Corps Day events include:
Open barracks and pipe band performances, 8:30 – 10 a.m.
Summerall Guard performance, 9 a.m.
Jeep review parade, 10:30 a.m.
March to Marion Square, 2:20 – 3 p.m.
Oath Renewal in Marion Square, 3 p.m.
For the media
Most events on Friday and Saturday are open to the media with advance notice. Please contact Zach Watson by email at zwatson2@citadel.edu or phone at 843-814-9410 if you'd like to attend.