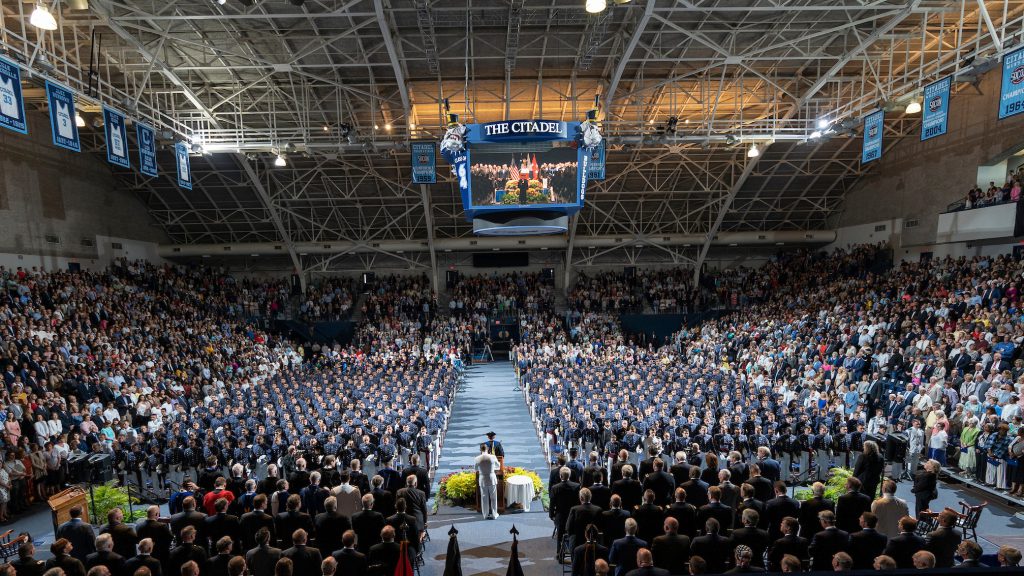 Information for those attending in person or watching remotely on May 7
The Citadel will celebrate nearly 1,000 cadets and Citadel Graduate College students from the Class of 2022 during two traditional commencement ceremonies on Saturday, May 7.
More than 600 members of the South Carolina Corps of Cadets will receive their diplomas during a 9 a.m. ceremony. Later that day, more than 450 undergraduate and graduate students will be celebrated during a ceremony at 3:30 p.m. Both events will be held at McAlister Field House.
Estimated statistics for the Class of 2022 can be found at the bottom of this article.
Admiral James George Stavridis, USN (Ret.), 16th Supreme Allied Commander at NATO, 12th Dean of The Fletcher School of Law and Diplomacy at Tufts University, and currently Vice Chairman, Global Affairs of the Carlyle Group, will serve as the speaker for the Corps of Cadets commencement. Claudius "Bud" Watts IV, '83, Managing Partner of Meeting Street Capital and Chairman of the Board of CommScope, Inc., will address The Citadel Graduate College. Click here to learn more about each of these speakers.
Tickets, parking, security and overflow viewing on campus
Graduates participating in either commencement ceremony can request up to seven tickets through "Marching Order" beginning April 18 and will provide the tickets to their guests.
For those on campus who do not have a ticket to attend the SCCC ceremony inside McAlister Field House, The Citadel will be broadcasting a livestream of the entire commencement event in Bond Hall, Room 165. Bond Hall can be located on the college's virtual map, at position number 50. . Tickets are not required to watch the ceremony in the Grimsley Hall locations, which are located on the first floor of that building. Please note that space availability is limited.
The doors to McAlister Field House will open for guests at 7:30 a.m. for the SCCC ceremony and at 2:30 for the CGC ceremony. Except for some reserved and handicap parking spaces, all parking on campus is available for visitors on a first-come, first-served basis, as directed by public safety attendants.
For the security of all in attendance, only clear bags will be allowed inside the auditorium. Metal detection and scanning devices will be in place at the entrances.
Additionally, no boxes, alcohol, weapons, firecrackers, noise makers, camera bags, video cameras, umbrellas, backpacks, large handbags, coolers, thermoses or similar items will be allowed in the field house. Food is prohibited. Please see the Campus Event Security Screening Policy for more information.
Professional photographers who are not contracted by the college are not permitted to work inside the Field House. Graduate photos will be made available to graduates later in May through GradImages. News media outlets must have an escort from the Office of Communications and Marketing.
All other, on-campus SCCC commencement events and instructions can be found here. Find more about CGC events here.
How to watch commencement and the joint military commissioning ceremony remotely
Those who cannot attend the commencement ceremonies in person can view them remotely via livestreams hosted by the college. Both ceremonies will be available live on YouTube as well as via Facebook.
The commencement ceremonies follow three days of related activities that include a joint military commissioning ceremony. That will be held at 9 a.m. on Friday, May 6, in McAlister Field House and livestreamed on YouTube and Facebook.
Watch the South Carolina Corps of Cadets commencement ceremony live
Watch The Citadel Graduate College commencement ceremony live
Watch the Joint Military Commissioning Ceremony live
Information about the Class of 2022
(Estimated figures could change after final calculations)

Cadets
618
Non-cadet undergraduates
116
Graduate students
367
Veteran undergraduate and graduate students
104
Cadets earning commissions into U.S. Military Service
Army 122
Navy 22
Air Force 20
Marine Corps 16
Most popular cadet degrees
Business Administration, Intelligence and Security Studies, Criminal Justice, Mechanical Engineering and Political Science