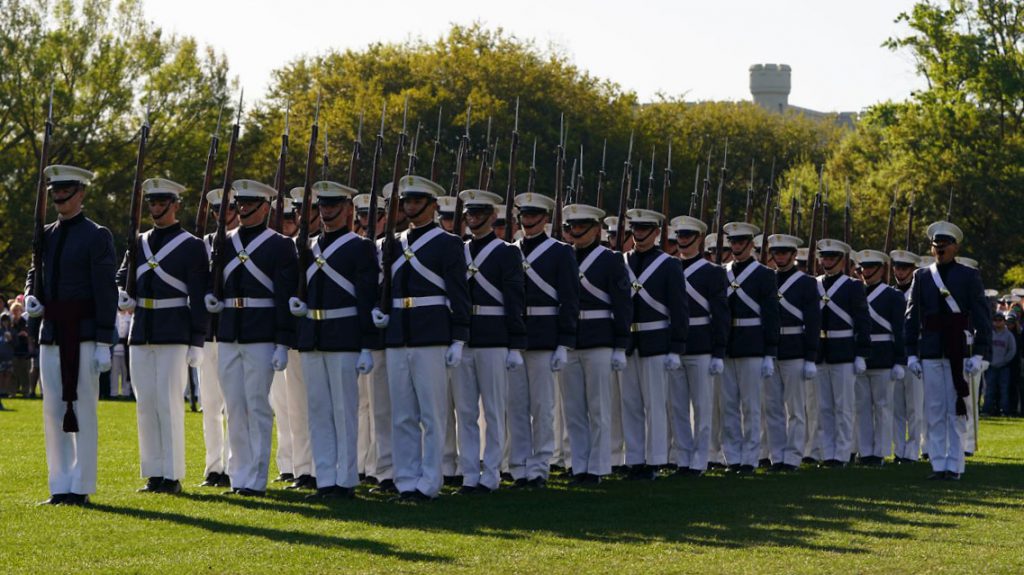 The Summerall Guards for the Class of 2023 are now in position.
They were selected after a process that included weeks of Bond Volunteer Aspirant (BVA) training. Junior cadets who pass an initial physical fitness test take part in the six-week BVA training and tryout sessions. They must perform military pushups, sit-ups and rifle-bearing physical training, exhibiting exceptional physical condition and stamina.
The changing of the guard ceremony is part of The Citadel's annual Corps Day/Recognition Day weekend ceremonies.
The Class of 2022 Summerall Guards performed their last precision drills as a unit before passing their rifles to the new platoon earlier this spring.
Known around the United States as one of the elite military drill troupes, cadets consider membership is a high honor at the military college of South Carolina. Created in 1932, The Summerall Guards have represented The Citadel at events around the nation, including performing in five presidential inaugural parades.
The platoon is named for Gen. Charles P. Summerall, former Chief of Staff of the U.S. Army and The Citadel president from 1931 until 1953. It's purpose is to exemplify the exactness and thoroughness of a cadet's training through a unique series of movements based on old, close-order Prussian drills. The maneuvers have never been written down, are passed from class to class and are performed to a silent count.
The 61 seniors will be commanded by Cadet Cyrus Mendez.
The Class of 2023 Summerall Guards:
| | |
| --- | --- |
| Jose Acevedo | Sam Kreis |
| Jason Beal | John Kroske |
| Porter Beal | Rhett Lindler |
| Will Birkholz | Nicolo Marcucci |
| Bradley Blankenship | Edwin Martin |
| Tate Bowers | Madison Matthews |
| Ben Boyd | William McDannald |
| Tyler Burgess | Kempton Meetze |
| Jarret Butzer | Cyrus Mendez |
| Josue Chegue | Logan Michael |
| Patrick Cherry | Hayden Moore |
| Dylan Chrismas | James Moore |
| Cameron Cole | Srijit Mukhurjee |
| William Conner | Andrew Murphy |
| Gantt Connor | Will Noonan |
| Charles Corte | Blayne Pennartz |
| Noah Cote | Joe Ravago |
| Micheal Darcy | Hampton Rea |
| Micah Dersch | Kevin Revuelta |
| Dyce Duckworth | Juan Ruiz |
| William Eggers | George Samellas |
| Grayson Free | Nico Savino |
| North Gaines | Ian Schultz |
| Blake Giles | David Seymour |
| Harrison Ginn | Christopher Sullivan |
| Daniel Gladwell | Jacob Tauton |
| Ken Glasgaard | Jack Walker |
| Thomas Grealy | Peter Young |
| Josh Hewey | Max Zappendorf |
| Ian Jenkins | Michael Zavala |
| Chazton Jordan | |