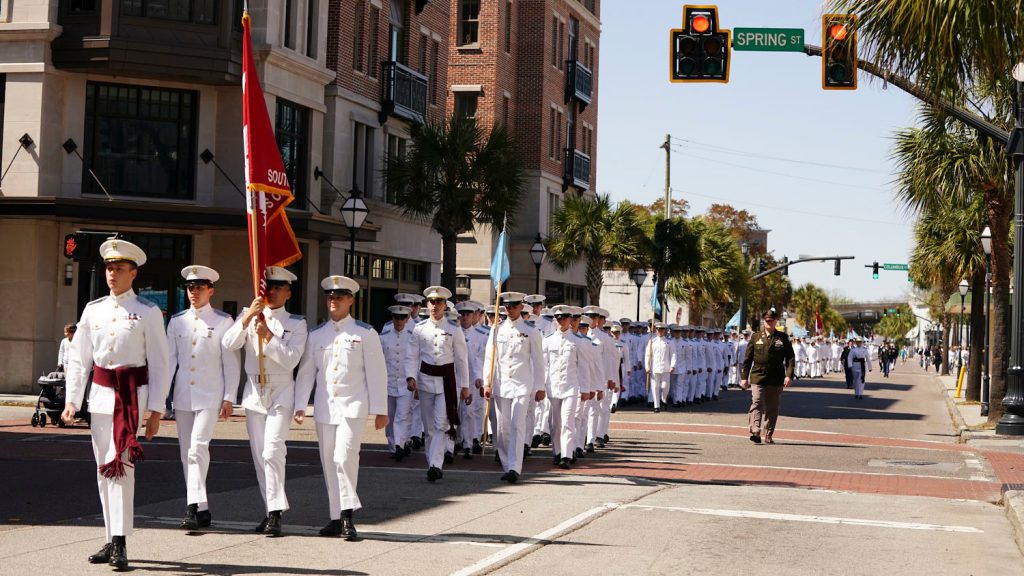 Photo: Cadets marching to Marion Square during Corps Day weekend in 2022.
In the pre-dawn hours of August 15th, 2022, the Fourth-Class System went into effect. After Friday, March 24, the members of the Class of 2026 will no longer be called "knobs" and they will immediately begin training and preparing to lead in their sophomore year – part of the professional development build into a Citadel education.
However, before they are officially recognized as members of the South Carolina Corps of Cadets, they must complete an arduous training event known as the Gauntlet. The Gauntlet is the culminating event of a period defined by challenge and adversity, which will solidify the bonds built between the freshmen while they work together as a class to overcome the final obstacle of knob year.
On Saturday, the Class of 2026 will participate in the iconic March to Marion Square, where they will renew their cadet oath while standing in front of the building that served as The Citadel's first campus. The Citadel relocated to the current campus on the Ashley River in 1922, recently celebrating 100 Years on the Ashley.
Recognition Day coincides with of one of The Citadel's most important celebrations — Corps Day, the birthday of the South Carolina Corps of Cadets, is one of the most highly attended weekends at The Citadel. This year marks the 180th anniversary of the beginning of the Corps.
Corps Day events include:
Open barracks and pipe band performances, 8:30 – 10:30 a.m.
The Citadel Rifle Legion performance, 9 – 9:10 a.m.
Summerall Guards performance, 9:15 – 9:45 a.m.
Jeep review parade and Palmetto Medals presentation, 10:30 a.m.
March to Marion Square, 2:30 p.m.
Class of 2026 oath renewal, 3 p.m.
Photos from Recognition Day and Corps Day will be available for purchase through The Citadel's photo store in early April.
For the media
Most events on Friday and Saturday are open to the media with advance notice. Please contact Zach Watson by email at zwatson2@citadel.edu or phone at 843-814-9410 if you'd like to attend.