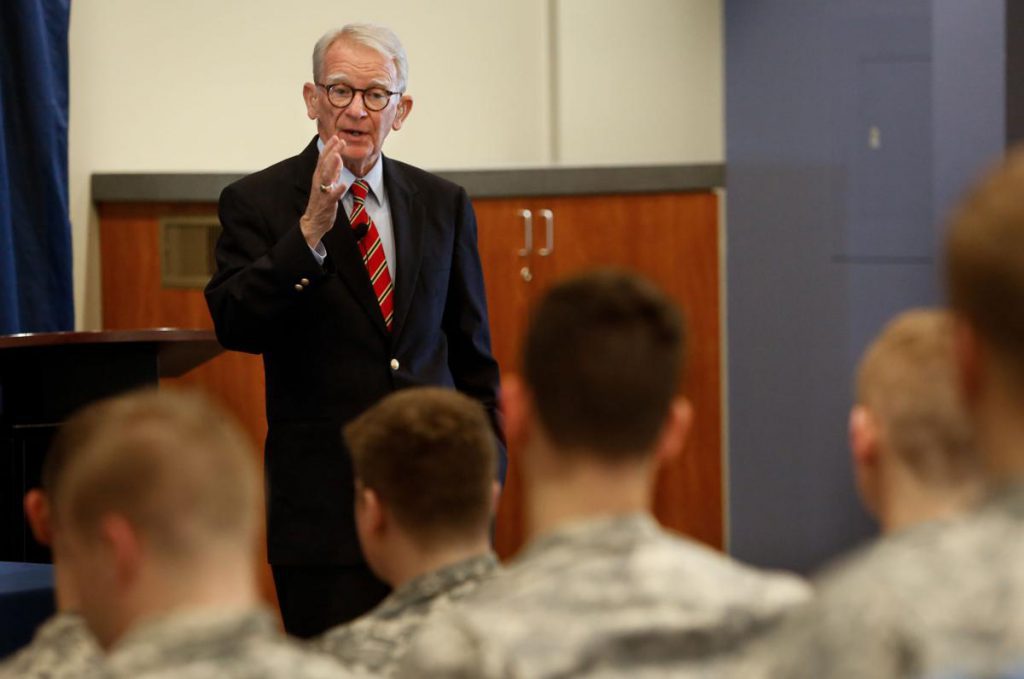 Note: Joseph P. Riley, Jr. is a member of The Citadel Class of 1964, and the first occupant of the Joseph P. Riley, Jr., Endowed Chair of American Government and Public Policy, a professorial position on the faculty of The Citadel School of Humanities and Social Sciences he assumed after retiring from public service as mayor of Charleston for 40 years. The photo above shows Riley teaching on campus at The Citadel.
When Joseph P. Riley became mayor of Charleston, South Carolina, in 1975, the city's urban center was quickly deteriorating. Over his 10 terms as Charleston's leader, Riley completely transformed the city into a top cultural destination and positioned himself as one of the country's most visionary and effective leaders. Few understand as well as Riley the many ways in which architecture, urbanism, and human fabric intersect to create great places, and he has forged a path for generations of mayors to follow his positive example.
Across four decades of leadership, Riley continuously considered Charleston's public realm first and foremost. His work to develop the city's Waterfront Park, the redevelopment of the urban renewal-era Gaillard Center into new city offices, and his insistence that Charleston's government remain in the city's heart demonstrate his forward-thinking vision. The International African American Museum, designed by Moody Nolan and Pei Cobb Freed & Partners, will reaffirm Riley's commitment to the city and, more importantly, to its entire history when it opens later this year. Riley considers the project the most important work of his lifetime.
"Joe believes in architecture," wrote Christian Sottile, AIA, professor and former dean at Savannah College of Art and Design, in a letter nominating Riley for the Collaborative Achievement Award.
"As mayor, Joe always surrounded himself with outstanding designers, recognizing that the bone structure of a good city, and all its fine-grained details, mattered."

Christian Sottile, AIA
Throughout his leadership, Riley endeavored to ease racial tensions by working closely with the African American community. Charleston, committed to racial harmony and progress, saw a significant decrease in crime as it simultaneously experienced a stunning revitalization of its historic business district. During Riley's tenure as mayor, the city amassed an impressive record of innovation in public safety, housing, the arts, and development. Today, it is often hailed as one of the most livable and progressive cities in the U.S.
Read the full article here.