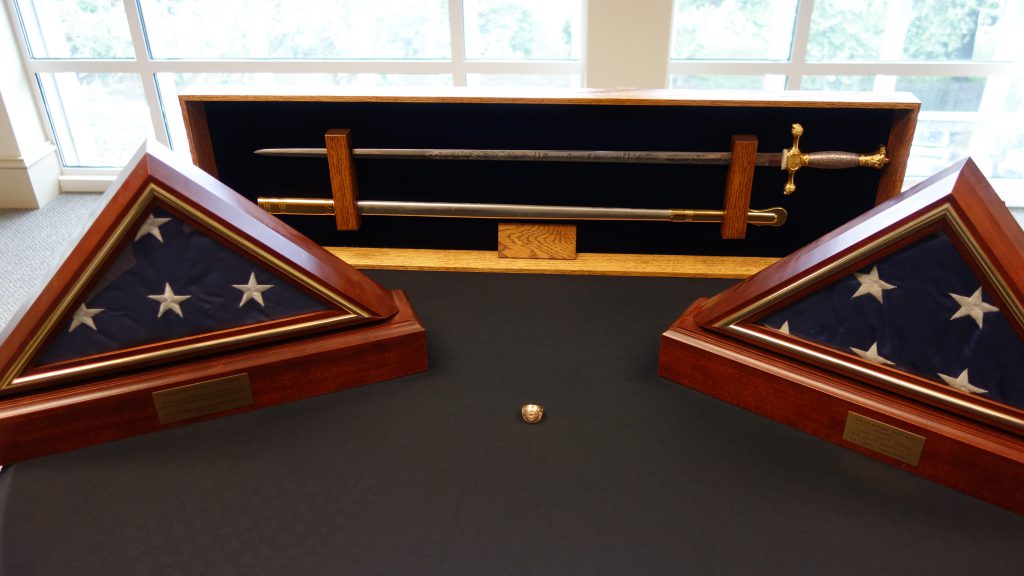 "I know he would be happy. He was really proud to be a Citadel man."
There are many numbers that are central to understanding the life of Sen. Fritz Hollings, one of The Citadel's most famous graduates.
To list only a few:
1922 – The year he was born (on New Year's Day)
338 – His family's address on President Street, where he lived before attending The Citadel (only four blocks away)
1949 – When Hollings first served in the South Carolina House of Representatives
36 – Hollings's age when he became Governor of South Carolina
1966 – When Hollings began serving in the United States Senate
38 – The number of years he served as a U.S. Senator
1942 – The year Hollings graduated from The Citadel
42 – The number on his Citadel ring, which he always wore
Fritz Hollings's 1942 class ring

1942 class ring engraved to say, "Ernest 'Fritz' Hollings Charleston, S.C."
That ring is now displayed in The Citadel Museum, alongside more than 100 other rings that belonged to alumni. The ring, known as The Band of Gold, is a prized possession for alumni, symbolizing their time as a member of the South Carolina Corps of Cadets. The rings also represent the military college's core values of honor, duty and respect.
In addition to Hollings's ring, The Citadel has also been entrusted to protect and preserve other items that belonged to the senator, such as an American flag, which was the last flag to fly over the original Padgett-Thomas Barracks at the college and the first flag to fly over the new one. An honorary sword, engraved to say "Senator Ernest F. Hollings" is also part of the donation. How the sword came to be in Hollings's possession is currently unknown.
The last American flag to fly over the original Padgett-Thomas Barracks and the first flag to fly over the newly rebuilt barracks

An engraved, honorary sword presented to Fritz Hollings
The items were donated by Hollings's brother-in-law, Claude Baldwin III, Citadel Class of 1961, during a visit to campus this summer.
Claude Baldwin III viewing Fritz Hollings material from The Citadel Archives with Alexandra Adler, archives assistant (left) and Tessa Updike, The Citadel archivist (right)

Claude Baldwin III, IV and V in a legacy photo for The Citadel Class of 2019
"I wish y'all could have known him like I did. He was a remarkable man, incredible public servant and amazing family man," said Baldwin. "I know what an incredible man he was and what a big heart he had."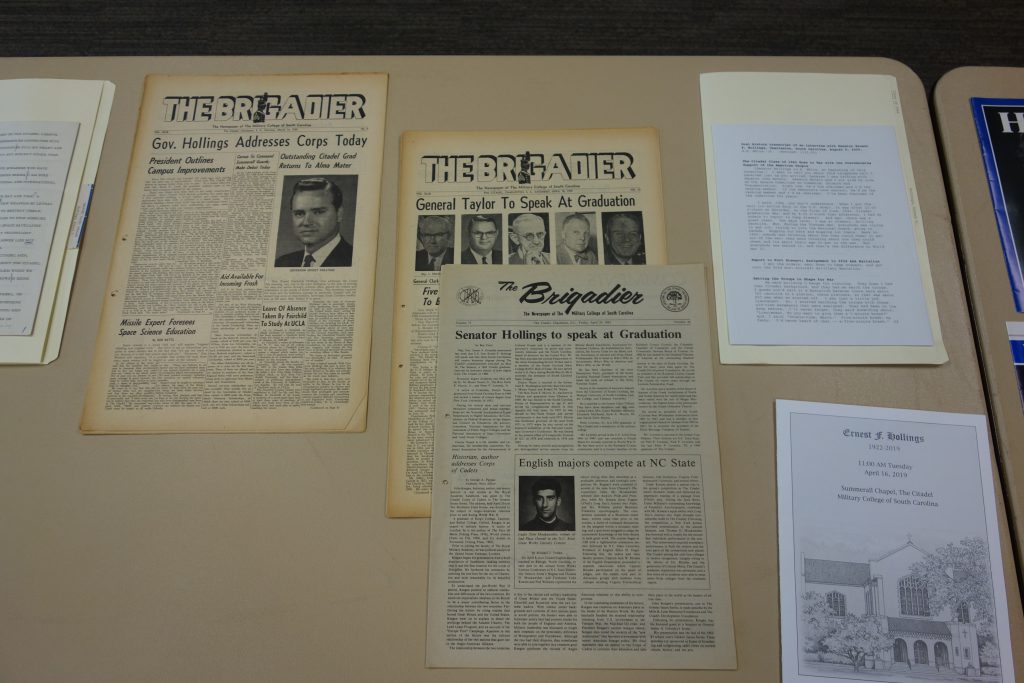 Hollings was committed to supporting his alma mater throughout his life. He visited the campus many times, serving as a commencement speaker in 1983 and helping to dedicate the newly rebuilt Padgett-Thomas Barracks in 2004.
Hollings's final trip to The Citadel would be on April 16, 2019 — when the long-time senator's funeral was held on campus, in the historic Summerall Chapel.