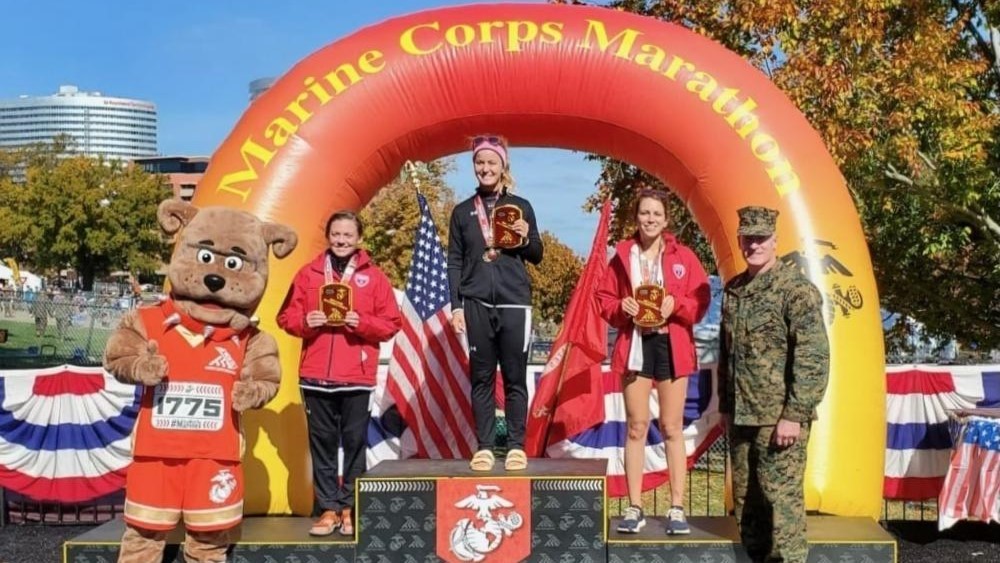 Note: Capt. Grace Jenkins is a member of the Class of 2018. She served on third battalion staff and was a member of the cross country and track team. (Photo courtesy: Lance Cpl. Cody Purcell)
Over 11,400 runners participated in the 47th Marine Corps Marathon, also referred to as "The People's Marathon," that took place on October 23, 2022. Completing a marathon, let alone placing in one, is no easy feat. Any runner, whether this was their first or 10th marathon, could tell you that it takes both physical and mental resilience to finish.
Lance Cpl. Purcell: Could you tell me a bit about where you are from?
Capt. Jenkins: Born and raised in Cleveland, Ohio. Go tribe!
Lance Cpl. Purcell: What got you started with running competitively? And which major races have you competed in up to this point?
Capt. Jenkins: I began running track in fifth grade and looked up to my sister who ran the very daunting "mile" event. I too took on the mile and learned quickly the farther you run, the slower you can go. Major races I've done include the 2016 Boston Marathon, Maysville to Macon a 50 miler and the 2022 NCAA Regional Cross Country Meet in San Diego, California. I ran track and cross country at The Citadel and primarily ran the 5k and 10k.
Lance Cpl. Purcell: When did you join the Marine Corps and what was your reasoning for joining?
Capt. Jenkins: I commissioned in the Marine Corps on 5 May 2018. I followed my brother into the Marine Corps after completing four years of NROTC at The Citadel. The Citadel gave me the opportunity to run for them and the Marine Corps took away the financial burden of figuring out how to pay for it.
Lance Cpl. Purcell: While you were at The Citadel, did you find that running was something that you were really passionate about? Or was it becoming a challenge to uphold?
Capt. Jenkins: I went to The Citadel on a running scholarship, so I kind of had to be passionate about it. But I grew to love marathon running a bit more than track and cross country. But not to say I didn't enjoy cross country and track while I was there, I had a lot of good competition there and some great teammates to run with. The biggest difference running a marathon versus cross country or track is that marathons are a lot more endurance based and it's a little bit harder to pace yourself, whereas on a track, you've constantly got your coach calling your lap telling your splits so it's a lot easier to stay methodical on like a track event versus running on open roads for 26.2 miles.
Lance Cpl. Purcell: How do you prepare for these races and what goes through your head when running races?
Capt. Jenkins: A training plan made up of long runs, speed workouts, tempo workouts, and strength training all centralized around my goal race pace is what I use to prepare for the Marine Corps Marathon. During races I tend to zone out from extrinsic factors and sometimes don't even look at my watch until midway through the race so that I don't have any mental shift or panic of going too fast or slow.
Lance Cpl. Purcell: When were you first introduced to the Marine Corps running team, and how did you become a member?
Capt. Jenkins: At my basic school [The Basic School] by a fellow member of my platoon, Paul Armijo, who also was on the team and my dedicated running friend.
Lance Cpl. Purcell: Are there ever any doubts about how you'll perform? How do you deal with them?
Capt. Jenkins: When you have a specific training plan, know your ability, prepare for what you can, it takes a lot of uncertainty out of the race. However, there are a number of things you just can't predict but rather just get better at adapting to.