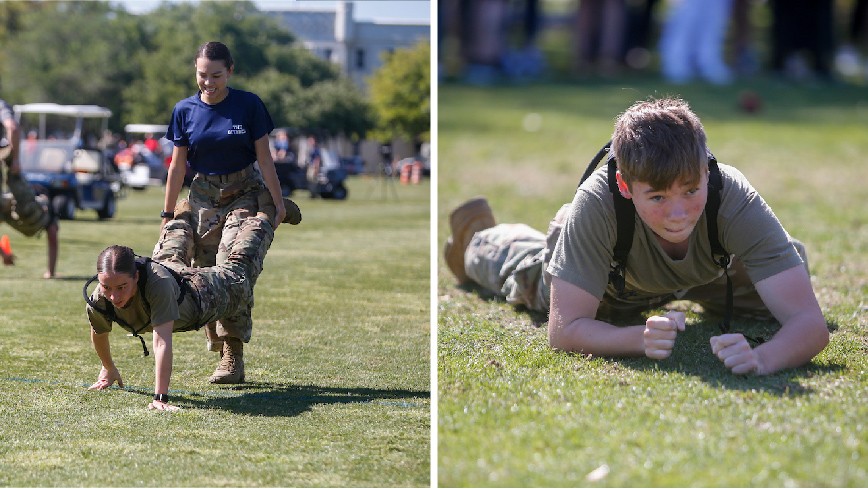 Photo: Cadet Olena Fedinove (left) and Cadet Katya Govorova (right) on Recognition Day 2023.
When Cadets Olena Fedinova and Katya Govorova walked through the gates of The Citadel for the first time before the start of the fall semester, they knew they would have a long road ahead of them. These cadets had come to campus after leaving their home country of Ukraine due to the ongoing war, and with limited English and knowledge of The Citadel, they were unsure of what their path ahead would look like — but they were ready to take on any challenges that came their way.
The Citadel Support for Ukraine Scholarship was originally available to only two Ukrainian citizens affected by the war, but thanks to generous donations and support, The Citadel was able to offer three scholarships. These scholarships covered their full tuition, room, board and fees. Fedinova described American support for Ukraine as an investment — a shared sentiment that members of The Citadel Family feel towards current and future Ukrainian cadets.
"American support is crucial for Ukraine right now. I don't think of it as only financial support, or charity. It's an investment in global security," said Fedinova. The journey to The Citadel wasn't easy for any of the three cadets. For Fedinova, the biggest obstacle – aside from the language barrier each cadet faced – was getting her documents.
"I had a normal life in Ukraine, I never thought that a war would start, so I was shocked when it all began. After my family and I had been living in Moldova, I started thinking about education abroad. I was thinking of going to the Netherlands or Italy, maybe France, but then I found The Citadel," Fedinova said. "It was kind of like a dream for me. I couldn't believe that I would be able to get here but somehow, I did. I'm so grateful that I'm here and now I have an opportunity to get a degree in the United States and help my country in the future."
For Govorova, she fled Donetsk the morning the war started and eventually, due to the generosity and efforts of people she knew in America, she was able to enter the U.S. and was taken in by an American family in Houston, Texas. When The Citadel was mentioned to her as a possible option, she was intrigued, and just one month after arriving in the U.S., Govorova was given the chance to visit the campus. There, she spoke with staff, coaches, academic advisors, cadets and the Chaplain, and was captivated by the possibility of attending a unique, standout college. She was overwhelmed by the generosity of The Citadel in providing scholarships to Ukrainian students displaced by the war. Her new family explained to her that The Citadel would not be easy, but everything she would go through would be worth it if she were up to the challenge. Within a week of getting back to Houston, she had made her decision and applied. The Citadel also gave Govorova the opportunity to pursue her love of soccer when the women's soccer team took her on as a team manager. After attending athletic cadre, the first year of her Citadel journey began.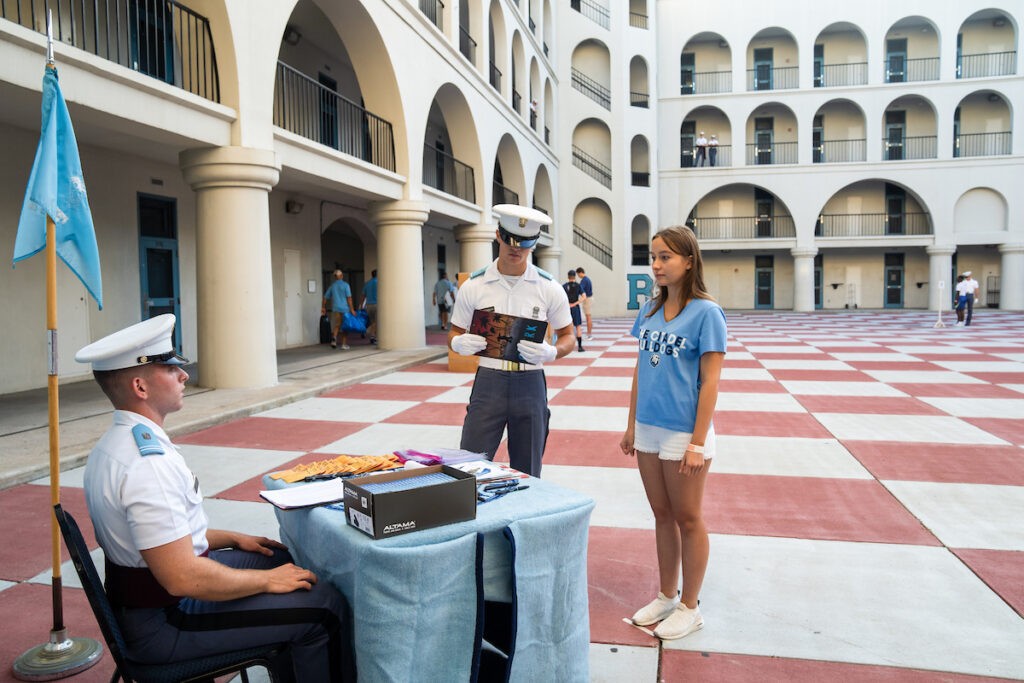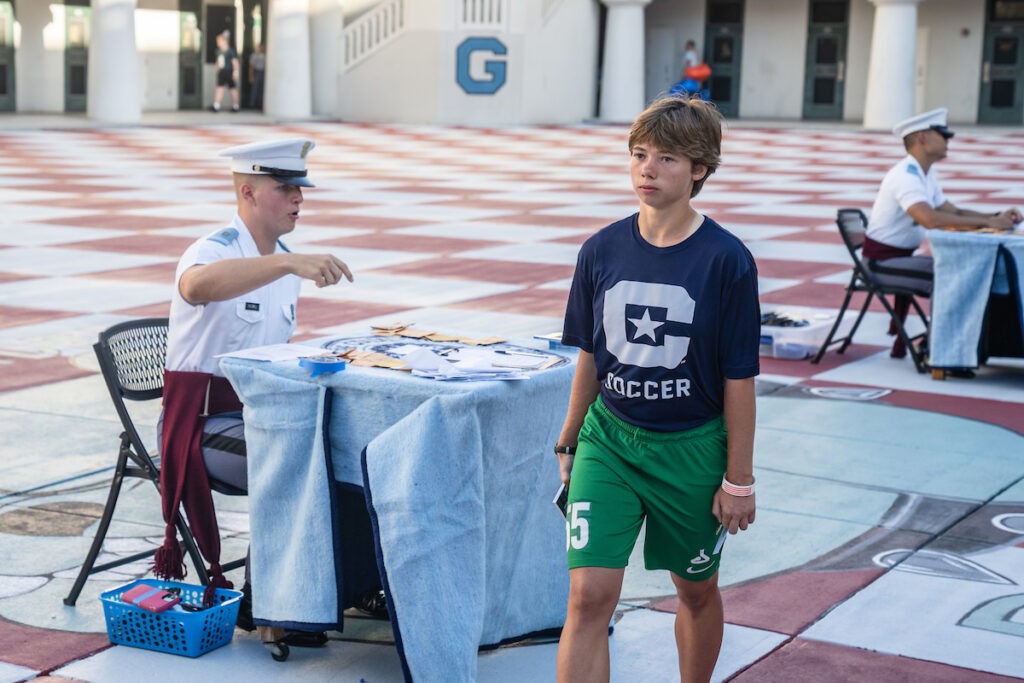 Knob year for these cadets was not different than any other freshmen in their class — it was long, challenging but overall helped mold them into a better person.
"To go through knob year, you become a part of the Corps and you feel bonded together, like a part of a unit. Everyone has the same things to do, the same responsibilities," said Govorova. "You do everything together and take your classes together – that made strong bonds between us all."
Through these strong bonds, friendships were formed. Coming to the U.S. was intimidating for the cadets. But, finding friends that they could turn to during their knob year made the experience easier.
"I found good friends here that I can truly rely on, and they can rely on me, which is really nice. This has felt like a long year, but at the same time it's been so quick. Day by day, we're trying to get better at anything that is given to us. We're trying to just improve every day and, looking back now, we've grown so much in every aspect," affirmed Govorova.
While neither of these cadets had thought about a military education, after the war started it was a clear decision. Fedinova knew that a military education was exactly what she needed to be useful to her country and hopes to return to Ukraine after graduation to use her degree to help Ukraine and make Russia take responsibility for their actions.
"I am very grateful to Gen. Walters, Dr. Selden and Col. Gordon. It was their decision to make this program for us, to give us a chance to get education here in the States. I always thought that the United States was a country with values of democracy and freedom, and it's been a great privilege for me to be here," Fedinova said.
Govorova added, "The hospitality and generosity of Gen. Walters, Dr. Selden and their families made us feel at home, so far away from the only home we had known previously. We now have a Citadel Family."
As their first year at The Citadel ends, both cadets share a common goal — they hope to see more Ukrainians join the Corps of Cadets.
"I hope that by other Ukrainians seeing that I did it and that two others did it, that it is possible. Even if English isn't your first language, even if it's a military college, it is possible and it's going to be a great time. If they come here and I'm still here, they can reach out to me anytime because I am always really happy to help," said Govorova. "We need more leaders in Ukraine. We need more people to get the education and then go on to rebuild the country."
Fedinova hopes more Ukrainians will come to The Citadel to learn how to become more confident and professional — qualities she knows they will need to help rebuild Ukraine after the war is over. She did her research before coming and knew The Citadel was the best college in the south. When she first arrived on campus, she quickly realized discipline and training were important aspects. After seeing the way that upperclassmen carried themselves, she was surprised to learn they were only two or three years older than she is. Fedinova noted that she, and anyone else, can see the difference between other college students and Citadel cadets.
"Since I came to The Citadel, I became more confident. I improved my language and my physical condition. I became more resilient and organized, especially in time management. That's all thanks to The Citadel," Fedinova confirmed.
As for their future at The Citadel, both cadets will hold rank in the Corps next year. Govorova will begin an internship on campus, and they both hope to join more clubs and become as involved as possible in all parts of cadet life. To continue to support future Ukrainian cadets, visit The Citadel Foundation.