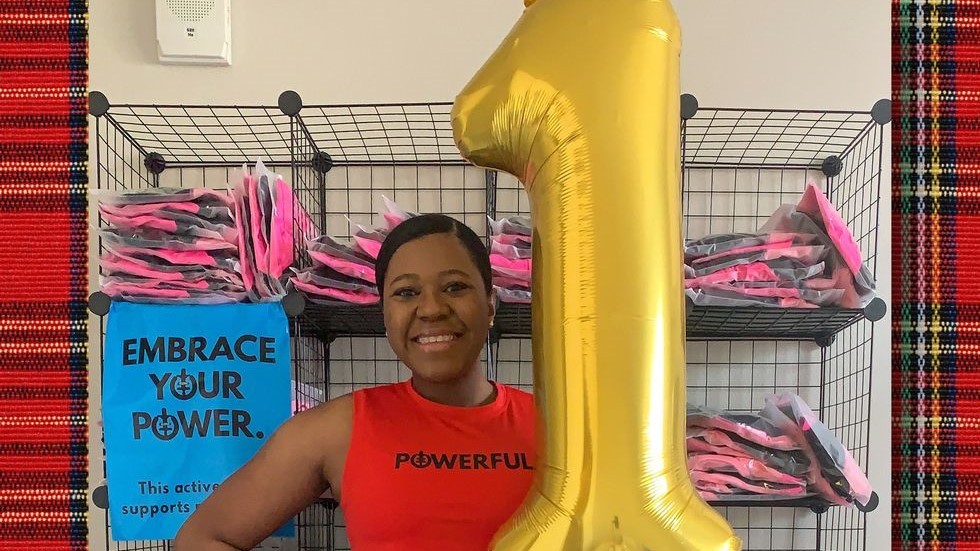 Note: Angel Johnson — originally from Hanahan, SC — graduated from The Citadel in 2013 with a Bachelor of Art degree in History. She also served as the Regimental Public Affairs Officer during her senior year.
In life, as in business, a year can make such a difference. That's surely been the case for Angel Johnson, who launched the activewear line, ICONI, last October and received news that she'd landed on Oprah's Favorite Things list this October. "I was in the parking lot at work, just freaking out in my car," Johnson recalls of receiving the confirmation email.
Along with expanding her new brand, the Charleston native has quite the demanding day job, serving as a captain in the Air Force. As a child, she dreamed of being a lawyer, but after graduating from The Citadel, The Military College of South Carolina, Johnson decided to follow her older brother, a long-time Navy man, and give military life a try.
Currently stationed in Denver, she's traveled and lived in countries around the globe during her seven-year tenure—including Kuwait, Korea, and Afghanistan. In fact, it was during her time in Afghanistan in 2017 that a fellow service member sparked her interest in mapping out a plan for her post-military life.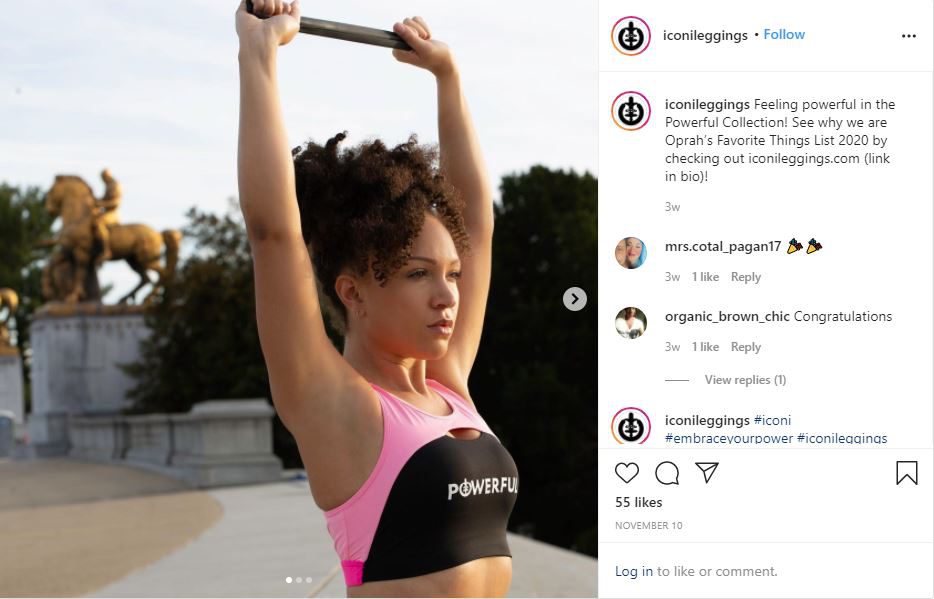 "I met an Army officer who had businesses outside of the Army and I remember thinking, How does he have time to do all of this?" she says. Not only did that officer, now a good friend, teach her to manage her time more effectively, he encouraged her to look beyond the present. "I started thinking, What does the future of Angel Johnson's life look like, not Captain Johnson's?"
With ICONI—who's leggings are constructed with moisture-wicking fabrics (to help the clothing dry faster) and did we mention that the waistbands don't roll down?—Johnson is on her way to charting another course, one pair of leggings at a time. She sat down with Oprah Magazine to discuss her mission to motivate.
What inspired you to launch ICONI?
I was tired of spending $80 to $90 on leggings, then going to the gym and discovering that they were see-through. That's the most embarrassing thing…and so frustrating.
The idea came to me [while on break from her desk job] working the night shift on September 15, 2019. I started sketching out some legging ideas, then turned to my sergeant and said, "I'm going to create an activewear line." He said, "Okay, Captain Johnson, but…right now? It's one o'clock in the morning!"
When I told my friends the next day, they all said, "Go for it!" So, I did a bunch of research and two weeks later, I filed for the LLC for ICONI. Three weeks after that, I started working on the legging design, [researching to manufacturers, both domestically and abroad], to get [items] produced, but because of COVID, our first product wasn't available until January 2020.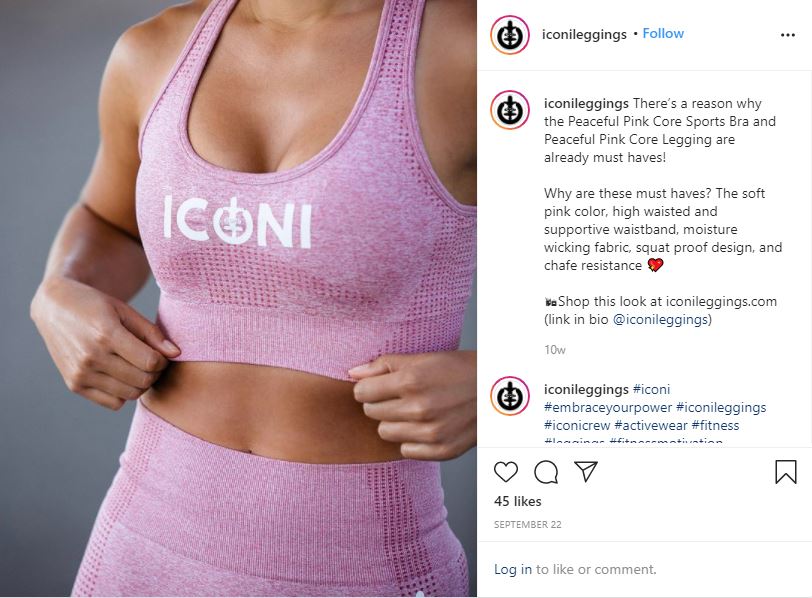 That was fast! What's the story behind the name ICONI?
I knew I wanted the activewear to have motivational words or a motivational logo, something that would remind anyone who's working out to keep going.
I'm a super big African-American and African history buff, and I've traveled to Ghana. Because I love everything about West Africa, I wanted to include some of those cultural elements in our branding. The base of the logo is a "power" button and the Ghanaian symbol stands for strength and versatility. I was looking at African countries and cities on a map and when I saw Iconi, a town on Grande Comore island in the Indian Ocean, just off the coast of Africa, I wondered if I could create an acronym that was motivational. That's how I came up with "I Can Overcome, Nothing's Impossible."
Who are your customers and how did they discover ICONI?
First, it was people I knew, then my customer base grew through word-of-mouth, Instagram, and Facebook. From the beginning, I embraced them all. I responded to every, single DM and if someone sent me a photo of themselves wearing ICONI, I took the time to comment.
Just recently, I was bragging to my customers—I call them my ICONI crew!—because they helped me create a sample hoodie. I'd posted it in Instagram Stories and asked for feedback. They asked me to add thumbholes, expand the size of the hood, and helped with the colors.
I want the brand to be inclusive, so I'm making sure all of our products are available in larger sizes and working on a men's line, too. Those are the goals for 2021.
As a new business owner, what are your thoughts on supporting Black-owned businesses this holiday season?
From my clothing to the facial products, soaps, and make-up that I use, I always try to support. It shouldn't be a seasonal thing.
So, the holidays are quickly approaching. Which items from your line would you suggest for gifting?
I'd say the Confidence Hoodie, which my ICONI crew helped me create, and the Confidence Jogger because they're warm, cozy, and comfortable for this season.
Speaking of the season, do you have any holiday heroes this year?
My mom is my holiday hero. She raised me and my brother as a single mother and she's worked in the fast-food industry for 35 years. I remember the days we'd walk around downtown Charleston because we didn't have a car and when we'd catch the bus to-and-from school. We've come a long way. My mom perseveres through everything in life and continues to inspire me.
Okay, last question! Do you wear fatigues to work or can you wear ICONI?
It's fatigues, but I have thought about making a tan-colored shirt that says ICONI across the front to wear underneath!