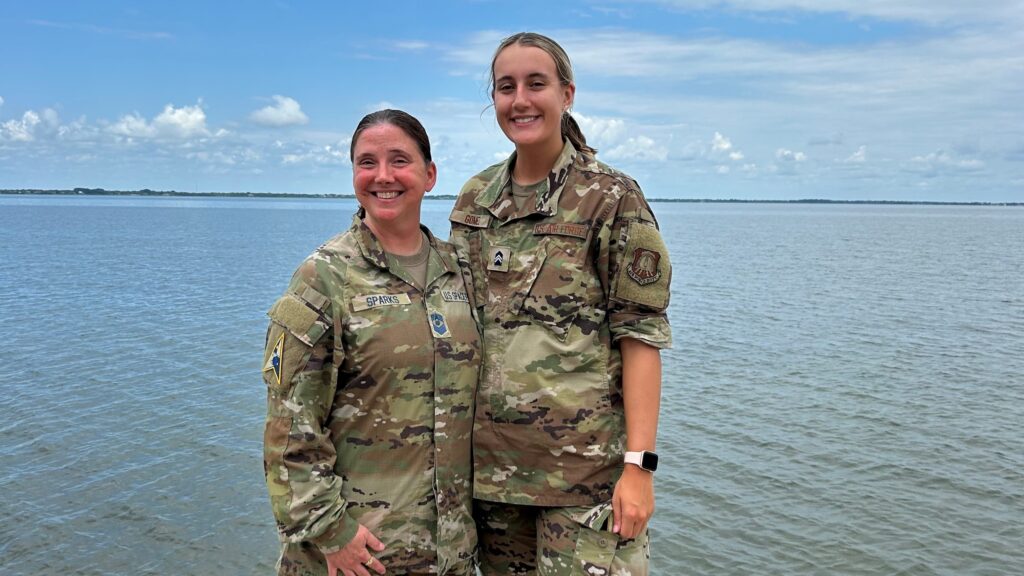 Photo: Cadet Sadie Gomez (right) at the Patrick Space Force Base. 
Sadie Gomez has always considered herself a bit of a Star Wars nerd.
Growing up in Covington, La., Gomez and her father would watch the original Star Wars trilogy late into the night.
Gomez never dreamed that her love of a galaxy far, far away would someday lead to a possible career with the United States Space Force.
The U.S. Space Force was established as the sixth and newest branch of the U.S. Armed Forces in December 2019 when the National Defense Authorization Act was signed into law.
Gomez, a junior on The Citadel's volleyball team, spent nearly a month this past summer at Maxwell Air Force and Patrick Space Force bases learning and training within the military's most modern branch.
The Citadel's Sadie Gomez appeared in 24 matches, playing in 75 sets during the 2022 season. Gomez finished the season with 110 kills, 48 total blocks, and 24 digs. The Citadel Athletics/Provided.
"I didn't know very much about Space Force before last year," said Gomez, who is part of the Air Force program at The Citadel. "I started to hear about it from some of my friends back home. I had a friend that was a Marine that recommended it to me. I knew I wanted to be a part of the Air Force program when I got to The Citadel and then I did a little research on Space Force and got really interested in becoming a part of it.
"I went through the interview process and was lucky enough to be picked for the program. The summer training just showed me what a great opportunity it's going to be for me moving forward."
The push for a dedicated branch of the armed services devoted to the final frontier gained steam as orbital space became crowded and contested by Russia and China.
As the United States' critical infrastructure became increasingly dependent on satellites for communication, navigation, meteorology and intelligence, the U.S. Dept. of Defense likewise identified a need for a branch of the military dedicated solely to operating and protecting these assets.
Thus, Space Force was created.