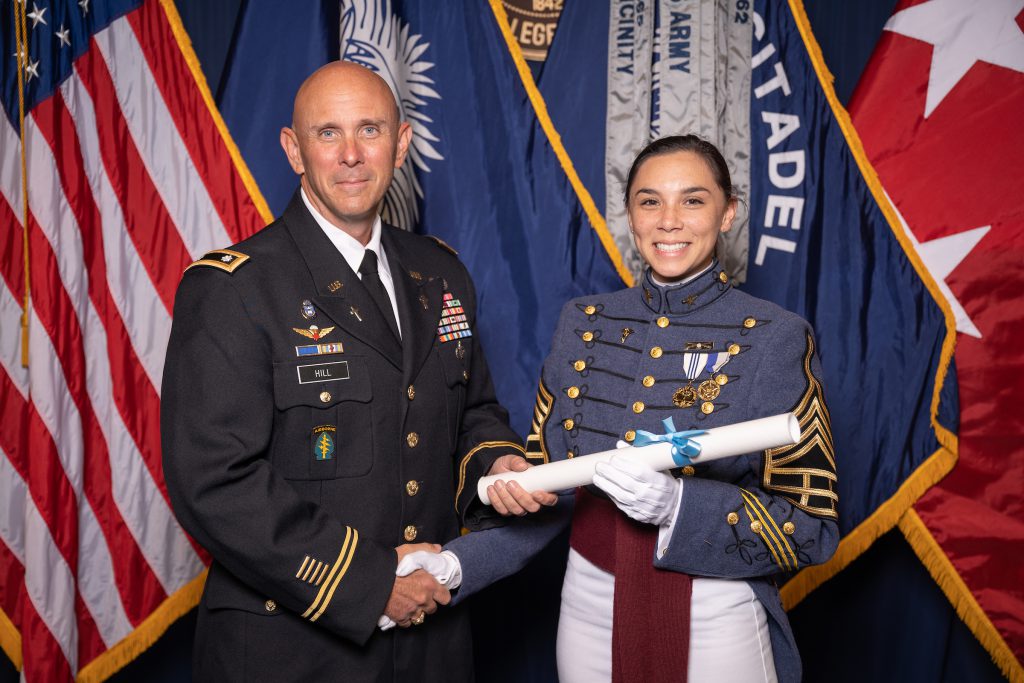 Photo above: Second Lieutenant Catherine Hill, The Citadel Class of 2021, receives her diploma at graduation from her father, Lt. Col. Rustin Hill, The Citadel Class of 1990, during the South Carolina Corps of Cadets commencement ceremony in May 2021.
"I would choose The Citadel all over again"
For as long as she could remember, Catherine Hill wanted to be a nurse
That was how her story began at The Citadel, when Hill matriculated as a knob in August of 2017 from her home in North Garden, Virginia. She entered college with an Army scholarship and a declaration to major in nursing — military service, nursing and attending The Citadel, all traditions in her family.
Now, Second Lt. Catherine Hill, The Citadel Class of 2021, is living her dream. Like many in her family, she is serving in the U.S. Armed Forces. She is a a reservist for the Army Nurse Corps.
Hill's fulltime role is serving young patients and their families as a nurse at MUSC Shawn Jenkin's Children's Hospital.
"While The Citadel is developing principled leaders, our nursing program is growing the next generation of nurse leaders," said Lenora S. Horton, Ph.D., an instructor with The Citadel's Swain Department of Nursing. "Second Lieutenant Catherine Hill clearly exemplifies the highly desirable traits of a leader who lives by the values of honor, duty and respect. All nurses lead whether at the bedside, in the community or at hospitals. Catherine is most certainly doing that."
After graduating, and while preparing for her nursing board examination, Hill took the time to answer these questions.
Q. What is the one thing you miss the most about The Citadel?
A. It goes without saying that The Citadel experience isn't just about the place, it's about the people that you get to see everyday. I will miss the memories I have made with all my friends and the endless laugher you can hear in the barracks of cadets enjoying their time together. I will miss all the people that I have become closer with nursing program and hope to see them again soon.
Q. What do you miss the least about The Citadel?
A. I definitely do not miss 6 a.m. formations.
Q. Who is the one person at The Citadel who had the most positive impact on your time here and why?
A. I would have to say that my brother 2nd Lt. Russ Hill (Rustin Hill II), who graduated in 2020, had the most positive impact on my time at The Citadel. Although he graduated last year, he taught me a lot throughout my time here at school. He taught me to stand up for myself and to never be ashamed of the person I am. He always looked out for me and was never afraid to stand up for me. I was fortunate enough to get to live in the same battalion as him, and because of that we now share so many memories that we will tell as we get older. The best advice he gave me was that if I could find humor and laugh at any hard situation in life that came my way, I would always win.
Q. How has your mindset changed since studying, and then starting your career in nursing during one of history's worst pandemics?
It was inspiring, especially, to watch my Mom working as a nurse during the pandemic while finishing my degree at The Citadel. If anything, the pandemic has made me love nursing even more. Nursing is truly a selfless career path.
One of my top memories while training at The Citadel to become a nurse was helping people on campus during the pandemic. As senior nursing students we were honored to be asked to administer the COVID-19 vaccine. Our nursing instructor said it best, 'we are making history getting to distribute the vaccine to the faculty and staff at The Citadel.' As as a nation we patiently but anxiously waited for a vaccine to come out with the hopes that one day we would return to normal. Having the opportunity to administer the COVID-19 vaccine seems like a small role, however, it was truly an honor to be a part of the solution to this crisis.

2nd Lt. Catherine Hill, fall 2021
Q. What advice do you have for young people considering a nursing degree?
I have two pieces of advice to those who are seeking to pursue a nursing degree.
One. Make sure you are choosing to become a nurse because you genuinely love taking care of others not because of the pay. You will play a vital role in tough situations and you have to possess the ability to be empathic and put yourself in someone else's shoes. It is incredibly challenging but also the most rewarding thing you will ever do. It truly is a blessing to stand by a patient's side and watch as they make a full recovery and also be that person to hold their hand when they don't.
My second piece of advice is to make friends with the other people in your nursing program. Nursing is collaborative and deals a lot with working alongside others. Becoming close with a group of your fellow nursing students will enhance your experience in nursing school through the tough times as well as learn to collaborate with others. I had had the ability to become very close with my nursing peers as there were only eight of us. We were a very tight group, taking the same classes and studying for tests together for four years. They have made this experience one that I will never forget and I am thankful for them.
More about the Swain Department of Nursing
The Swain Department of Nursing expects to have 22 nurses graduating as part of the Class of 2022 on May 7. A traditional Nurse Pinning Ceremony will be held at 3:30 p.m. on May 5 at Summerall Chapel to honor the graduates and recognize their dedication toward completing their degrees and their commitment to serve as nurses in the future. The group will be addressed by Lt. Gen. Dorothy A. Hogg, USAF (Ret.), the former Surgeon General, Headquarters U.S. Air Force, Pentagon.
The mission of the Nursing Program is to educate and develop cadets and students to become principled leaders in the healthcare environment and profession of nursing by incorporating The Citadels core values of honor, duty and respect into the learning experience.
For more information about studying nursing as a member of the South Carolina Corps of Cadets, or as a non-cadet, evening undergraduate, please visit the Swain Department of Nursing web section here, email nursing@citadel.edu, or call (843) 953-1630.
The Bachelor of Science in Nursing degree at The Citadel is accredited by the Commission on Collegiate Nursing Education.