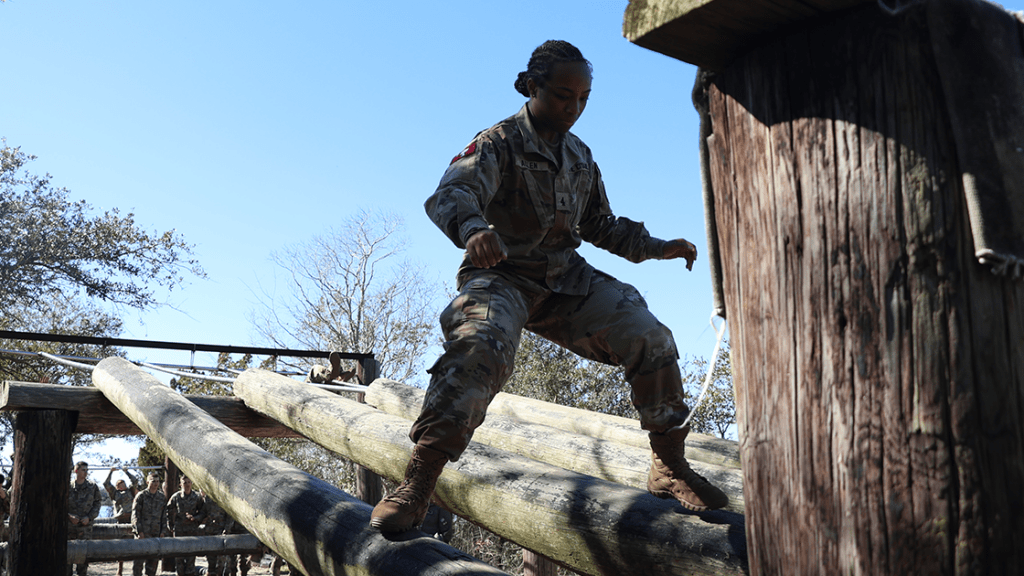 The Class of 2026 is learning to lead after months of following. On Feb. 18, the freshmen, called knobs, took part in a Leadership Training Exercise, or LTE, that is designed to prepare them for the transition into their new roles within the Corps of Cadets when they begin their sophomore year next fall. The main theme of LTE is transition — which is in line with the process that knobs will go through in their upcoming journey as upperclassman. This Leadership Training Exercise was sponsored by the Class of 1971 and featured several mental and physical challenges that cadets underwent throughout the day.
"The generous endowment from the Class of 1971 provides both critical resources and personnel to conduct a professional development event. This training exercise truly impacts the entire class of cadets at a crucial time in their career," said Col. Chuck Dunne, USMC (Ret.), '90, assistant commandant for operations and training. "The LTE allows the Class of 2026 to experience challenging events, both physically and mentally, and have the reinforcement of the Commandant's Department behind them."
The all-day event had six different stations – including pugil sticks, body sparring, an obstacle course, high intensity interval training, individual movement course and water jug transportation – that ensured each cadet was challenged to get out of their comfort zones and learn the strength of class unity. Each station had a direct tie-in to leadership for the cadets, representing courage, overcoming obstacles, transitioning between hard and easy situations they might experience at The Citadel, and the growth that comes from being challenged and supported.
"The overall objective of this training exercise was to continue their development as leaders. We strive to put them in situations where they have to apply the skills they have learned throughout this year," said Cadet Brandon Johnson, regimental commander for the Class of 2023. "This LTE most definitely showed their ability to perform under pressure and continue to reach whatever objectives they desire."
The Citadel thanks the Class of 1971 for their support and involvement in making this LTE possible. The Class of 1971 is committed to investing in the leadership development of future Citadel graduates. The Citadel's mission is to develop principled leaders for all walks of life, and the LTE is just one of many examples of how that goal is achieved. The Class of 1971 came out in force to observe the training exercise and the cadets' performances, as well as to experience the true value of their endowment.