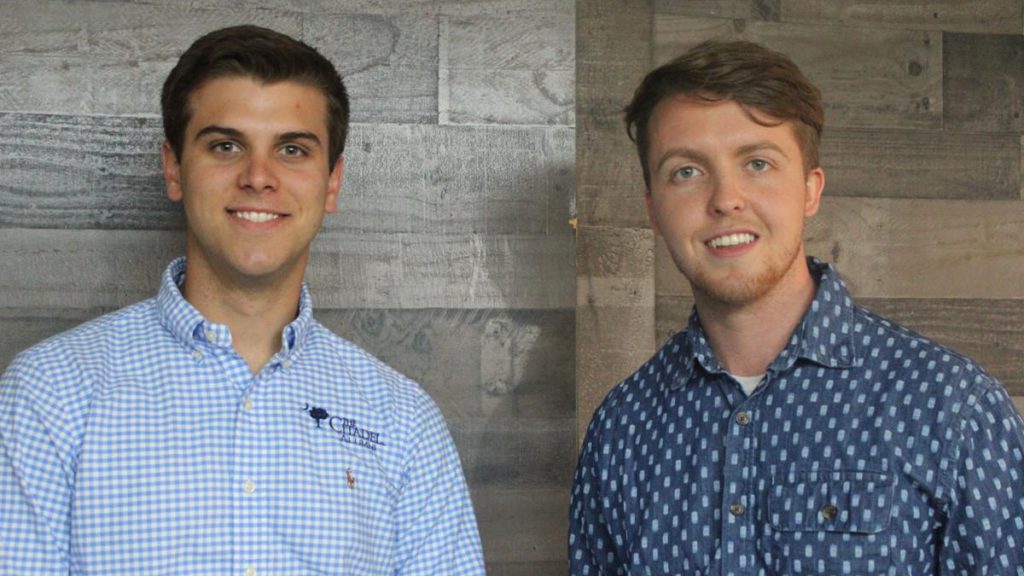 Photo: Ethan Warner and Benjamin Scott, who founded Evolve 3D, were biology majors at The Citadel who participated in the Baker Business Bowl VI
Ethan Warner and Benjamin Scott founded Evolve 3D to streamline 3D printing and make an otherwise expensive printer more affordable and accessible.
"A lot of people right now don't think of the 3D printer as something they can have in their home," Warner said. "They see it as something very complicated, but we can simplify the process and bring it into the home."
Warner, 22, and Scott, 21, were biology majors at The Citadel, and they bonded over the amount of fun they weren't having in one of their biology classes together. Warner did not anticipate even working with 3D printers, while Scott's uncle's interest in 3D printing influenced him to research more about it.
"The ability to make anything with a 3D printer really amazed me," he said.
It took Scott a while to buy a 3D printer because one can cost anywhere from $1,500 to $100,000, but he managed to get one for his 21st birthday. After a while, he decided to tinker and ultimately upgrade it because he wanted to print using different types of filaments, which are slender threadlike materials that 3D printers use to create three-dimensional objects. Filaments have separate properties that vary in abrasiveness, so 3D printers use different nozzles to print various types of filaments.
"I wanted a system where I could switch out between nozzles," he said. "I also wanted a system where if wanted to put a laser on the 3D printer then I could, so I could do laser engraving too."
Scott's idea began with him duct taping a laser to the extruder head on the printer, and it would move in an XYZ direction. Since he lived with college friends last summer who smoked JUULs, he decided to laser engrave their pods for them.
"They thought it was awesome until the duct tape holding the laser failed and it started shooting around the room," he said.
The duct tape failing might have been for the best because it led to him trying to create a system, which turned out to be a 3D printer adapter that allows him to switch between nozzles and laser engraving. The universal adapter is currently patent-pending, and it will let the 3D printer print in virtually any type of material, and they can also adjust the resolution of the print by adjusting the diameter of the extruding nozzle. When Scott returned to college after the summer, a friend of his suggested he start a company, and that's how Evolve 3D began.
From there, Warner joined Scott and the two entered the Baker Business Bowl at The Citadel and were the youngest people ever to be accepted into the Harbor Accelerator program in Charleston. Scott credits their time in the accelerator program — they finished in third place — with teaching them the ins and outs of business and how to develop a concept and make it into something real.
"The product has kind of just evolved more and more until we are where we are today," he said.
Their concept is now real and working, and the team's end goal is to bring the 3D printing manufacturing process into the home. Scott said the U.S. sees a lot of reliance in China to import 3D printing parts, and it's not necessarily because they are good parts, but it's because they are cheap.
"I believe if you're able to make these parts yourself then that would lessen the reliance on China," he said. "Right now, you can print soft plastics, but the issue is getting it to the level where you're printing abrasive plastics."
"Right now if you wanted to print in every single type of filament then that's going to be like 10 different printers. Instead, it would make a lot more sense if you could have one machine that can print in any material and allows you to make anything from your desktop from your house. That's the vision."
To make their vision a reality, Scott moved in with Warner's family in Greenwood so they could work on their company together. Scott said it's been cool living with Warners, and he even thinks they treat him like he's their favorite child. Warner's father got the two a workspace at Emerald Ink and Stitches after he spoke with the owner, Steven Riley. They initially were going to move into a little house and "rough it," but Riley offered his old office space in the back of the shop to them.
To expand on their vision, the two hope to start a YouTube channel that will consist of tutorials and cool experiments that they believe will inspire others to get into 3D printing.
"We're passionate about 3D printing and we want to share that passion with everyone else," Scott said. "Hopefully we will capture the imagination of the next, or current generations, and encourage them to get into the awesome world of 3D printing."
A select group of people that the two hope to interest are soon to be Citadel graduates because they want to do all their manufacturing in house. Scott said the beauty of being a 3D printing company is that they can print the majority of their 3D printers. All these components are designed and printed in house by them. They manufacture their own parts, assemble their own machines and test their own machines.
"Bringing that manufacturing system would probably bring a lot of jobs as we grow, so it will help Greenwood's economy in the long run," Warner said.
Even though they will be able to manufacture their own printers, Scott said they will need builders, customer support operators, inventors and engineers to function as a full-fledged company.
The two put in for the patent for the universal adapter two months ago, but in the meantime, they will continue to work on their printers with the anticipation of a soft launch on Sept. 1. The printer will cost about $2,750, and they hope to sell them on their website and through word of mouth.
"The hope is that we're going to have such an awesome 3D printer that people are going to be recommending it to other people," Scott said.
The two were also involved with MUSC and The Citadel when they printed 3D masks for health care professionals. Scott thought the whole experience highlighted a need for easily accessible 3D printing, noting that it could be lifesaving. With Evolve 3D's printer, he said someone could make a 3D mask with the correct materials and have the best possible mask at their fingertips.
"It could potentially save your life, your kid's life and your family's life," he said.
Warner thinks it is ironic how they got into 3D printing, but he said it's a passion that they can both get behind.
"Ben and I feel the same way about this," he said. "It doesn't feel like work because we're coming in, just enjoying ourselves and being productive by working on our machines. It doesn't feel like a job, it feels more like a hobby that we're building into an empire."