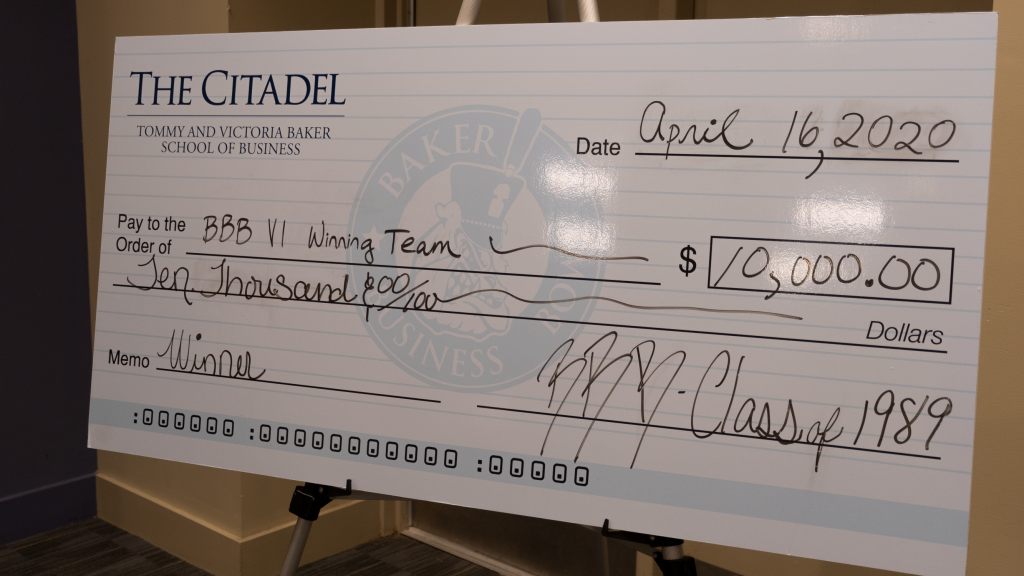 Photo: A ceremonial check presented during the second round of Baker Business Bowl VI.
With schools and companies closed, many students and employees are getting used Zoom meetings being an integral part of their daily lives.
But now, some cadets and students at The Citadel will have one more reason to use Zoom: they'll be competing for $10,000 — all through their webcams — and you can watch it live.
Five teams of entrepreneurs made it to the third and final round of the Baker Business Bowl (BBB) after working together on their projects all year.
The final round of the BBB will be held Wednesday, April 22 from 1 p.m. to 5:30 p.m. Both the competition and the awards ceremony will be held via two separate Zoom meetings, both of which will be open to the public.
The final business ideas include: traffic-controlling robots, an app to help 18-wheelers navigate restricted roads, a robot to help officials inspect bridges, a machine to recycle water filters, and a multi-functional 3D printing device.
"It's only fitting that a competition, based around inventors coming up with new solutions, find a new and innovative way to hold the event, even with a closed campus," said Shawn Swartwood, director of the Baker Business Bowl. "It will be exciting to see how the teams can use this new format, because it could really allow for them to explain their businesses more fully. But regardless of the format, the judges will still be treated to five great new business ideas."
The winning team will be awarded $10,000 to help them start their business, while the second-place team will receive $5,000. The prize money is made possible by The Citadel Class of 1989.
The Baker Business Bowl is a program aimed at helping budding entrepreneurs who have an idea for a new product or service, and the desire to turn that idea into a business. The competition is open to cadets, evening undergraduate students and graduate students.
The teams compete in three rounds, and the final five teams are given the opportunity to attend a series of educational workshops on how to develop their full business plan ahead of the final competition.