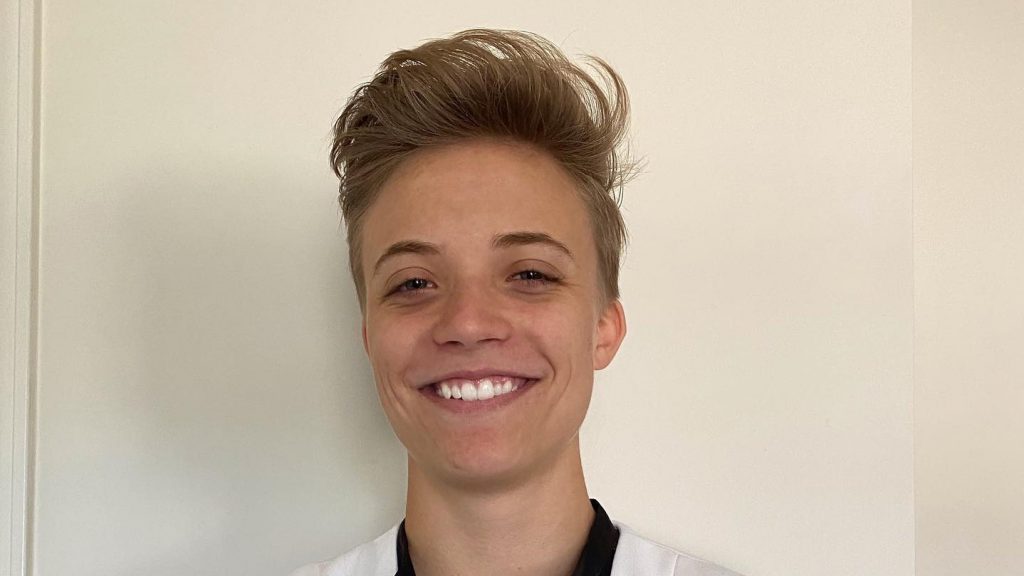 Note: Emily Perkins is a member of the Class of 2022. She was a member of the rifle team. (Photo courtesy: American Society of Civil Engineers)
Emily Perkins, EIT, S.M. ASCE, 22, graduated in May with a Bachelor of Science degree from The Citadel in Charleston, South Carolina, and took a job as a structural design engineer with South Carolina-based engineering firm Johnson, Mirmiran & Thompson Inc. She was one of ASCE's New Faces of Civil Engineering – College honorees in 2021.
Working in a science, technology, engineering, or mathematics field and helping people appealed to her from a young age, but her initial post-graduation plans to join the Navy after majoring in civil engineering were unexpectedly derailed. She quickly pivoted in a new direction. Here's how she did it:
Civil Engineering Online: How did you get interested in civil engineering?
EP: I grew up building a lot of Legos. That was our main Christmas present, so we had this huge Lego town. My dad also did civil engineering, so it was just enjoyable. I knew I wanted to do something in STEM. Civil engineering to me seemed more of a resource to help people compared to other STEM fields. I just enjoyed building structures which people could use.
Why did you study civil engineering at The Citadel?
I grew up in South Carolina, in Charleston, so it was a place I knew, and they had a very good program.
How did you go about finding your first job?
Originally, I was supposed to be in the Navy as a nuclear officer. I was on scholarship, but then I ended up having surgery and didn't qualify anymore, so that was a little bit stressful. I spoke with a few of my teachers, and one of them recommended me to JMT, which is where I'm currently working. So that's how I got in contact with the company.
When did you realize that the Navy wasn't going to pan out and that you would have to change directions?
I realized that I was going be shifting into civilian work instead of commissioning in the Navy about three months before graduation. This was a very short time for me to transition my efforts and thoughts and to plan for a different future. It was very challenging, but I practiced several methods to manage my time and stress. I spent significant time planning how to pass my Fundamentals of Engineering exam before graduation, which is the first step in getting your P.E. license, as I knew this would help me appeal to engineering firms after graduation. I scheduled numerous meetings with professors to ask them for advice and guidance on what to priorities moving forward and how to contact local engineering firms. Although this time was very stressful for me, I was also excited to pursue my interests in structural engineering after graduation.
Were there are any faculty at The Citadel who helped you?
Two professors that tremendously helped me during that period were Kweku Brown, Ph.D., P.E., and John Ryan, Ph.D., P.E., Dr. Brown helped me throughout my four years at The Citadel by helping me apply and receive several scholarships and awards through The Citadel's civil engineering department. During the countdown to my graduation, I had several meetings with Dr. Brown where he advised me on how to approach civil engineering firms for interviews, and he pointed out several engineering firms that fit my interests. Dr. Ryan generously gave me much advice on how to transition into the civilian workforce in such a short time. Dr. Ryan ultimately recommended me to the vice president of JMT, the company I decided to pursue after graduation.