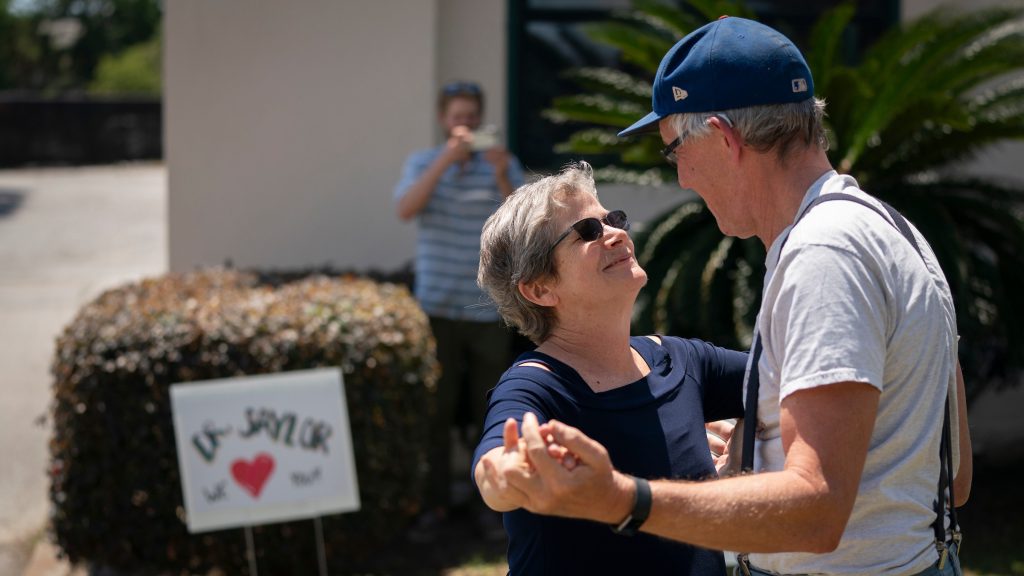 In her almost three decades as a leader at The Citadel, it is unlikely that Dr. Conway Saylor ever envisioned herself dancing with her husband, Dr. Bart Saylor, on the front lawn of the college's Krause Center building.
But that is what they did — along with waving, laughing, cheering, and crying — as members of the campus community drove by the Saylors in decorated automobiles for a socially distanced retirement parade complete with music.
"We just had to find a way to make Dr. Saylor feel special after all she has done for The Citadel. COVID-19 didn't stop us," said Christina Soyden Arnold, one of Saylor's co-workers in the Krause Center for Leadership and Ethics.
Saylor joined The Citadel in 1991 as professor of Psychology. She eventually became director of Service Learning for the Krause Center. In that role, she led the development of the college's robust program that now garners 30,000 hours of volunteer service annually. Through her work building relationships and supporting more than 35 community partners, Saylor twice led The Citadel to earn the Carnegie Foundation Elective Community Engagement Classification.
In addition to other awards and commendations, in 2019 Saylor was honored for uniting members of the community with the Rev. Dr. Martin Luther King, Jr. Picture Awards in Charleston.
"I guess I'm just one of the soldiers trying to get up every day and do my best to be part of the solutions."

Conway Saylor, Ph.D.
Honoring all 2020 retiring faculty
In all, 13 members of The Citadel faculty retired after the 2019-2020 academic year. Though they spent their final months working remotely due to the pandemic, their departure was and will continue to be felt and their contributions, lasting.
"I am delighted to have an opportunity to recognize the significant contributions of our colleagues who are retiring," said Sally Selden, Ph.D., provost and dean of The Citadel. "They have made impressive contributions to their academic disciplines while simultaneously teaching and supporting our cadets and students. By awarding these faculty members Emeritus status, The Citadel is conferring an honor to show our respect for a distinguished career. We are grateful for their many years of services and for their impact on The Citadel community."
Baker School of Business
Mike Barth, Ph.D.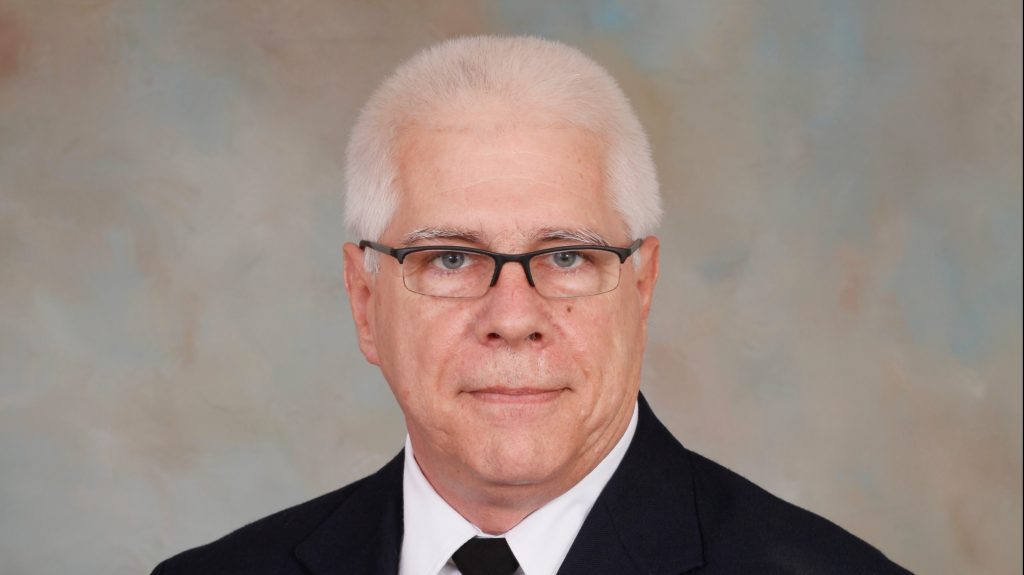 Mike Barth, Ph.D., joined the faculty in 2007. He taught business finance, personal finance, business analytics and risk management. Barth became chair of the Accounting & Finance Department in 2019. Prior to becoming an educator, Barth served in the U.S. Army for nine years, and in the Army Reserves for six years, and as a Senior Research Associate with the National Association of Insurance Commissioners for five years.
Ron Green, Ph.D.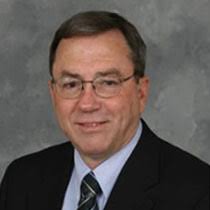 Ron Green, Ph.D., was hired as dean in 2007 and served in that position for six years. During his 13-year tenure at The Citadel, he taught graduate and undergraduate level courses in strategic management, health care management, operations management, and decision science. In addition, Green served as interim dean in 2017-18.
Al Katz, Ph.D.
Al Katz, Ph.D., served as a member of the college's business faculty for 25 years. During his tenure, he developed several classes including professional selling, relationship marketing and professional development. After being named to fill the Alvah H. Chapman, Jr. Chair in 2008, Katz received the Undergraduate Faculty of the Year Award and was appointed the adult advisor of the Honor Committee.
School of Engineering
Michael Woo, Ph.D.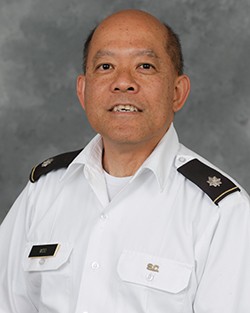 Michael H. Woo, Ph.D., was a member of the Department of Civil and Environmental Engineering at The Citadel since 1985. His specialty areas included stormwater systems design and management, and hydrology and hydraulics. He earned his Ph.D. in Civil Engineering from Clemson.
School of Humanities and Social Sciences
Carl Jensen, Ph.D.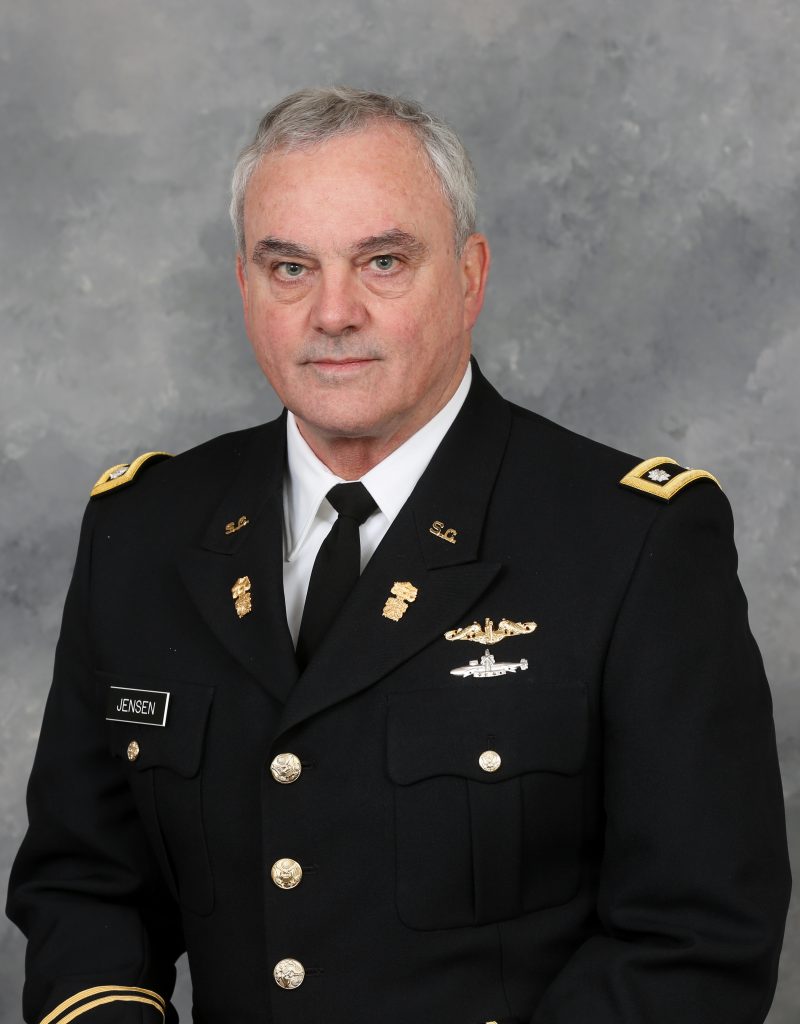 Carl Jensen, Ph.D., was the founding head of the Department of Intelligence and Security Studies. He served in the Navy for five years then enjoyed a 22-year a career in the Federal Bureau of Investigation as a field agent, supervisory agent, and forensic examiner/cryptanalyst. Additionally, Jensen was the lead instructor for the FBI National Academy's terrorism course for several years. He joined The Citadel in 2017. Jensen has authored and co-authored over 70 books, articles, book chapters, and reviews and earned numerous awards for research and as an educator.
James S. Leonard, Ph.D.
James S. Leonard, Ph.D., joined the English Department at The Citadel in 1983. He has served as a full professor since 1993, including a year as chair of the Faculty Council and ten years as department head. His specialties include American Literature and Critical Theory. He is particularly known for his work on Mark Twain — having served as Editor of the Mark Twain Circular (1987-2008), Managing Editor of The Mark Twain Annual (2004-present), and Managing Editor/Editor-at-Large of the Mark Twain Journal (2012-present). He has also served a two-year term as President of the Mark Twain Circle of America and has co-chaired the quadrennial State of Mark Twain Studies Conference.
Julie Lipovsky, Ph.D.
Julie Lipovsky, Ph.D., ABPP, retired at the end of the fall in 2019 after 26 years at The Citadel. A professor of Psychology, Lipovsky served as the first assistant provost for diversity at the college. Her legacy includes developing a Clinical-Counseling graduate program and having led the way for formalized LGBTQ support services. Additionally, Lipovsky served as the co-chair of the college's Diversity Equity and Inclusion Council, and established and directed a National Coalition Building Institute (NCBI) chapter at the college, teaching hundreds of campus constituents leadership skills to work successfully with diverse populations by creating more inclusive environments.
Bo Moore, Ph.D.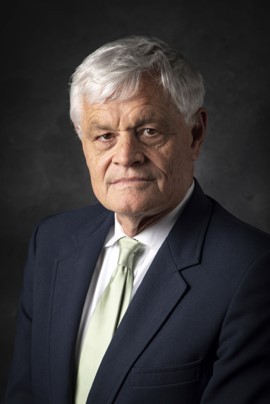 Winfred "Bo" Moore, Ph.D., retires after serving as dean for the School of Humanities and Social Sciences since 2008. After serving in the U.S. Army Signal Corps, Moore joined the faculty of The Citadel in 1976, rising through its ranks as a professor and department head, then finally as dean 12 years ago.
"Dean Moore's leadership has been an immense asset to The Citadel. He was instrumental in launching initiatives that led to the development of a multitude of new programs including American Government & Public Policy, Oral History, Fine Arts, Overseas Studies, Diversity Education, and Intelligence & Security Studies," Selden said.
P. Michael Politano, Ph.D.
P. Michael Politano, Ph.D., ABPP, joined The Citadel as a professor of Psychology in 1991. He is a certified school psychologist and a licensed clinical psychologist with Board Certification in Clinical Child and Adolescent Psychology. He directed The Citadel Graduate College Program in School Psychology and served as interim department head two times.
Swain School of Science and Mathematics
Charles Groetsch, Ph.D.
Charles Groetsch, Ph.D., joined The Citadel in 2006 as the founding dean of the School of Science and Mathematics, now called the Swain School of Science and Mathematics. During his career, he served as editor or co-editor of nine academic journals concentrated in mathematics. He was a fellow of the American Association for the Advancement of Science and recipient of the Mathematical Association of America's George Póyla Award.
Lyle McAfee, Ph.D.
Lyle McAfee, Ph.D., joined The Citadel as a professor of Chemistry in 1988. He taught general chemistry, in organic chemistry and scientific research.
John I. Moore Jr., Ph.D.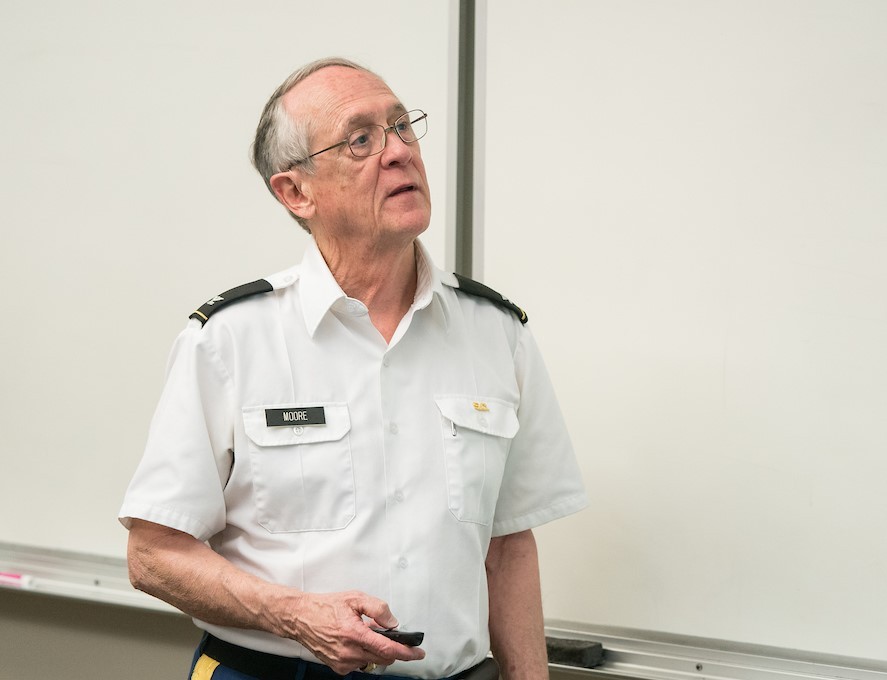 John Moore, Ph.D., a former department head for the Department of Mathematics and Computer Science, joined The Citadel in 1976 and taught for six years, leaving to work in software engineering and web technologies. He returned to the college in 2003, leading the department for a decade. Moore taught a variety of courses in mathematics and computer science including Data Structures and Algorithms, Compiler Design and Object-Oriented Design Patterns.